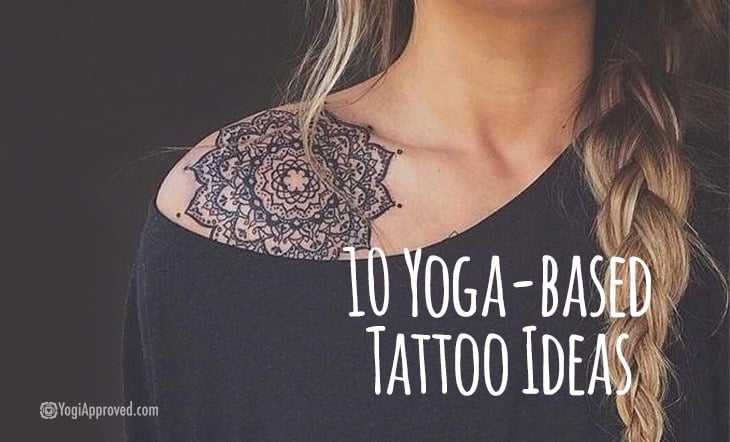 10 Yoga-Based Tattoo Ideas Yogis Are All About Right Now
These days, it seems like it's more common to meet someone with a tattoo than someone without one. Like the Eight Limbs of Yoga, there are many facets, meanings, and approaches to the tattoo lifestyle – the style and intricacy of tattoos are endlessly varied.

Statistics show that 43% of tattooed Americans think that the most important aspect of a tattoo is its meaning. So, while we know that a tattoo can be as beautiful as a piece of art, we also know that many people think of tattoos as a personal, spiritual representation of their beliefs.

There are many ways to express your yogi lifestyle via tattoo and body art. Tattoos inspired by art are continuing to gain popularity as the popularity of yoga continues to rise.

If you're a yogi looking for some tattoo inspiration, check out these 10 meaningful yoga-inspired tattoo ideas below:
1. OM Symbol
OM is the universal vibration that connects us all. The OM symbol is a beautiful, meaningful, and simple expression of your yoga lifestyle. It's a diverse tattoo option that can be designed in a variety of ways, whether it's the solo, simple symbol or including it in a more complex design.

2. The Chakras
Our chakras are another layer in our yoga practice, and they are a beautiful symbol for a tattoo. There are many ways to express your chakra tattoos, whether it's in full color, black and white, stacked up and down the spine, or incorporated into a bigger piece.


If you're interested in learning more about the chakras read this:
An Introduction to the Chakras
3. Several Symbols in One Piece
If you want to incorporate a variety of symbols into one tattoo piece, consider the symbols that hold the most meaning for you in your personal yoga practice, and let that guide your artistic direction. This is a beautiful and unique example that incorporates the chakras, Lotus Pose, and the lotus flower.

4. Hamsa
The Hamsa symbol represents protection and is believed to bring good luck, abundance, and health. There are many ways to convey the Hamsa symbol as a tattoo – an outline, colored in, an ornate design inside the shape . . . the options are endless! How about an outline of a Hamsa with colorful geometric background?

5. Buddha
Yoga and Buddhism have many similarities and are commonly called "sister traditions." The Buddha has been represented in countless ways and forms. Many choose a more classically spiritual tattoo with a realistically detailed Buddha.

6. Sanskrit
Sanskrit is the Indian language that yoga poses are traditionally named with. Many yogis love tattooing their favorite Sanskrit mantra somewhere visible for them as a permanent reminder.



If you're interested in learning more about Sanskrit, check out our Quick Guide to 15 Common Sanskrit Terms.


7. Moon Phases
Yogis utilize the moon phase tattoo to represent their connection to lunar energy.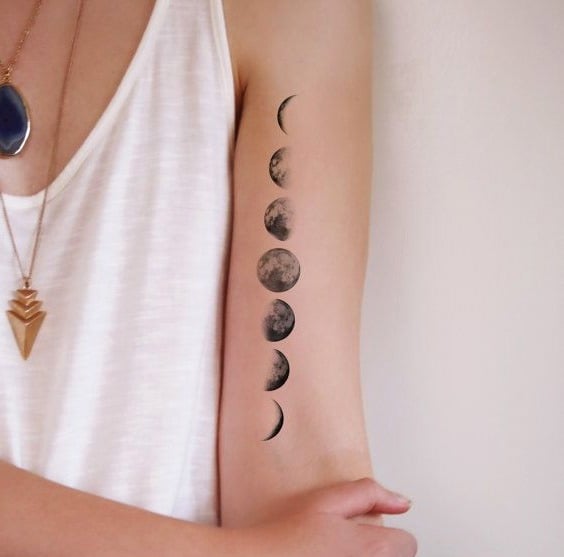 8. Unalome
An unalome tattoo is a visual representation of reaching enlightenment – a beautiful minimalistic way to express your yoga, life, and spiritual journey. The spiral represents life's inevitable challenges, while the straight line means finding harmony.

9. Mandala
Mandalas are all uniquely individual and a classic mindfulness image. Mandalas are geometric designs that represent the universe and are traditionally used to aid in meditation.

10. Zen
Zen is a form of Buddhism that's main focus is meditation, mindfulness, and self-contemplation. Zen can be viewed as something that comes from deep within you while you practice yoga.




Your body may be your temple, but it is equally your canvas. From Buddha to OM, chakras to Shiva, there are many ways to combine tattoos with your yoga lifestyle. Do you have a yogi tattoo? Leave a photo in the comments below!

This article has been read 100K+ times. Wowzers!