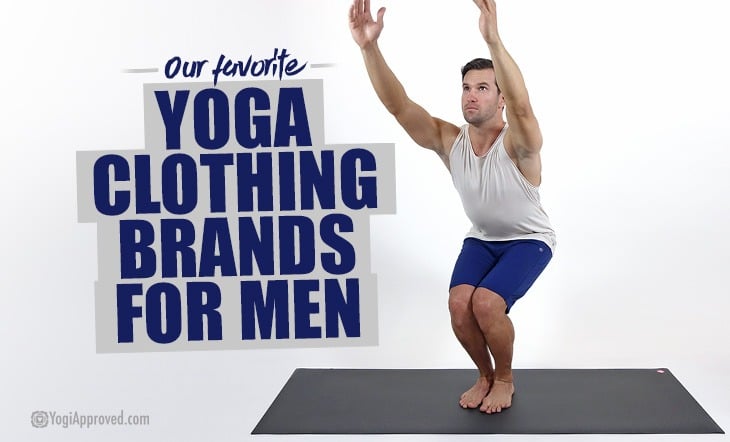 Our Favorite Yoga Clothing Brands for Men
Everywhere we look, we're inundated by the mountains of women's yoga clothing being advertised and worn all around us. While women still seem to dominate the yoga scene, there are plenty of guys practicing yoga these days and obviously, those guys need yoga clothes too! But beyond the obvious Lululemon, or just wearing boardshorts, where do yogi dudes go to find yoga clothing that's made specifically for them, that performs well, fits perfect, and does it with style?

Here are 6 of our favorite men's yoga clothing brands bringing power to the dudes:

4-rth
Strong Body
Manduka
prAna
Vuori
Anjali


1. 4-rth
4-rth is a brand that intersects fashion with sustainability. Eco-friendly fabrics and comfortable, modern fits with stylish designs are the key characteristics of 4-rth. 4-rth makes yoga and lifestyle clothing all locally in Los Angeles, CA.

For this article, we reviewed their Racer-back Yoga Tank and Long Cuffed Jogger Yoga Pants.




The Yoga Tank (featured in white) comes in sizes S-L, is offered in a variety of color options, and made from 4-rth's very comfortable, custom Modal fabric with a deep-scoop neck. ($32)

The Long Cuffed Jogger Yoga Pants (featured in Cinnabar) are also made from Modal fabric and are excellent for yoga, running, working out, and lounging. ($74)

You can explore and shop 4-rth here.


2. Strong Body Apperal
Strong Body makes their high-performance clothing in Vancouver, and have built a name for themselves for their unique and functional designs with a philanthropic twist. For any SBA product sold, they feed a child in need. Pretty rad.

For this article, we reviewed their Pulse Elite Tee and their Everything Shorts.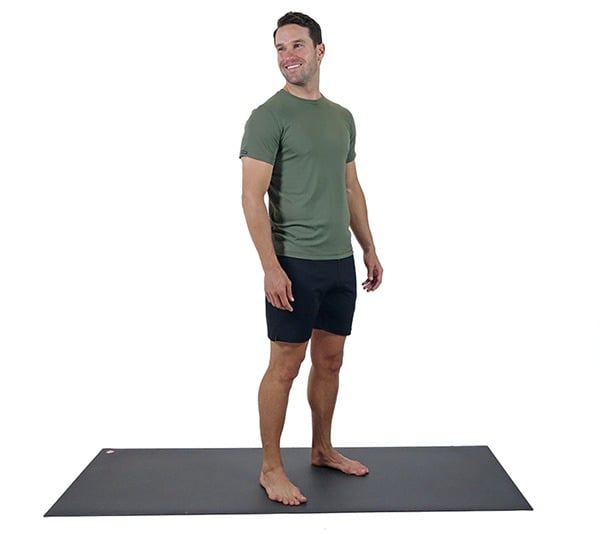 The Pulse Elite Tee (featured in olive) is great for any fitness routine with its stylish vent strip down the back, and its odor-resistant, moisture-wicking, wrinkle-resistant fabric. ($72)

The Everything Short (featured in classic black) offer the same features as their Tee and come with zipper pockets and a hidden drawstring for precision fit. ($78)

You can explore and shop Strong Body Apparel here.


3. Manduka
Manduka made their mark with their high-quality yoga mats, and their clothing line boasts the same signature quality! They make an entire line of men's clothing – tops and tanks, to shorts and pants.

For this article, we reviewed their Transcend Performance Tank and their Ka-Ze Shorts.




The Transcend Performance Tank is super soft with its organic cotton and triblend material that performs well and looks great on or off the mat. ($52)

The Ka-Ze shorts are made from a lightweight, stretchy material with a tapered leg for freer range of movement and are ideal for yoga, the gym, and throughout your day. ($72)

You can explore and shop Manduka here.


4. prAna
prAna is a pioneer in the yoga clothing industry and has been a beloved name in the yoga community for a while now. They specialize in making sustainable activewear that's super versatile and functional.

For this article, we reviewed their Mojo Short and Orion Short Sleeve Shirt.




The Orion Short Sleeve Shirt (featured in charcoal) has a performance fit, breathable + sweat-wicking fabric, and is UPF 40. ($59)

The Mojo Shorts (featured in nautical hatch print) are made from recycled polyester and have a wide elastic waistband with mesh-lined front pockets. ($50)

You can explore and shop prAna here.


5. Vuori
We just love Vuori for their stylish designs, extra-comfortable + high-quality fabrics, and how their clothing can follow you from yoga mat to ocean and everyday life.

For this article, we reviewed their Banks Short and a Tuvalu Tee.




Tuvalu Tee (featured in black) is made from their anti-odor SeaCell performance fabric that contains seaweed with minerals that are good for your skin. Say what?! ($45)

The Banks Shorts (featured in olive camo) have a front zipper pocket, 4-way stretch, and can go from land to sea and dry super quick. ($68)

You can explore and shop Vuori here.


6. Anjali
Anjali is focused on fabric that feels great against your skin and performs well for any form of yoga. We appreciate Anajali's commitment to quality in their designs, and the fact that their activewear is a joy to practice in. Eco-friendly and organic materials are their staples.

For this article, we reviewed their The Vida Short and their Practice Top.




The Practice Top (featured in soot) is made with eco-friendly bamboo and organic cotton, and is super lightweight and soft – great for yoga, jogging, etc. ($44)

The Vida Short (featured in the microstripe print) is made from recycled materials that are sweat-wicking and anti-microbial. We loved these shorts for yoga and hiking. ($69)

You can explore and shop Anjali here.


Here are some other great brands that offer yoga clothing for men:

ALO yoga
RVCA VA Sport
Patagonia
Yogasmoga
Rhone

Guys, when it comes to finding your next favorite outfit, you don't have to compromise style, function, or quality. We did the research and the testing for you, so you can rest assured that these brands listed here will bring you style, function, AND quality, with a little something for any active guy out there.

This article has been read 10K+ times. Bada bing!