The 10 Best Yoga Mats For Men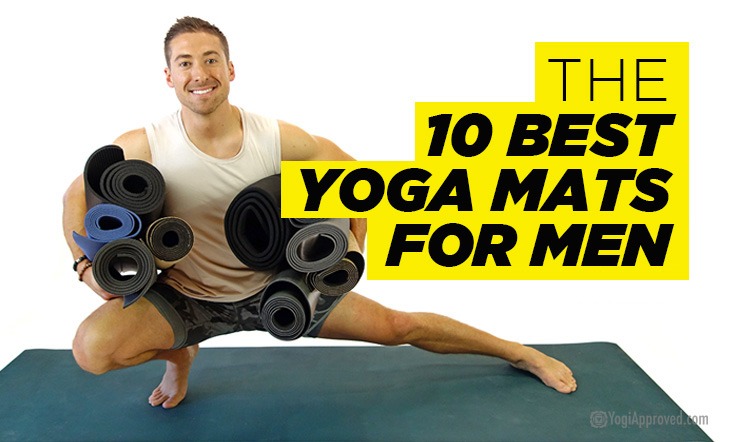 It's estimated that roughly 80% of the people who practice yoga are women. But men need yoga mats too! Let's face it – yogi dudes have different needs than our female yogi counterparts. We've made our best yoga mats for men selections based on the things men look for in a yoga mat: extra height and length, durability, and a more masculine aesthetic design.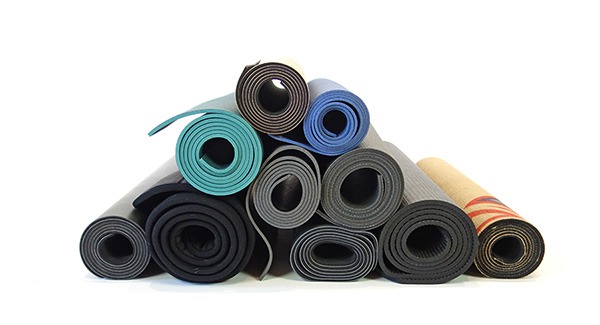 Here are our top 10 picks of the best yoga mats for men: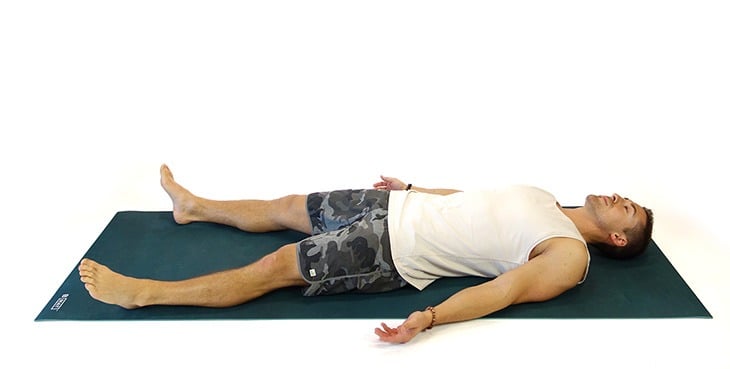 For the bigger guy
B Yoga's Strong Mat
If you are a tall guy, you need extra length on your yoga mat! Most mats are about 68 inches long, which only equates to 5'8" in height. The Strong Mat is 6mm thick and 71 inches long for $88. It's a super grippy mat with extra cushion to support your joints during high impact activities.
You'll like it if: You're a tall yogi dude who needs more room to spread out during his practice.
B Yoga
Strong Mat in Ocean Green ($88)
B MAT™ Strong offers superior cushioning for the yogi looking for more comfort and support. B MAT™ Strong is perfect for those with a higher impact practice, such as Vinyasa, or for those who simply value extra comfort and cushioning.
Shop this mat

For the eco-friendly minimalist
Harmony Mat by Jade
Typically, high quality and big name brands mean higher price tags, which is one of the many reasons we love Jade's durable and well-made Harmony Mat. While this mat isn't necessarily inexpensive, it is very well priced at $74.95. It is lightweight, has a gender-neutral color and design, and offers excellent traction. One really nice feature of this mat is that it has no favorable top or bottom – use both sides and it will last twice as long. This mat is offered in a larger size (74″) for just a few $$ more. And bonus, Jade plants a tree for every mat sold, and at over a million trees planted and counting, this is a company worth supporting!
You'll like it if: You're looking for a high quality, well priced mat with a simple, yet effective design that will stand the test of time.
Jade
Harmony Mat ($74.95)
The Jade Harmony Mat is 3/16" thick, providing great traction and cushion while still providing stability for standing poses. The Harmony Mat comes in a variety of colors, is offered in two lengths (68" and 74"), and weighs about 5 pounds.
Shop this mat

For the guy who needs a little more cushion
Kind Mat
Aptly named, the Kind Mat is designed specifically with your joints in mind to give you the most comfortable yoga experience possible. The memory foam cushioning creates a unique, Tempurpedic-type feel, yet still provides plenty of stability and support for your practice. Offered in Medium (24" x 68" for $110), or Large (28" x 76" for $125). Because this mat is thick, it takes up more room than a standard yoga mat when it is rolled up, which can make transporting it to and from the studio a bit awkward if you are walking or riding a bike. But this mat absolutely rocks for an at-home practice.
You'll like it if: You have sensitive joints and want more comfort and support than your typical yoga mat provides. This mat is awesome for Yin Yoga.
The Kind Mat
The Kind Mat ($129)
This yoga mat has a slip-free surface, and its patented three-layer construction provides superior comfort for your joints. It comes in two sizes, each a full half-inch thick to separate your joints, hands and feet from the floor beneath.
Shop this mat

For the hot yogi
The Nomad Cork Yoga Mat by Yoloha
Yoloha is a trailblazer in the yoga world, making yoga mats entirely from eco-friendly cork materials. The Nomad Cork Yoga Mat ($99) is a unique mat that's great for a home or studio practice. Cork is ideal for traction, particularly when you sweat. That makes this one of the best mats for hot yoga we have ever seen. This mat is offered in a variety of sizes, ranging from 72" x 24" all the way up to 84" x 30".
You'll like it if: You're an eco-conscious hot yogi and/or sweat a lot during your yoga practice and want a mat that offers reliable traction.
yoloha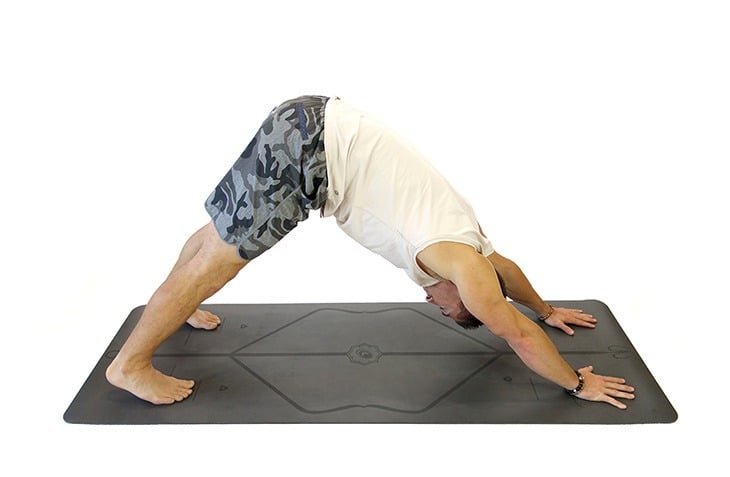 For the yogi who's all about alignment and traction
Liforme Yoga Mat
Yoga teachers are there to teach you proper alignment when you're in a pose. The Liforme yoga mat ($140) includes an alignment system called AlignForMe printed directly onto the mat. This design actually teaches you proper form. Besides the obvious value of the AlignForMe system, this mat has killer traction both wet and dry. There is a reason this is Dylan Werner's mat of choice.
You'll like it if: You're an alignment junkie, or new to yoga and looking for guidance on proper alignment.
Liforme
Liforme Yoga Mat ($140)
Made for yogis, by yogis, with years of research that has gone into creating the Liforme yoga mat design, along with the custom AlignForMe yoga pose alignment system.
Shop this mat

For the guy looking for a great deal from a well known brand
The Reversible Mat 5mm from Lululemon
Everyone has heard of Lululemon. The bad press, the high prices, the swankiness etc. etc. But you know what? They make a really good product! Their clothing quality is second-to-none and their mats are no exception. The Reversible Mat 5mm is a VERY good value. At just $68 this is one of the least expensive mats in our list. You get a lot with this mat: an anti-microbial, slip-resistant surface that is great for both hot and non-heated yoga, plus it's reversible – so you get two mats in one.
You'll like it if: You're a yogi who practices both heated and non-heated yoga and is looking to get a lot of bang for your buck without compromising on quality.
Lululemon
The Reversible Mat 5mm ($68)
Reversible yoga mats are like having two mats in one. Both sides offer incredible traction. The black side is slip-resistant, even in hot yoga without a towel. The alternate side is a different texture but equally as grippy, making this mat a bargain at $68.
Shop this mat
More yoga mats we think you'll really love:
Pogamat
The Pogamat XL Exercise Mat ($99)
The Pogamat XL is designed for high intensity workouts, which means that it is super durable, well-made, and multi-functional. You can use this mat for any at-home workout regimen (you can wear shoes on it). Its dense, eco-friendly material is slip-resistant and offers thick cushioning for your yoga practice. This oversized yoga mat is 78" long, 27" wide, and twice as thick as a standard mat.
Show this mat
manduka
Onnit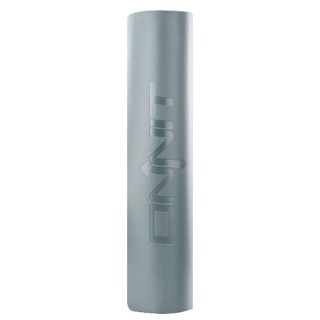 Multi Mat ($54.95)
The name says it all for this yoga and exercise mat from Onnit. The Fitness Multi Mat absorbs impact and is designed specifically for a multifaceted fitness regimen. Made from recycled rubber, this durable yoga mat lets you train anywhere, since it's thick enough to use on any surface.
Shop this mat
Yoga Design Lab
Combo Mat – Aegean ($68)
The Combo Mat is an eco-friendly mat/towel combination yoga mat with a premium microfiber top. This mat was designed to be the ultimate yoga companion. With this mat, you no longer need to bring a mat AND towel to class anymore, plus it's machine washable and comes with a carrying strap.
Shop this mat

With how popular yoga has become, there are tons of options on the market for you to find a yoga mat that meets your specific needs. As a yogi dude, you have a diverse range of needs and wants for your yoga mat, and we hope this list of best yoga mats for men represented those needs!

Questions, comments, or additional yoga mats you'd recommend? Talk to us in the comments below so we can continue helping all you yogi guys out there find the perfect yoga mat for your practice. Namaste, dudes!

This article has been read 70K+ times. Hot damn!