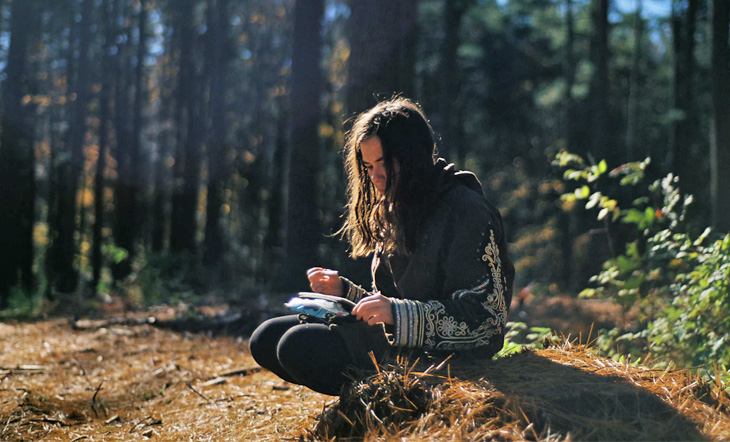 Take Your Yoga Practice to the Next Level with Yoga Journaling + 3 Easy Steps to Get Started!
When we first think about journaling, sometimes our minds might wander back in time to our adolescence. We can imagine sitting on a bed with pen in-hand, writing a "Dear Diary" entry about the dramatic events of seventh grade.
Yoga journaling, however, is an entirely different concept.
There is so much more to journaling besides recording memories. It can help shape your personal growth, and also serves as a helpful tool for keeping notes, thoughts, and insights about your yoga practice.
Read on to discover the benefits of yoga journaling, and three steps to get started right away.


The Benefits of Yoga Journaling + 3 Steps to Get Started
Yoga journaling is a great way to track your progress while working towards Crow Pose or record those moments of clarity that come in Downward Dog. Journaling can help you notice small nuances and connect to how you feel in each pose.
For example: during one practice in forward fold, it felt more fluid to shift my feet closer together than keep them hip-width distance apart.
Did that always feel better or was something different going on with my body that day? So, I noted it in my journal and came back to it the next few times I was on the mat.
Logging these types of notes in a journal could help you better connect to your body and make adjustments as needed.

Yoga journaling can help you notice small nuances and connect to how you feel in each pose.

Incorporating a yoga journal into your practice is a common activity in yoga teacher training programs, but anyone can benefit from it. If you're looking for a way to deepen your yoga practice or to add another layer, journaling is a great option. There are tons of benefits and it's easy to get started.


Here Are 3 Ways Journaling Enhances Your Yoga Practice:
1. Journaling Increases Your Self-Awareness
Using a yoga journal as a part of your regular practice allows for greater self-awareness and reflection, which can help you get out of the going-with-the-motions-movement and really connect you to your flow.
Even the most experienced yogi has seasons of disconnect on the mat. Spending a moment or two after your practice to write things down will help you reconnect.

2. Journaling Increases Mindfulness
Another benefit of using a yoga journal is the depth of mindfulness it can bring to the mat. You'll begin paying more attention and noticing the little things, like the way you place your hands, how your feet feel on the mat, how a forward fold feels different when your feet are together or apart.
Try These 8 Useful Hacks to Make Mindfulness a Habit
Additionally, if you are working on anything specific, using a journal can be a way to track your progress and notice incremental improvements.


3. Journaling Captures Wisdom and Clarity
Have you ever had an aha! moment on the mat? Whether it's sudden clarity, a greater understanding of a transition, or a new idea, it can be pretty insightful.
Writing them in a journal helps capture those moments and gives you wisdom to hold onto as you move forward. Periodically reviewing past journal entries can help motivate, inspire, and encourage you.


Follow These 3 Steps to Begin Your Own Yoga Journaling Practice:
1. Choose Your Journal
There's no need to get fancy here, unless you want to! You can keep it simple and use a standard college ruled notebook, find a pretty journal that inspires you, or anything in between.
Looking for some journal inspo? Here Are Our Top 5 Gratitude Journal Recommendations For a Happier Life
Sometimes it's nice to get a notebook that you can easily take with you if you practice in a studio or travel often. Grab a pen and keep it with your mat so it's accessible post-practice.


2. Choose a Journaling Method
There is no right or wrong way to use a yoga journal. You can free-flow and just write down whatever comes to mind. Or you can use a template-style journal such as Learn, Grow, Shift, a 30-day personal growth journal written by YouAligned founder, Ashton August!
You could also have multiple journals, one for yoga, dreams and recording memories. Experiment and see what works best for you.

3. Get Started by Considering These Journaling Questions:
How did you feel before practice? What feelings did you bring to the mat?
How was your physical movement on the mat?
How did it feel in your body?
How was your breath during practice?
Was it easy or challenging to stay connected?
Was there something particularly challenging in today's practice?
How did you feel emotionally during the practice?
Did those feelings affect your movement?
Did anything come up during or after the practice to note?
Remember: Your Journal, Your Rules
You don't have to write in your yoga journal every time you get on the mat. You can decide to only journal after at-home practices or once a week. Or you can choose to journal after every practice for a set amount of time. Give it a try and find what feels right for you.
Ultimately, using a yoga journal – or doing any kind of journaling – is a tool to help you cultivate a deeper relationship with yourself and tap into vulnerability, which is, after all, why we're on the mat to begin with.
You can also use the journal as a form of gratitude – for yourself, your practice, and anything else that comes up. There's no limit to how to use the journal; get creative and make it your own!
How often do you journal? Let us know in the comments. We love hearing from you!
This article has been read 3K+ times. Feelin' the love!