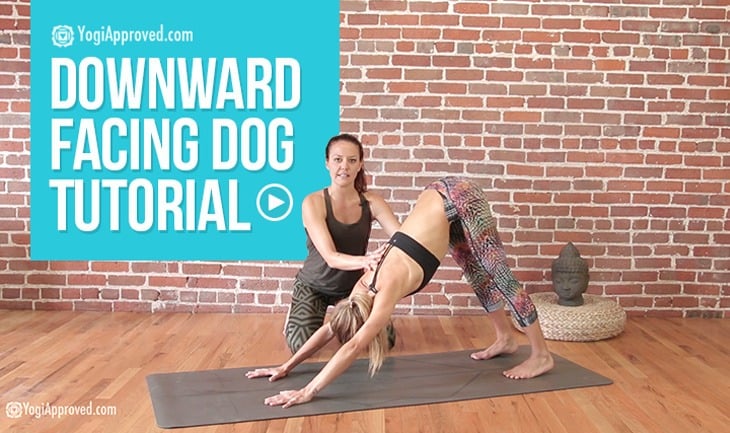 Curious About Your Alignment In Down Dog? Watch This Yoga Pose Tutorial (Video)
Downward Dog, or Adho Mukha Svanasana, is one of the most commonly practiced yoga poses. Down Dog is a foundational yoga pose, and is also one of the poses in the traditional Sun Salutation (or Surya Namaskar) series.

Sneak Peek at Downward Dog Pose



Despite Downward Dog being such a common pose, it is also a pose that is often practiced incorrectly. From hand placement to the distance between hands and feet and much more, there are several key alignment aspects required to practice this pose correctly.
That's why we created a short video tutorial with step by step instructions to teach you everything you need to know to practice safely and correctly! Watch it below and learn everything you need to know about Down Dog pose.


Watch This Downward Dog Tutorial Video to Learn More
Never miss a FREE class. SUBSCRIBE HERE

At first, Downward Dog will feel like a challenging pose, and it should! It takes a good amount of arm and leg strength, and also requires several key points of alignment to make sure you're practicing it correctly and safely so you can get the most benefit out of the pose.
Speaking of benefits . . . let's review all the wonderful reasons to practice Downward Dog regularly.


Benefits of Practicing Downward Dog
Down Dog is a full-body stretch, specifically targeting the shoulders, hamstrings, and calves (all of which are typically tight in most bodies).
With regular practice of this pose, you'll gain upper body strength and full body flexibility. Over time, this will become a resting pose that your body welcomes as a delicious and rejuvenating stretch.




Downward Dog also offers many mental and emotional benefits. Classified as an inversion (which is any pose where your head is below your heart), the increased blood supply to your brain helps relieve stress and create a sense of mental calm. It also helps to relieve back pain, fatigue, insomnia, and even headaches.
The list of reasons why to practice Downward Facing Dog goes on and on. In short, it's an integral pose in yoga, and one that you can and should practice often! That being said, it's important to understand the alignment basics so you can be sure you're practicing properly and safely.
Looking for more yoga tutorials and yoga tips? Check out our full library of Yoga articles here

Learn Downward Dog Pose (And 30+ Other Foundational Poses) in the Learning Yoga Series
Yoga Program
With Ashton August & Alec Vishal Rouben
Beginner
Check out the Learning Yoga program from YA Classes, which features video tutorials on 30+ foundational yoga poses, including Downward Dog. Not yet a YA Classes member? Try it out for free for 14 days.
This article has been read 7K+ times. Feelin' the love!

YouAligned
YouAligned is an online yoga, health and wellness publication for your life on and off the mat. We are here to help you live happier, healthier, more fulfilled lives. Yoga is our passion. Your healthy lifestyle is our obsession!
You may also enjoy

Chaturanga is not a push-up and requires different alignment and muscle group focus. Follow these 5 tips to practice this asana correctly.

Kasia Litwinski