Considering Yoga Teacher Training? Here's What to Expect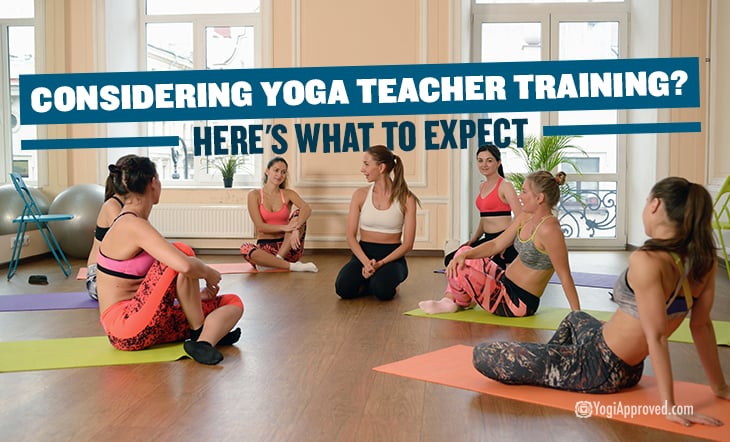 Yoga Teacher Training.
Those three words can represent an entire range of feelings: mystery of the unknown, excitement, anxiety, fear, passion, and so on. I felt all of these emotions as I teeter tottered on the idea of becoming a yoga teacher.
Now being a teacher, I still feel these same emotions. The yoga world is a never-ending cycle of evolution and growth that will always produce heaps of emotions! 

The world is becoming a better place one yoga class at a time.

And that's the beauty of it – your growth never ends, the yoga industry is ever-changing, and the world is becoming a better place one yoga class at a time.
For many yogis, we find ourselves wanting more. We love our yoga studio and teachers, we love our home practice, and we love our yoga community.
But amidst all of this love is a curiosity to know more. And this 'more' is where those three words come into play: yoga teacher training . . .


If You're Considering Yoga Teacher Training, Start Here:
If you are interested in yoga teacher training (YTT), I highly recommend starting by doing a lot of thoughtful consideration and research.
First, identify what style of yoga you love and want to teach. Then there's the type of training based on your schedule, how you learn best, etc. Decide if you will do an intensive training or a more spread-out version.
Research teachers, programs, and studios and try to meet with or interview them. And then commit to it! (Read this resource guide on online yoga teacher training.)
I know you're excited and already researching where and how and when to become a yoga teacher, but let's pause for a moment. What you won't find in the FAQ section or on the About section is this – The Truth about Yoga Teacher Training. These YTT programs should come with a warning label:
Be warned:
Your life will be forever changed.
You will cry, laugh, and shed tears of joy.
You will do the weirdest shit ever.
You will lose friends but make new ones.
You will question your entire world.
You will become a better person.
You will be a yoga teacher.


Here is Everything You Need to Know About Yoga Teacher Training
Going into a YTT program can be intimidating. You are doing something new, different, and unfamiliar, and as a result, you may feel completely vulnerable.
It's normal to have these feelings, but know that yoga teacher training will be one of the most transformative experiences of your life!
Here's what to expect in YTT:

1. You will find your inner voice
When first learning how to teach yoga, it's imperative to find your inner voice. It might sound weird at first. Too high. Too soft. Too rough. Too monotone. And all of that is OKAY.
In today's society with texting and email being the main form of communication, it's all too often that we don't speak for hours. It's weird and unnatural. So when asked to speak in front of a group of people at your teacher training, it can be overwhelming and scary!
It's true – you will have to get up in front of your YTT peers and lead them through a yoga practice. Don't shy away from this experience. It's a beautiful opportunity to learn, gain confidence, and grow independently and also alongside your peers.
During your training, find it within yourself to speak YOUR voice and project YOUR emotions loud and proud. In time and with practice, each person develops their unique identity. It might happen naturally or it might take months of practice.
Whatever the scenario, enjoy each hiccup, mistake, and loss for words. It's in those moments that you experience change, growth, and your transformation into becoming a yoga teacher.

2. The 200-hour training is only the beginning
I remember the first weekend of my training – books scattered, a new notebook to jot down notes, pencils, highlighters, and a thirsty mind for knowledge. I was ready. I was prepared. I knew yoga was my calling.
Notes were then passed out and our first real taste of what yoga is began. And then I had a holy shit! moment. This practice is too much to learn. I'll never be able to remember any of this. I felt overwhelmed and unprepared.

In time and with practice, each person develops their unique identity. It might happen naturally or it might take months of practice.

It was obvious the entire room had the same unnerving feeling. And luckily, our teacher sensed it and addressed it. These were her words:
"I want you to imagine that the 200-hour teaching training program is the doorknob into the world of the yoga studies. This training is simply you holding onto that doorknob. It's up to you to then open the door and continue your studies.
Don't ever feel overwhelmed. Instead, feel connected to the ancient studies, inspired to keep opening new doors, always ask questions, and know that you are a forever student."

3. You will feel overwhelmed
Like I mentioned in #2, studying yoga is no joke. It involves learning the Eight Limbs, the Chakra system, the founders and influencers, the ancient stories, yoga postures, the Sanskrit names, how to teach the postures, and so on and so on.
You can get dizzy just thinking about all of it!
Here's my advice – treat the learning process as a journey. Don't focus on the end destination of actually teaching a class. Instead, break down what your primary goal is and then continue to build upon it one step at a time.
I repeat, one. step. at. a. time. Take loads of notes, practice at home on family and friends, repeat it out loud while driving, and be confident in your skills. You got this!

4. Your priorities will change
When yoga takes over all of your free time and then spits you back out into the real world, don't be alarmed! As my trainer said, don't go out in the world and just spin around from one place to the next. I thought that word "spin" is so appropriate for the daily grind of life.
Your personal practice will become a necessity. Eating habits will change, drinking and partying will be less frequent, shopping will be less important, and gossiping will no longer excite you.
It's a big shift. It was a huge shift for me coming from a world of sorority sisters, materialism, and constant gossiping. I almost had to mourn for my old way of life.
Now, I value this new way of living. It's sacred to me. It's special. It's who I am and I'm so incredibly proud of it. And you will be too!


5. Old friendships will dwindle as new ones are made
This is a tough one. As you delve deeper into the studies and become more entrenched in the principles of yoga, people that no longer serve you will start to surface.
This is totally okay. And don't worry – friends don't disappear overnight. It's a gradual process of recognizing what each friendship represents in your life.

Just know in your heart that everything unfolds as it's supposed to. So let it flow and let it go.

I came to realize that some of my friendships were so damn superficial. At first, I wanted to cast these friends off and no longer participate in the petty conversations about clothes and celebrities. But after talking it through with my teacher training group, I realized this:
Each person in your life serves a purpose. Some will be deep. Some will be shallow. And some will fall in between. Some will uplift you. Some will challenge you. Some will support you. And others will think your new yoga life is just plain weird. And to the outside world, it may be weird.

6. You will acquire a new family of lifelong friends
Your yoga teacher training group will become your family. An odd family made up of all shapes and sizes, but a beautiful, supportive, and loving family.
These people will witness you break down barriers, move through fears, and blossom into a yoga teacher. It's such a powerful transformation that will forever keep you connected to one another.
Our teacher training family has an online Facebook group to help us stay in touch. Social media is a great tool to help everyone stay connected. I highly recommend you or someone else does this for your teacher training family.

---
Yoga Teachers – Need yoga insurance? Our friends at beYogi are offering YogiAproved.com readers $30 off your annual premium, dropping the annual cost to $149. Learn more here
---
7. You will break through walls of fear
Every kind of wall will be broken down, and with force.
I witnessed people who could barely pronounce a pose's name in Sanskrit emerge knowing almost every name in our yoga toolbox.
I witnessed people in their 50's do a headstand for the first time.
I witnessed people burst into tears and still present in front of the group.
I witnessed myself become a better person and I couldn't be more grateful.
As with everything mentioned above, do not shy away from any of it. This is an opportunity to let everything flow in the most supportive, loving environment you can imagine. Take advantage of it and prove to yourself what you're made of!

8. You will push your body to the limit
You will do more yoga than you ever thought possible. Some days will consist of pure physical practice. I'm talking 8 hours of consistent movement. Even the most advanced practitioners will feel it.
And the best part about all of it – you'll freaking love every moment of it!
Yes, your body will be sore and telling you to stop. And yes, your mind will tell you it's enough already. But trust me, the excitement of learning new postures, movements, and teaching will bring a ferocious attitude of positivity and energy. It's contagious!

9. Weird shit happens . . . and it's awesome
You will participate and learn about some weird shit. And oddly, it's so refreshing to do weird shit. It's not too often that we can act completely out of the ordinary and not be judged. Take advantage of these moments – they're so incredibly powerful and just plain fun!

A few examples of the weird shit I did:
Yelling at the top of our lungs to discover our inner voice.
Skits about what not to do in a yoga class.
Sitting across from one another, staring into each other's eyes, and repeating a powerful statement.
Guided meditations that take you to another place.
Breathing exercises that left you naturally high and alive.
10. It's never too late to pursue your dreams
My biggest takeaway from my entire YTT experience is this last statement. I witnessed people who joined the training for many different reasons: divorce, recent loss, to do something for themselves, to teach, to find their passion, etc.
It was eye opening to experience so many people all working towards the same goal but for very different reasons. And it showed me this:
We have the power to do anything. We have the ability to start a new chapter. We can make the impossible possible. And we can change this world one yoga class at a time.


If You're Considering Yoga Teacher Training, Step Off the Ledge!
With yoga taking over the globe, it's no wonder we want to deepen our practice. Big yoga superstars promote their exclusive trainings, exotic destinations host trainings year round, and local studios host a variety of their own too.
Yoga teacher trainings are literally everywhere! It's a great phenomenon. Yes, the market might be a tad oversaturated, and yes some programs might not be thorough enough, but in the end, the main goal for each yoga practitioner is the same – to know and learn more about yoga.
This article has been read 50K+ times. Hot damn!