7 Savvy Social Media Tips for Yoga Instructors
Keeping current and relevant on social media can be a huge task. As a yoga instructor with a million other things on your business to-do list, social media can easily fall to the bottom of your priorities, especially if you are not naturally passionate about social media platforms or technology in general.

However, to connect to your audience on a larger level, social media is almost a necessity in today's modern world.

Social media doesn't have to be hard, or consume tons of time. The key is to establish a routine and use tools that work for both you and your yoga business.

Use These 7 Tips to Get the Most Out of Your Social Media Platforms:
1. Build a Library
Having to come up with content 'on-the-go' can be difficult and can lead to social media exhaustion or burnout. It is natural to have days or weeks (maybe even months) where you just don't feel inspired to share on Facebook. This is where having a library of all the good, juicy stuff that you found or developed when you were inspired helps.

Jot down ideas on your phone notepad (or on paper) that come to you during your busy day, and keep a folder on your desktop to save links, images, and other online items that inspire you. Each person will develop their own system, but the point is to have a system in place and to start building that library of inspiring things you want to share.

2. Schedule Posts
The beauty behind technology is we can make it work for us. Social media is not exactly a "set-it-and-forget-it" game, but there are certain elements that can be easily scheduled, and doing so will save you time, energy, and sanity in the long run.

There are tools out there that have free options for scheduling on multiple social media accounts (our favorite is Hootsuite) and some social media platforms even allow scheduling directly via their site (like Facebook). Plan ahead and use these tools to your advantage and pick 1-2 times a month to spend at least an hour scheduling your posts for the following weeks.

This is where your library of content, ideas, quotes, photos, articles, and writings can come in handy (see tip #1). Tap into this and schedule away! Remember you can always augment what is already scheduled with real-time updates as well.

3. Manage Your Time
Let's face it – social media takes time. It can easily become a rabbit hole we fall into where we set out to respond to a comment or make a post and quickly find ourselves reading some article or browsing through a friend's photo album.

Managing your time on social media will help you preserve your energy and be efficient in your entire purpose behind its use – to network, connect, and ideally spread your message to those that are attracted to it.

Having a game plan going into the social media game is KEY. When possible, do as much of the prep work off of social networks as possible (like writing out future posts, finding quotes, selecting photos, etc.). Plan ahead and block out separate times on your calendar for scheduling posts, responding to comments and messages, finding other content to share, and developing your own content.

Stick to your schedule and practice not getting distracted. And when you do find yourself off track, just like in meditation, gently bring yourself back to what you were doing.

---
Yoga teachers: Need yoga insurance? Our friends at beYogi our offering $30 off your annual premium for YogiAproved.com readers, dropping the annual cost to $149. Learn more here
---
4. Engage
Getting posts out is only half of the social media game. The entire purpose of social media is to connect. It is community building, which means it is a two-way conversation. Don't be afraid to ask questions. Use it as a way to have a conversation with your student base, fellow teachers, and other professional connections.

When people comment to things you have posted, RESPOND. It doesn't have to be right away. In fact we recommend it isn't, but rather that step #3 is implemented and blocks of time are set aside specifically for responding. This ensures you are fully engaged, not distracted, as well as being more efficient with your time.

5. Give
While social media is a great way to share what you have going on (classes, events, retreats, etc.), it's also a place to give. This doesn't necessarily mean giving away free classes or private training sessions, but giving good information. Sharing quotes, music you enjoy (or playlists), tips or recipes, quick videos, or even just personal glimpses of yourself can completely change your social media game.

The shift from an always 'asking' (promotion) profile to a more 'giving' (source of information) profile can make all the difference in how you connect with those in your network.


6. Share
We all know the saying "sharing is caring." The same applies to social media too. When you see a post, tweet, video, or whatever that someone else has shared that inspires you, then feel free to share it with others too. This not only helps you build your own content on your platforms, but also helps you network with those in your industry. When you acknowledge and recognize others, they will do the same to you.

7. Analytics
Most of the popular social media platforms have built-in analytics that users (especially businesses) can review. While this step may seem overwhelming, it can add a whole lot of value to your efforts. Even just a quick glance once or twice a month can help you understand which posts people responded to best and give you a sense of the demographic of your followers.

You will have the information of what things work and, therefore, where you should your spend social media time.


The Takeaway On Social Media For Yoga Teachers
Social media is a marketing and community-building tool.It needs to be managed just like any other part of your business. Having a system in place increases both your efficiency and effectiveness and allows more effortless flow. You have a lot to juggle as a yoga entrepreneur, so good use of your time is imperative.

More ease means less time needed, which then allows for more time for other aspects of your business.

Take a minute to review these tips and check-in on which ones would be useful to you. With a conscious effort and commitment to implementing these simple yet effective strategies, you will begin to feel more like social media is working for your business needs rather than the other way around.

Have other tips, ideas, or questions? Share them with us in the comments below – we love hearing from you!

This article has been read 1K+ times. Feelin' the love!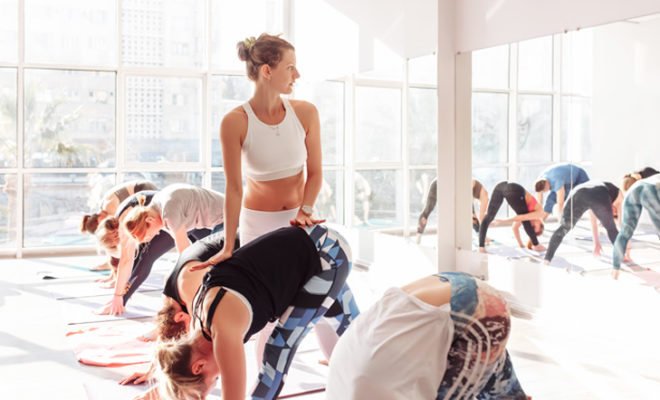 5 Things You Should Know About Being a Yoga Teacher
Yoga teachers: here are five key things you need to know about being a yoga teacher from someone who has been teaching for decades.
Read »

Lynann Politte holds a Master in Business Administration, is founder of her boutique management firm, Yoni Speaks Productions and creator of "Balancing the Elephant" business series. She is a regular contributor to prominent yoga publications, is a Yoga Alliance presenter, and tours teaching Yogic Business workshops at yoga conferences and teacher trainings.