10 Reasons Why Yoga Teacher Training is the Best Thing You'll Ever Do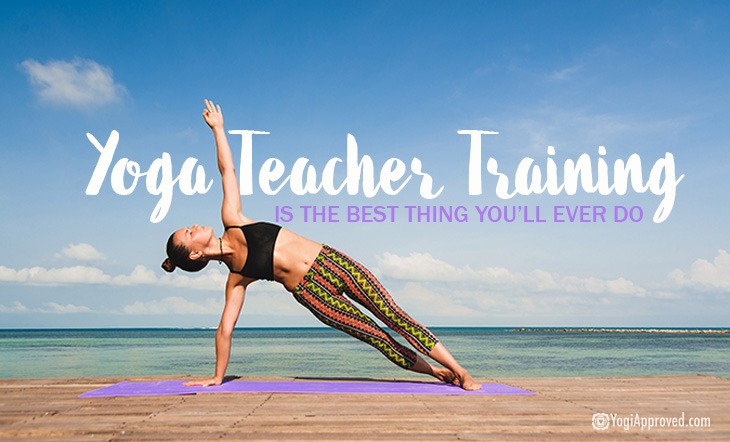 There are an estimated 9 million certified yoga teachers around the globe today.

Whether you want to learn to cue a class so well that people will flock from miles around, or you just want to improve your own practice and finally be able to understand the tradition and spirituality behind yoga, yoga teacher training (YTT) is a great place to start. This is probably why so many people decide to take the plunge and go to yoga teacher training.

The best part about embarking on YTT is that you will experience unforeseen benefits, and you will probably learn a lot more than cues and alignment tips. In fact, while reflecting on your YTT experience, you may face some of the most surprising and life-changing experiences of your life . . .

Here are 10 reasons why yoga teacher training is the best thing you'll ever do:
1. Get out of your comfort zone
For some of you, signing up for yoga teacher training and coming to the first class might make you feel a bit apprehensive. It takes many yoga teachers courage to teach a yoga class, even years after they first began teaching. YTT is a great way to break down barriers and exceed your own expectations.

2. Limitless knowledge
You will learn about human anatomy, the history of yoga, and how to incorporate ayurveda into your everyday life. You will learn things that you never knew you actually wanted to know, and you will never think of your yoga practice the same.

3. Time for OM
Meditation is radically under-used in the Western world's adaptation of ancient yogic principles. There is a lot of focus on physical asanas and not as much attention on training the mind. Chances are you will get the opportunity during your training to meditate. Love it or hate it, most of you will find it becomes part of your everyday practice.

4. Knowledge is power
One of the most wonderful aspects of YTT is that everyone in your class is there to learn and is just as curious as you are. There are no wrong questions, so ask away! The knowledge and support you can gain from your instructors and fellow trainees might surprise you!


5. Belly laughs
Friendships created through yoga teacher training are the best kind because there's no judgment. Everyone is exactly who they are, and with that feeling of support and comfort comes comedic release. These friendships help you keep a lighthearted attitude that reminds you to not take yourself too seriously.

6. And some tears
Crying might not be something that you signed up for. They tell you in the beginning that in the 200 hours, you'll learn history, anatomy and cues. What they don't tell you is that you'll also learn to be vulnerable, to let go, and to trust. You'll open up to your fellow trainees, and you'll laugh and cry together. It's part of the healing process and cultivates the emotional intelligence and empathy that is part of being a good yoga teacher.
It's part of the healing process and cultivates the emotional intelligence and empathy that is part of being a good yoga teacher.
7. The struggle is real
At some point, you are going to want to quit. But know that you're not doing this alone. Whether it's finally pronouncing that Sanskrit word correctly, or finding the courage to teach your sequence in front of the whole class, you will have a group of your own personal cheerleaders. Every one of your fellow trainees will struggle at some point. What sets yoga teacher training apart from anything else is the level of mutual support and respect you show each other.

8. Take on the challenges
You will come out on the other side of challenges better off than you were before. Challenges will come in all shapes and sizes. They might include learning the correct way to cue an essential pose or deciding how the eight limbs of yoga can be incorporated into your current spiritual beliefs. Regardless, when you look back on the whole experience, you'll find all your challenges had positive outcomes.

9. A second family
You'll come to find that your fellow classmates end up being friends that support you through all of life's ups, downs, and milestones. You'll find comfort in friendships that allow you to truly express yourself, without judgment. The bottom line is that finding people who share your same values and interests is how you form lifelong bonds. These people end up feeling more like family than classmates. Your yoga tribe is the family you get to choose.
Your yoga tribe is the family you get to choose.
10. You will learn to love yourself
During your training, you will nurture love and compassion for others. What you might not expect is that you will also learn to cultivate self love. Being surrounded for 200+ hours by your fellow teachers and trainees will allow you to see the best parts of yourself. Being forced out of your comfort zone, you will learn more about yourself than you ever imagined. The most important reason to attend yoga teacher training may just be your newfound love for yourself.

Everyone's journey during yoga teacher training is unique. You will learn different lessons, but it will undoubtedly change your life. It is a worthwhile journey and a once-in-a-lifetime experience that you won't regret! Take the leap and get started on one of the biggest adventures of your life.

This article has been read 20K+ times. Bada bing!