Yoga's Touch: Hands-On Adjustments, Alignment & Verbal Cues (Book Review)
Yoga teachers are there to guide students through their practice. They are gatekeepers of the physical practice of yoga – there to guide students in each asana, or pose. This guidance means teaching proper alignment and ensuring that students are practicing safely and correctly in the form of verbal cues, demonstrating the poses, and also making physical adjustments for alignment.

Self-described as "an easy to use reference book that will become every teacher's go-to source for the foundations of alignment, verbal cues, and hands-on adjustments," Yoga's Touch acts as a comprehensive guidebook for yoga teachers.



Making physical adjustments is one of the most important aspects of teaching yoga. Yet so often, teachers are inexperienced in this realm of teaching. Other teachers are intimidated at the thought of making physical adjustments because they don't have the experience, or weren't fully taught how to during their teaching training programs.

Let's review the key components of what the book Yoga's Touch has to offer, and why it should be in every yoga teacher's library. . .

The Visual Component
As yoga teachers, we learn kinesthetically: we thrive on the visual and physical aspects of learning, since this is also our main teaching modality. Yoga's Touch, developed by E-RYT 500 teacher trainer Martia Bennett Rachman, is a revolutionary learning tool for yoga teachers. It includes high-quality photos of yoga poses, in addition to the adjustments that can be made for each pose.

At first, we were skeptical how a book could teach you how to give physical, hands-on adjustments. What we found throughout our review process is that while in book form, this reference guide is an all-encompassing system for learning and executing the art of adjustment in the form of hands-on as well as verbal alignment cues.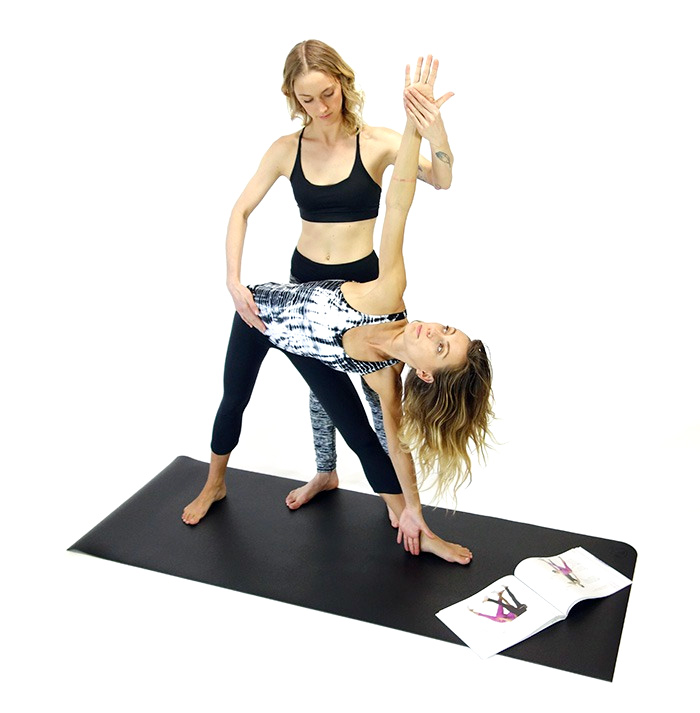 How the Information is Delivered
As yoga teachers, we understand the importance of not just what we teach, but how we teach it. In other words, our cues and the way we present information during our yoga classes is of utmost importance. This importance transfers over in Yoga's Touch. This reference book offers a comprehensive and highly intelligent, yet user friendly system for learning and practicing making adjustments.

First, you will receive instructions on how to teach each pose in a simple and straight-forward manner. Starting with a photograph of the pose itself, you will read a numerical list of instructions on how to verbally cue students into the pose, which includes detailed guidance on proper alignment.

Next, you learn how to give an adjustment (many poses offer more than one adjustment method). Written instructions are accompanied with helpful, easy to follow photos of each adjustment. These instructions provide clear guidance on how to adjust a student within a particular pose. Take for instance Revolved Triangle pose (as outlined on page 87 of the book):

Stand behind the student.
Use your right leg to assist with spinal rotation, sending the left/bottom ribs forward.
Use your left leg to assist the left/bottom shoulder forward and the right/top shoulder up and back. This should align both shoulders and place the scapulae on the back.
Use your right hand at the hip crease to traction the side body and send the right/forward hip back.
Allow your left arm to cross the student's left/upper arm. Place your hand across the left/upper collarbone. This will open the chest and deepen the spinal rotation.
Poses Within the Book
Over 40 common yoga postures are outlined in the book, with more than 200 accompanying color photos. Many of the yoga poses offer more than one way to make an adjustment, giving you as the teacher options in how to adjust. The photographs are professional quality, with the teacher dressed in black and the student dressed in vibrant colors to help distinguish teacher from student, in addition to distinguishing key nuances within each photographed adjustment.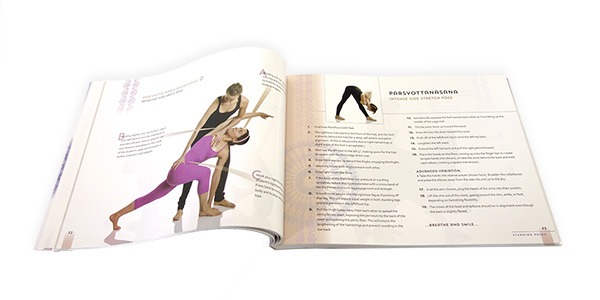 Verbal Cues
Verbal cues are central to any yoga pose that you teach – they create the foundation of how you introduce, teach, and facilitate making adjustments for each pose. In yoga teacher training (or YTT), we are taught to cue clearly and concisely, in as few words as possible, with those words being as verbally descriptive as possible.

As new or inexperienced teachers, that can seem like a tall order! Yet Yoga's Touch breaks these cues down into simple, digestible, and highly effective instructions listed in numerical order. While this is an excellent tool for yoga teachers to read and practice teaching in their own classes, it's also ideal for anyone who wants to refresh their knowledge on alignment, specific areas of muscle engagement, and different ways of describing cues.

Hands-On Adjustment and Alignment
Using hands-on adjustment is important when it comes to ensuring proper alignment. As teachers, we've all experienced when verbal cuing simply isn't enough. We can think up different ways to say "bring the back heel to the mat for Warrior 1" until our faces turn blue, but most students learn best from being physically shown the instruction.

This is why giving physical adjustments is so important. As teachers, it's our responsibility to educate ourselves enough to feel confident in giving hands-on adjustments. That's why finding a resource for learning this valuable teaching tool should be a top priority.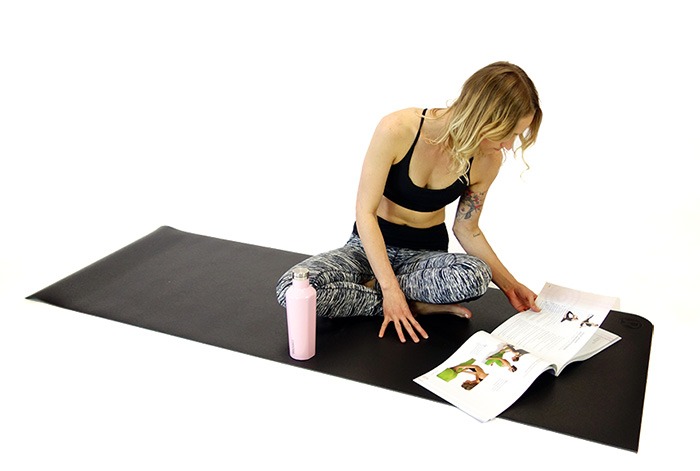 Whether you are a brand new yoga teacher, an alignment junkie, or fall somewhere in between in your teaching experience; whether you're a student currently in teacher training, a YTT facilitator/curriculum designer, or anyone looking to gain more understanding of not just proper alignment but also how to teach and physically adjust for proper alignment, Yoga's Touch is for you. For all these reasons, this book is 100% YouAligned™.



Yoga Touch Method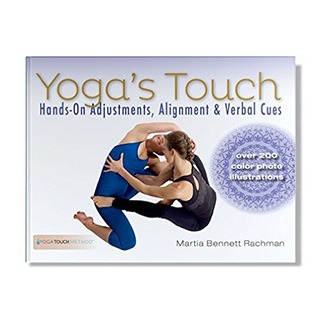 Yoga's Touch ($34.95)
Hands-On Adjustments, Alignment and Verbal Cues (Soft-Bound Book)by Martia Bennett Rachman. With over 200 color photos of 40 common yoga postures, plus detailed instructions and intuitive cues, Yoga's Touch is an easy-to-use reference book designed to empower you to be a more effective, versatile and confident teacher.
Get the book
This article has been read 10K+ times. Bada bing!