Do Yoga Instructors Really Need to Join Yoga Alliance?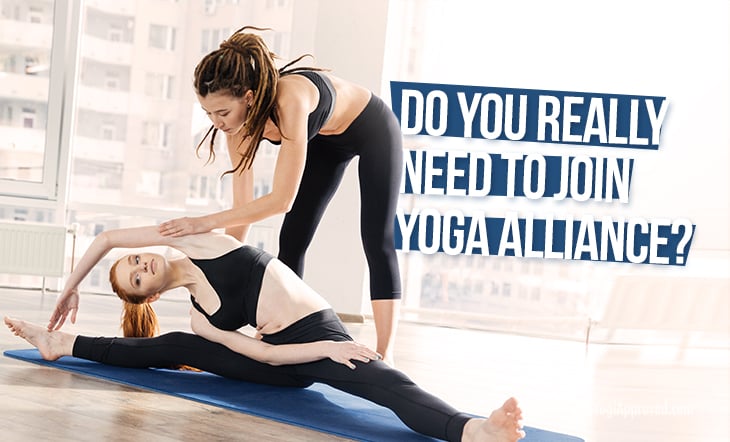 For those who have participated in Yoga Teacher Training, you probably heard a lot of talk about Yoga Alliance.

There's a lot of information about Yoga Alliance out there, and it's important to know the facts before taking the leap.

That's where we come in! Here, we've created a guide that will provide you with all the Yoga Alliance essential information, helpful tips, and even Yoga Alliance alternatives for those who seek them.

Most importantly, we've provided an informative outline containing both the benefits and drawbacks of choosing to join (and continuing to be a part of) Yoga Alliance.

For those of you who have never heard of this association, or perhaps those of you needing a refresher, we'll start with the basics!

What is Yoga Alliance?
Yoga Alliance is a nonprofit association holding the title as the United States' largest registry of yoga teachers and schools. It's the world's most popularly recognized yoga organization, internationally known for it's membership credibility guide.

How Does Yoga Alliance Work?
Rather than specifically training, Yoga Alliance provides the educational training standards it recommends teachers, studios, and schools follow in order to ensure an adequate amount of study time is being taken.

Essentially, it is a voluntary registry comprised of yoga teachers who have previously graduated from schools certified by Yoga Alliance who are looking to add further credibility to their yoga experience.

According the Credentialing page on the Yoga Alliance website, they offer three different types of designations:

Whether you or your organization is looking to become a certified Yoga Teacher, Yoga School, or Yoga Alliance Continued Education Provider, each designation has a set amount of eligibility requirements necessary for registration.


Important Details About Yoga Alliance Credentials
While there are no specific curriculum guidelines, there is instead a set amount of learning hours required to achieve the Yoga Alliance credential.

When it comes to these credentials, they've incorporated a system classified as Social Credentialing, in which feedback is provided via a reviewing system that gets listed on the Directory page of their website.

The feedback collected from these reviews is then used to improve the schools' and education providers' programs and classes for future benefit and growth.

Benefits and Drawbacks of Joining Yoga Alliance
Now that we've gained a basic understanding of what Yoga Alliance is and how it works, let's take a look at the pros and cons of joining Yoga Alliance.

Benefits of Joining Yoga Alliance:
Directory Listing
Members of Yoga Alliance are given a profile that is added to the Directory page. This profile verifies your registration, increases your visibility, and also helps lead more potential clients in your direction.
Increased Credibility
The Yoga Alliance Registry Mark is a globally recognized symbol in the yoga community. Once obtained, this credential is one that most all yogis will acknowledge on your resumé or website.
Being Part of the Yoga Alliance Community
When you join, you're not only becoming part of an association, but you're also becoming part of an exclusive community. Here you will be able to network and connect with like-minded people who share the same passion and love for the art of yoga.
Access to Free Online Workshops
Throughout the year, online workshops are provided to help educate members on the challenges currently being faced by yoga teachers, schools, and studios. Members of Yoga Alliance receive free registration to these online study groups.
Resources
Along with publications provided on the Yoga Alliance website, they also supply resources for yoga teachers and schools to view at their convenience. Here you can find an Index of Yoga Research and read the latest issue of Yoga Insider (the Yoga Alliance monthly newsletter).
Membership Perks and Discounts
Members have exclusive access to liability insurance, legal counseling, and even special discounts. These discounts are offered for an array of things such as travel opportunities, well-known apparel brands, education and training, essential oils, and more.
Drawbacks of Joining Yoga Alliance:
Application and Registration Fees
To get started, all new members are required to pay an application fee, which is $50 for teachers and $400 for schools. There is also a mandatory registration fee which is $20 for Yoga Alliance Continuing Education providers, $115 for teachers, and $640 for schools.
Annual Renewal Fees
Once you have officially obtained your designation, all members are required to pay an annual renewal fee in order to withhold their Yoga Alliance title and place in directory. This fee is $20 for Yoga Alliance Continuing Education providers, $65 for teachers, and $240 for schools.
Minimum Standards
For such a well-recognized organization, many will assume extensive measures are required to obtain a Yoga Alliance designation. Yet some of these designations only require a minimum of 200 practice hours, it could be questioned whether such a low amount of study time (and variety) is enough.
Lack of Verification
Yoga Alliance relies on an honesty system, meaning completion hours are not verified. While everyone should be honest in reporting the accurate amount of completion hours, this may not always be the case.
Are You Required to Join Yoga Alliance?
Necessary or required? No. Useful and beneficial? Yes.

While some may scoff at the idea of the "unvalidated completion hours method" that Yoga Alliance uses, those who are truly learning, practicing, growing, and bettering themselves as teachers during these hours will benefit from the incorporated system.

If you join this alliance with every intention of learning from your practice hours, your hard work will merit the privilege of being added to their online directory.

While this directory can certainly aid in getting your name out there as a yoga teacher and/or school, it's important to note that it's absolutely possible for you to be a well-recognized, honorable teacher and/or school without this membership.

For further guidance on growing your yoga career, check out 6 Essential Steps to Making a Living Doing Yoga.

What Are Some Alternatives to Yoga Alliance?
While Yoga Alliance is one of the most internationally recognized yoga associations, there are similar alternative organizations:

International Yoga Federation
The International Yoga Federation (IYF) is the world's largest nonprofit organization with millions of yoga teachers and practitioners, as well as 90,000 yoga centers under their registry.

IYF operates in a similar certifying format to Yoga Alliance. However, they differ in that IYF offers three different Yoga Teacher Training Programs (depending on region) in which different training standards are required.

The three offered programs for their standards according to the International Yoga Federation website include:
Indian Traditional Gurukula System
The Gurukula System is an ancient education concept where the participants receive their knowledge by residing with his or her teacher as part of their family in the Ashram or School.
American System
The American System requirements are fulfilled by the Yoga Center for Certification at hourly levels of 100, 200, and 500. Within this system, different available certificates include Yoga Techniques, Yoga Philosophy, and Anatomy.
European System
The European System is a minimum of four years in which 500 tuition hours including course tutors, seminars, and extra-mural courses (all of which are approved by the Training School) are required.
British Wheel of Yoga
The British Wheel of Yoga (BWY) is the largest yoga membership organization in the United Kingdom.

BWY offers first-class nationally-recognized teacher training including the British Wheel of Yoga certification and diploma at Level 4 of undergraduate study in the UK.

The course includes: yoga philosophy, anatomy and physiology, yoga asanas, pranayama, mudra & bandha, concentration and meditation, and relaxation.

The British Wheel of Yoga school focuses on hands-on training that shows the student "how to teach" as their primary method of cultivating great yoga teachers.

Yoga Alliance: The Takeaway
Deciding whether or not to join Yoga Alliance is a personal choice that will vary from person to person.

There are some who believe no yoga teacher and/or school should go without the "Yoga Alliance Seal" that comes from the completion hours learning method. Then there are others who opt for other methods.

Ultimately, it isn't the amount of hours practiced or the number of degrees achieved that makes a great yoga teacher or school – it's the heart behind the teachings. Lead your class with integrity, wisdom, and with the most joyous and humble of hearts, and your success as a yoga teacher is sure to flourish.

This article has been read 40K+ times. Bada bing!