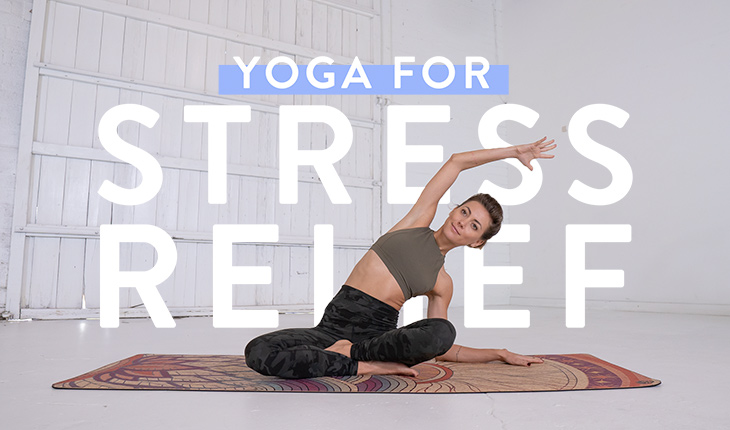 Take This 30-Minute Yoga Class to Reduce Stress (Free Class)
Let's be real. We're all looking for ways to reduce stress in our lives. And we can ALL benefit from stress relief. One effective way? Yoga!
Using yoga to reduce stress is a surefire way to decrease how stressed out you feel, and increase your ability to navigate through stressful times in a healthy and effective way.
If you've already experienced the amazing benefits of yoga for stress relief, then need we say more?! And if you haven't yet, we invite you to try this 30-minute yoga class designed to reduce stress and make you feel great in the process!


Reduce Stress the Yogic Way! Take This 30-Minute Yoga for Stress Relief Class:
Never miss a FREE class. SUBSCRIBE HERE
This 30-minute all-levels online yoga class with YouAligned founder Ashton August is a feel-good Vinyasa-style yoga class designed to help you tune in and let go of any negative energy that is causing you anxiety or stress.
Take this yoga class in the evening after a stressful day, in the morning to help start you off on the right foot, or in the middle of the day when you need a reset. Whenver you take it, know that this class will help you reduce stress, so feel free to revisit it as often as you need.
All you need for this class is a yoga mat. Enjoy and namaste!


Revisit This Yoga to Reduce Stress Class as Often as Needed!
Take care of yourself mind/body/spirit with yoga for stress relief. Your state of mind, health, and overall sense of satisfaction and contentment will thank you.
Shop the Look
The Mat
Yoloha Mountain Magic Aura Cork Yoga Mat
The Aura was created with comfort in mind. Yoloha's thickest, most cushioned yoga mat provides added support for your joints. Features a fine grain cork surface for a soft feel, yet with no sacrifice on grip.
Shop the Mat
The Top
Lululemon Free To Be Serene Bra High Neck
Yes, you can have it all. Full coverage and a pretty, strappy open back that allows full range of motion.
Shop the Top
The Bottoms
Lululemon Wunder Under High-Rise Tight
Lunge, ride, or flow, these versatile crops are designed to fit like a second skin—perfect for however you choose to sweat.
Shop the Bottoms
If you loved this free yoga class, please share it and help us spread the yoga love!! Have any questions, comments or feedback about the practice? Talk to us in the comments below – we love hearing from you!
This article has been read 2K+ times. Feelin' the love!

YouAligned
YouAligned is an online yoga, health and wellness publication for your life on and off the mat. We are here to help you live happier, healthier, more fulfilled lives. Yoga is our passion. Your healthy lifestyle is our obsession!
You may also enjoy

The Yoloha Nomad Cork Yoga Mat is a lightweight offshoot of Yoloha's original cork yoga mat. We have tested and reviewed this mat, and are excited to share with you why we think Yoloha has outdone themselves yet again!

YouAligned