10 Great Yoga YouTube Channels for Free Yoga Videos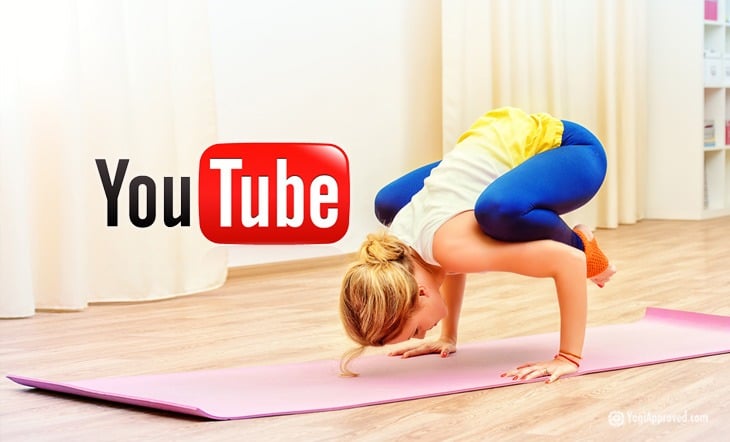 You may wish that you could attend daily group yoga sessions at a local studio, but sometimes life gets in the way. Don't fret if money, time or proximity to a good studio is your inhibitor to a regular yoga practice, because there are plenty of free yoga videos on YouTube that can motivate you to get on the mat, no matter if you have five or 105 minutes to spare.

Besides the YouAligned Youtube channel where you will find dozens of free yoga classes and tutorials, the 10 yoga YouTube channels below are great resources for free yoga classes.

Here is our YouAligned list of the top 10 yoga YouTube channels to get you on your mat right now:
LivestrongWoman
For the busy yogi who needs more hours in the day, the LivestrongWoman channel is an outstanding resource for 12-minute-or-less yoga videos. The channel features beginner, intermediate, advanced, pain relief, and stress relief and relaxation yoga playlists with Tara Stiles, all compiled in short videos and pose demonstrations. LivestrongWoman

Yoga by Candace
The Yoga by Candace YouTube channel features simple and calming yoga sequences that Candace narrates with a soothing voice. This channel has an excellent selection of full yoga routines in the 15 to 30-minute range, and it also offers short pose demonstrations, solutions for common yoga pose challenges, and sequences for common mental health issues such as anxiety or sleeplessness. Yoga by Candace

Fightmaster Yoga
Fightmaster Yoga is home of the Yoga Fix 90, a 90-day yoga program that aims to help you create a healthy yoga habit with daily 15 to 40-minute yoga videos of varying intensity and type. The channel also has yoga playlists for HIIT and cardio, strength-building, flexibility and stretching, and quickie 10-15 minute classes, gentle yoga and meditation, and beginning and intermediate programs. Fightmaster Yoga

JessicaSmithTV
JessicaSmithTV offers a variety of routines, from barre and yoga to strength training. Jessica offers clear instruction and high-quality videos in the 15 to 35-minute range. Best of all, the videos often have a cameo from Jessica's cute little French bulldog Peanut, who watches Jessica attentively and sometimes joins in on the yoga fun! JessicaSmithTV


SarahBethYoga
The SarahBethYoga channel has a variety of yoga playlists for your varying needs, from bedtime, flexibility, and restorative, to morning, hatha and vinyasa. You can also check out the 20 to 30-minute yoga videos or try out the 7-day yoga challenge, featuring a week of 15-minute mat sessions. SarahBethYoga

Yoga with Adriene
The Yoga with Adriene channel offers a huge selection of videos and compiled playlists. You can choose yoga videos of varying lengths for weight loss, foundations and beginners, runners, healing and travel. The channel posts a new video each Wednesday, so there is always something new for you to experience. Adriene is a super relatable and down-to-earth yogi. All of her classes are fabulous! Yoga with Adriene

EkhartYoga
EkhartYoga has a full range of yoga videos from just a minute to more than an hour long. The channel offers videos for seniors, pregnancy, office workers, weight loss, strength building, core strength and advanced yogis, to name a few. If you have an ailment, body ache or alignment concern, this channel most likely has a video that will address those matters. EkhartYoga

Bad Yogi
The Bad Yogi channel is geared toward the yogi that is not perfect, without perfect form or a perfect body. In addition to full-length videos and short tutorials, the Bad Yogi provides fitness, nutrition and life tips for all of you 'bad' yogis out there. This channel also has a 4-week yoga challenge with 20-minute or less videos and a 10-day yoga ab challenge if you are up for it. Bad Yogi


PsycheTruth
The PsycheTruth channel offers a 5-day yoga for weight loss challenge with 20-minute flows, a beginner's yoga channel with full 20 to 40-minute videos (and pose demonstrations, too), as well as channels for bedtime yoga, total wellness, back pain, and even a yoga for dummies series. PsycheTruth

SeanVigueFitness – For the guys!
Yogidudes (and dudettes too), we didn't forget about you. The SeanVigueFitness is an excellent channel for full-length yoga routines whether you are in a time crunch or have plenty of time for a long flow. The videos are nontraditional for sure, as Sean does yoga while wearing a baseball cap, sneakers and a brilliant sense of humor. Check out his five-minute videos for targeted muscle groups or his many 30- and 40-minute flows. SeanVigueFitness

If you are tight on cash or time, but you still need to get your yoga on, YouTube is an excellent avenue to keep your routine fresh and diversified day after day. All you need is a good WiFi connection and keyword searches (i.e. "restorative yoga," "HIIT yoga," "beginner's yoga," etc.), and you are well on your way to a custom yoga routine that will match your strengths and abilities.

What are your favorite YouTube Channels or other online resources for free yoga videos? Please share in the comments below to spread the free yoga love!
This article has been read 700K+ times. Wowzers!