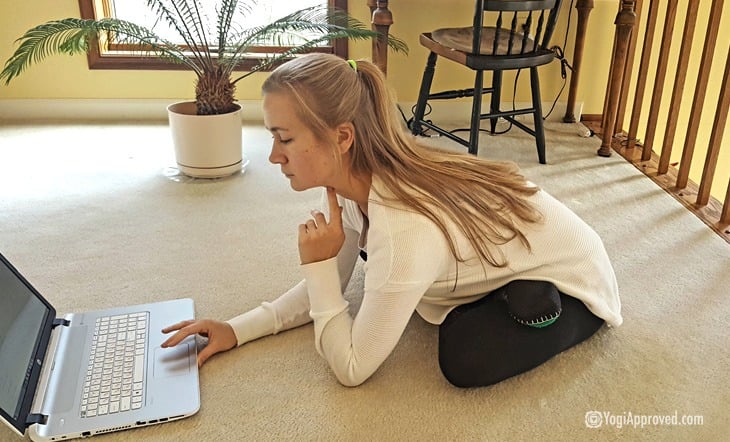 4 Hip-Opening Yoga Poses You Can Do While Working on Your Laptop
Who said that working on a laptop requires you to sit on a chair at a desk? This article will provide you with hip-opening yoga poses you can do to release your hips while still being productive and getting your work done.
Working on our laptop for a long time might be the reason that we reach for that extra – but unnecessary – cup of coffee. Why? For one, it's a great excuse to stand up, walk, prepare the coffee, walk back and sit – in short, it's movement! But also, sitting for long periods of time is exhausting for mind and body.

Our hips often gets tense and tight after long hours of sitting

But there's a solution that doesn't include caffeine! There are ways to get your work done, be productive, and avoid sitting at a desk all day long. Instead, we can take our work and our laptops to the floor to mix things up and also get a great stretch while we work.
Our hips often gets tense and tight after long hours of sitting, so why not "kill two birds with one stone" and get our work done while keeping our bodies active and moving? And don't worry – no birds will be harmed.


Can't Work From the Floor? Here are 8 Yoga Poses You Can Do At Your Desk
If your work is not conducive to the floor, no problem. Try these eight desk yoga poses the next time your body is aching at work.




Practice These 4 Hip-Opening Yoga Poses to Release Tight Hips and Help You Feel Energized All Day Long:
1. Half Lotus
Half Lotus will help open your hips and stretch the knees and ankles while you're working on your laptop. When you practice Half Lotus pose, be sure to balance both sides – sit for the same amount of time with your left heel in your right hip crease as you do with the right heel in the left hip crease. If Half Lotus isn't accessible, sit cross-legged in Sukhasana, or Easy Seated Pose, instead.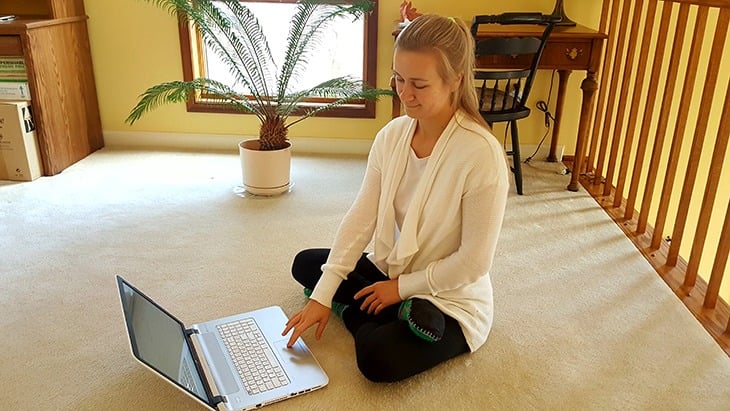 Take it deeper (optional):
From your Half Lotus pose, simply hinge your upper body forward towards the laptop. This isn't a full forward fold to the floor – instead, you're simply deepening into the hip opening. Continue to breathe at the normal pace and relax your body as you continue working.


2. Tarasana
When you have finished with the Half Lotus, simply stretch your legs, shake them a little bit, and go to Tarasana, or Seated Star Pose. This pose is excellent for concentration and also open your hips even deeper!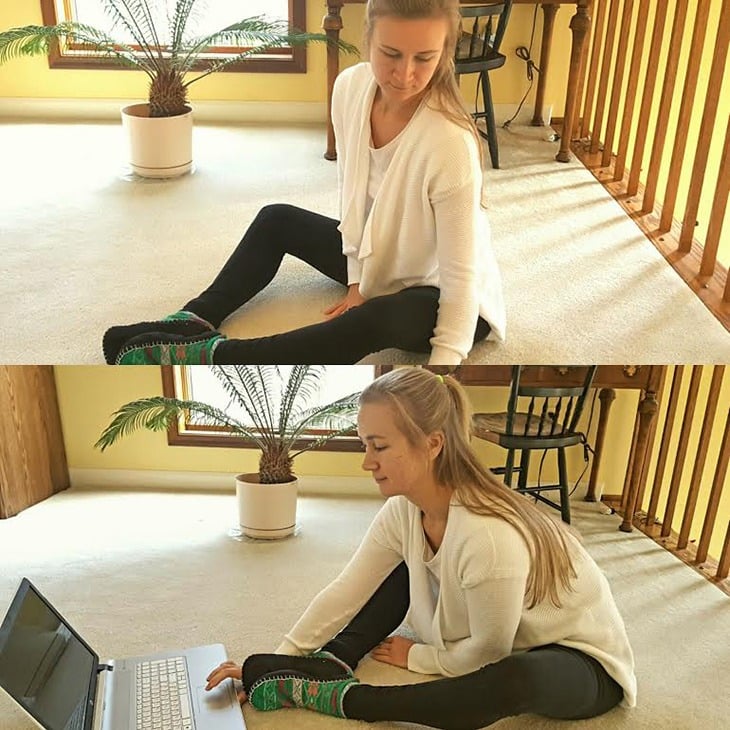 Take it deeper (optional):
Bend your knees and bring the soles of your feet to touch. If this is too intense, you can bring a fist's-width distance between the feet. Continue to breathe and relax! Stay upright in this stretch as long as you'd like. When you feel ready, hinge your torso forward as you did in Half Lotus, and continue to enjoy the effect of stretching as you continue to work.

Looking for more yoga tutorials and yoga tips? Check out our full library of Yoga articles here

3. Pigeon Pose
Slide your left leg back behind you, and allow the front of your left thigh to rest on the floor. Adjust yourself until you feel a comfortable, gentle stretch.




Take it deeper (optional):
Once you feel aligned, exhale and extend your torso down to the floor. Since we adjusted this position for our needs, which are to work on the laptop, we will also plant our elbows on the floor for support.


4. Half Hero Pose
When you've done both sides of Pigeon Pose and you feel ready to move into the next pose, just plant your palms and bring your weight into the opposite hip so you can swing your back leg forward into a seated position.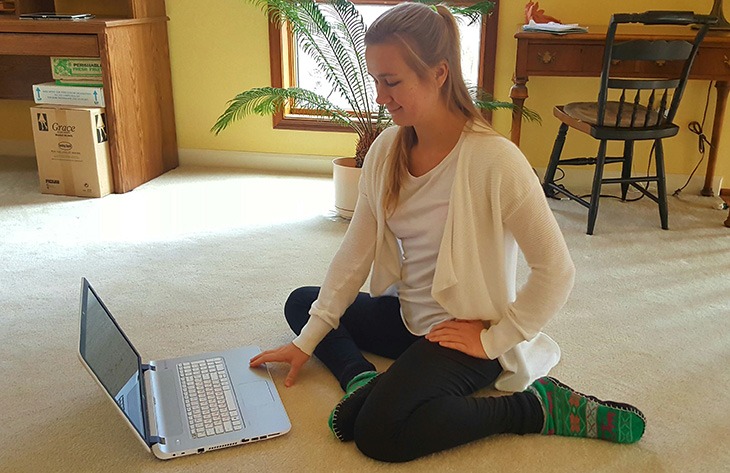 Keep your front shin parallel to the front of the mat (as it was in Pigeon Pose), and bend the other knee behind you. This is a deep knee stretch, so approach it slowly and listen to your body. If you have any knee issues, consider skipping it altogether. Wherever you are, be sure to focus on your breathing.


Practice These Hip Opening Yoga Poses While You Work
We all work, and we all spend time on the computer. Make the most of your time by incorporating yoga poses and stretches into your day so you can stay feeling alert, energized, and comfortable – the key to productivity. Enjoy your time on the laptop and may yoga help you to stretch the time (pun intended!).

Want More Hip-Opening Yoga Poses To Unwind From The Desk?
This class on YA Classes is designed for anyone who spends a lot of time at a desk or sitting in general. Counterbalance the negative effects that sitting has with poses that release tension in the neck, shoulders, wrists, back, hips and hamstrings and strengthen key areas of the body to protect against long periods of time spent sitting. Not yet a YA Classes member? Try it out for free for 14 days.
Yoga Class
With Ashton August
This article has been read 9K+ times. Feelin' the love!