9 Gorgeous Backbends to Inspire Your Yoga Practice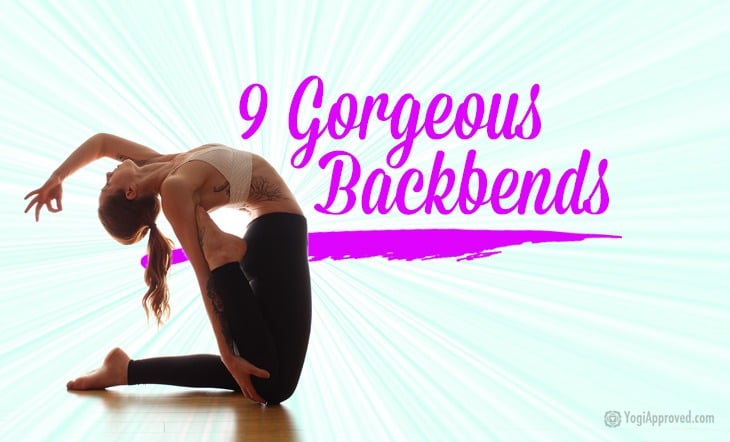 Let's face it – backbends are simply gorgeous.
As a professional photographer, there's no doubt that backbends are some of my favorite postures to photograph. I've always preferred to shoot yoga poses against a stark white background – the simplicity of it makes the posture come to life and the light outlines the form beautifully.
Art can be defined as the expression of human creativity and imagination in a visual form. The physical practice of yoga becomes an expression of passion, creativity, and an intense connection between mind and body. To merge yoga with art is to merge physical self-expression with visual aesthetic.
Below are 9 backbend photographs starring a few yogi friends of mine. May you find them inspirational to your own beautiful yoga practice!

1. Drinie Aguilar
Scorpion Variation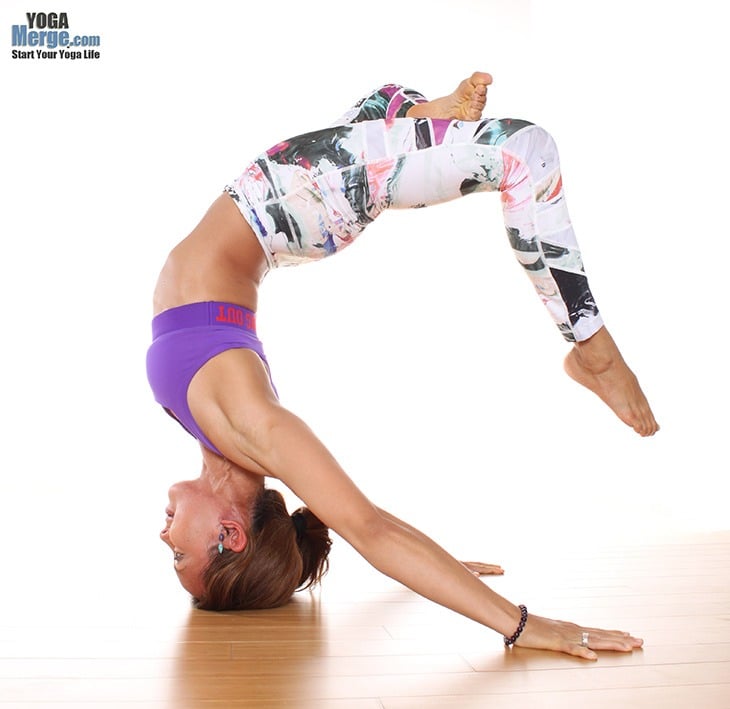 Okay, okay! I know, this pose is sort of cheating.
It's not technically a yoga posture. It's actually a Capoeira move that is also
called Scorpion. Capoeira is a Brazilian martial art that combines dance,
acrobatics and music.
The above Scorpion variation is provided by Drinie Aguilar. Those who practice
Capoeira are referred to as Capoeiristas.

---

2. Madelyn Hanson
Dhanurasana (Bow)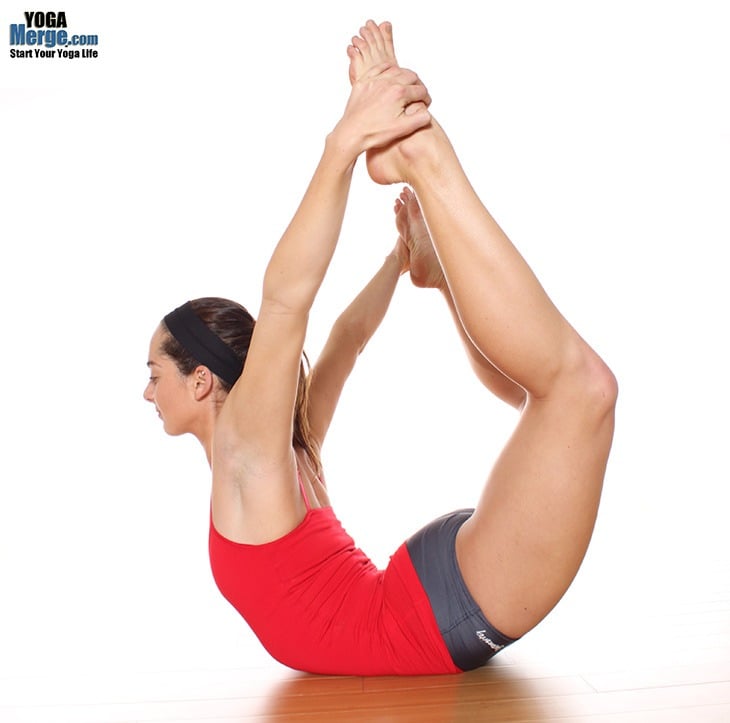 Here's instructor Madelyn Hanson with a gorgeous and deep Bow Pose.
Of course, it's not at all required to go as deep as Madelyn in order to benefit from the pose. However, Madelyn's flexibility creates a beautiful teardrop shape that
certainly catches the eye!

---

3. Madelyn Hanson
Urdhva Mukha Svanasana (Upward Facing Dog)
Most of us probably don't think of Upward Dog as being a backbend. Nonetheless, it is a gentle backbend that in many instances will follow what we call Chaturanga. In most classes, you will warm up with a Cobra Pose before moving into Upward Dog.

---

4. Nikka Nadia
Dhanurasana (Bow) Variation
An eye-catching photo with Nikka Nadia in a stunning variation of
Bow Pose. Nikka demonstrates that yoga is as infinite as you are, and helps us remember that we can be creative with our practice.

---
---

5. Nikka Nadia
Ustrasana (Camel)
Well, there's nothing cooler than yoga in jeans!
This image with Nikka Nadia provides a classic example of Camel Pose.
Nikka adds a little style and flare by posing in jeans with a cute top. Everyone should bust out a yoga pose in our everyday clothes at least once!

---

6. Paige Rene
Ustrasana (Camel)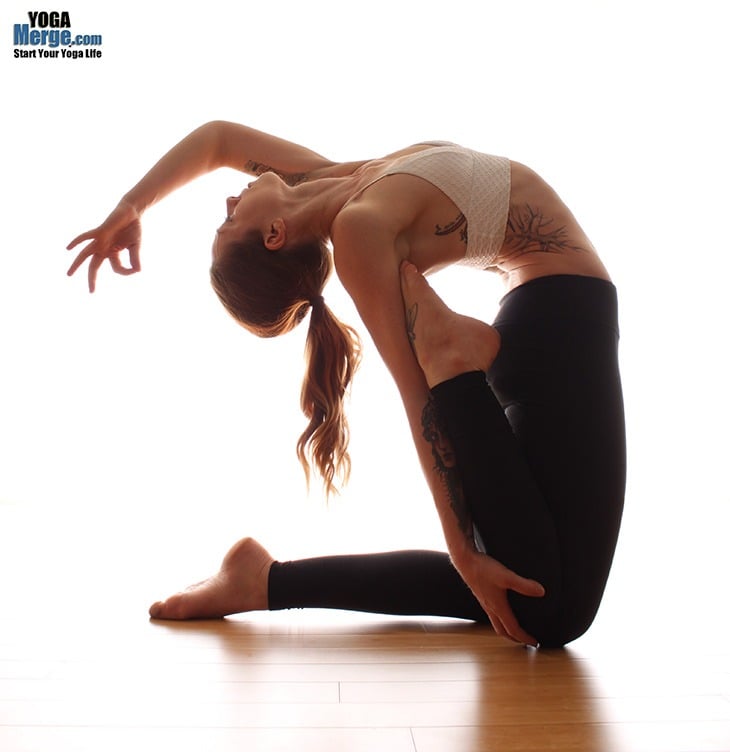 Pose variations can be beautiful!
The above posture with instructor Paige Rene is considered a Camel
Pose variation. Camel is a unique pose with several levels of difficulty.
Paige adds a touch of grace and elegance with her unique hand placement.

---

7. Paige Rene
(Kapotasana)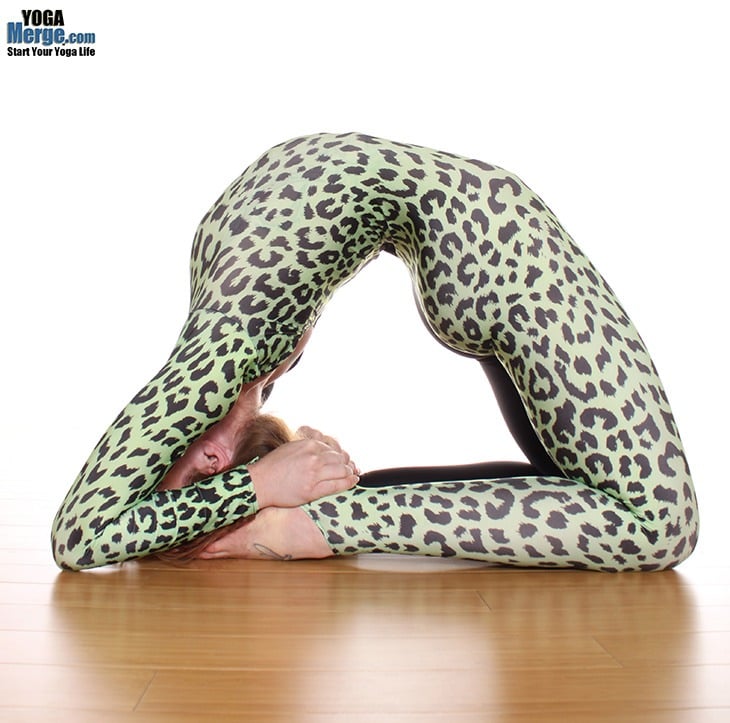 The above shot is one of my favorites! The combination of the posture and outfit is visually alluring. Paige looks amazing in the photograph as she rocks the body suit.
The pose is called Kapotasana or Pigeon Pose, but you may also hear some refer
to it as a very deep variation of Camel Pose.

---

8. Paige Rene
Camatkarasana (Wild Thing)
There's no doubt that Wild Thing is one fun yoga pose! After all, with a name like Wild Thing, how could it not be a ton of fun?
The pose always seems to put a smile on the yogi's face, yet offers a
little challenge along the way.

---

9. Adji Sarmento
Urdhva Dhanurasana (Wheel)
Hailing from Brazil, veteran instructor Adji Sarmento strikes a strong and
powerful Wheel Pose. Adji adds a slight variation by changing up his foot placement.
Creating photos with Adji is always enjoyable as his advanced Ashtanga practice
allows for some mind-blowing strength and postures!
It's no secret that yoga is an art in itself, and it's a tremendous medium for
displaying the human form.
These types of postures and photos can help all of us to play, be creative and think outside the box with our own yoga practice. Feeling inspired? Please share your own yoga photos in the comments below!
Follow the yogis in these photos.
Adji Sarmento
@adji_yoga_teacher
Paige Rene
@sunkissedyogi
Drinie Aguilar
@drinieaguilar
Nikka Nadia
@nikkanadia
Madelyn Hanson
@onthematwithmaddy
This article has been read 20K+ times. Bada bing!