Feel at Home Within Your Own Body: A Yoga Poem to Honor the Healing Power of Our Practice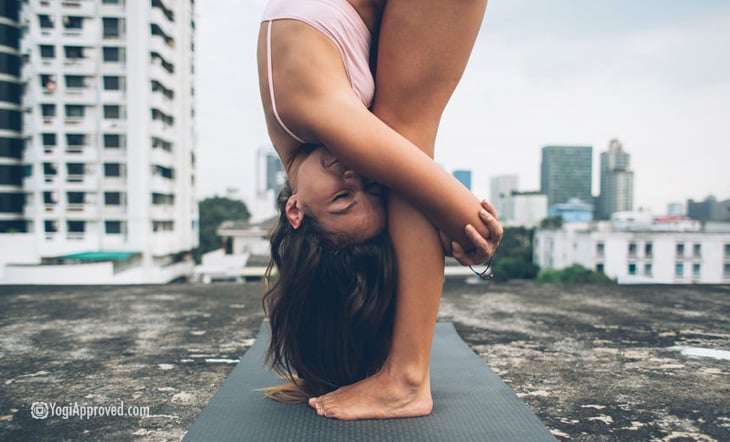 Two years ago, I felt completely disconnected from my body. A passionate lover and an avid dreamer, I felt the skin that housed me was something that was there, doing whatever it wanted, and existing as something very separate to the visions and feelings I felt made me.
I lived so long leading with my emotions and imagination that there was a time I felt I was simply one big, pulsating heart. I wasn't at home in my own skin.
The physical disconnection is widespread. Many of us have internalized experiences that make us feel our bodies are unsafe homes. Much of my particular disconnect arose from my lifelong, unrealized survival technique of taking on other people's energies and neglecting my own.
I didn't realize I was performing such an active lack of self-love and self-awareness (not to mention working dangerously with other people's baggage without protecting myself). I just knew that I knew how to read people and make them feel good and I was really good at doing so. And when the people around me felt good, I felt good too.

Many of us have internalized experiences that make us feel our bodies are unsafe homes.

Raising my vibration externally was enough for me, at least until the party was over and I was alone and had no idea what to do with my mixed energetic state.
After spending a year of actively releasing my fearful need to take care of others and instead learning to align with and love my own singular energy, I enrolled in a 200-hour yoga teacher training program.
My intent was to commit to my body. And as the breath I learned to befriend ventured deeper and deeper into my insides with each hour, my wanting to have connection with my body turned into vowing.
The journey to finding home and feeling at home within the body looks different for everyone, and the possible outlets for journeying are endless. But for me, it was yoga.


Use This Yoga Poem to Connect With Your Own Body and Feel at Home Within:
I wrote this poem about my experience, but as a way of honoring that this is a journey we all must take – a journey of coming to love ourselves and embrace our bodies.
This yoga poem is to honor the healing power of our yoga practice and how it helps us arrive hOMe within ourselves.

Finding Home Within My Body
Oh, body
I want to make a home in you
I want to adorn you with decor of kindness
serenity and belief
I wish to fill you with natural light
the light of compassion
I seek to sign harmonious contracts
with my tenant emotions
I crave to dance liberated within you
to the sound of my own joyous laughter
to the electric guitar that is my heart
I hunger to create delicious home-cooked magic within you
mouth-watering thought-alchemy that nourishes my future
my present
I desire to make love inside you
to keep it stirring on the stovetop ready to expand
rising to heat so pulsating
so white hot
as to burst through the walls of all of my senses
so that the neighbors hear
I aim to grow in you
and then retreat within you
when I ache for a break from the rest of the world
recluse to your multiverse
back to my own favorite company
feeling safe, sound, and secure
I choose to paint you with intention
with the finest oils and creams
I commit to hanging dream-catchers in my mind
to welcome bliss home while I sleep
I vow to warm you with the fire of sacred wisdom
and embodiment of the divine
I pledge to lock you from unwanted visitors
and keep your doors
wide open with a summer's breeze
to all whom in love arrive
Oh body, I've so long wanted to be home in you
I've bid a lifetime lease
Oh body, I am at last home within you
I am finally at peace


Feel At Home Within Your Own Body
In my healing journey back to my own love, back to myself, and back to my wholesomeness, I discovered something I hadn't yet believed possible – the divine interweaving of that mind-body-soul trinity.
I am learning every day. And some days I hear her more clearly than others. But the lesson I learned most deeply in my bones in this journey is that a lot of it is about choice.
The deepening of this connection between my mind, my soul, and my body is acknowledging the interconnectedness of the three. And by committing to and believing in treating myself in all my components, with love.
Some days, I am at home within my body. Other days, I'd rather be out. But the compilation of the little moments that are there each time I stay, and offer love is the most beautiful adornment of all.
Explore more yoga poems for your practice: Here are 3 Poems For Your Yoga Practice
This article has been read 5K+ times. Feelin' the love!