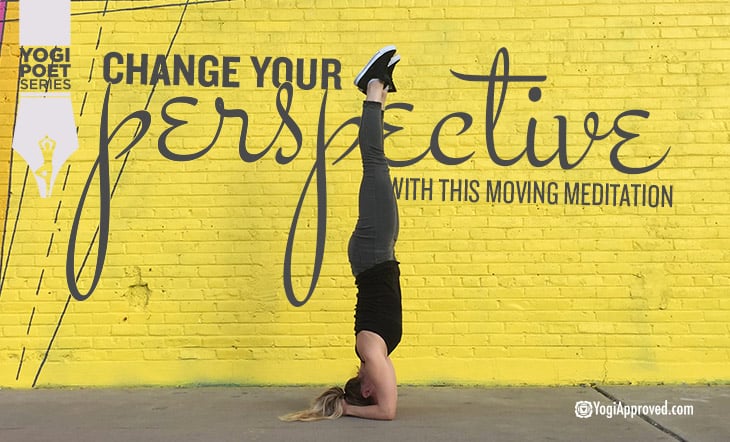 Poetry and Yoga: Find a Fresh Perspective On Life With This Moving Meditation
Welcome to our Yogi Poet Series – a place where poetry and yoga unite to bring you a sensory experience of movement, meditation, and mindfulness. Meet Nate Pritts – an English Professor, poet, and yogi.
Nate's words have been published in eight books of poetry, and in his most recent collaboration, has teamed up with YouAligned to bring us the Yogi Poet Series.
Nate's most recent book of poetry, Decoherence, was recently released and is filled with inspiring poems that intersect our environment, emotions, and creativity – a perfect parallel to our yoga practice.
Enjoy this poem with accompanying yoga pose and guided meditation.

How to Approach the Poem
Pour yourself a cup of coffee or tea and find a quiet place. Get comfortable and take your time reading the poem below, allowing the words to fill your heart and wash over you:

(from) Decoherence Suite
Regular bird chirp / in the outside air
like a clock / seconds are a song that
predicts & predicts
while I walk a circle around the house six times
to distract myself / all this not knowing
I'm restless at 7:15 pm in the lazy stray snowflakes
which hurry only to hit the ground in a hush.

My head builds itself
to a critical mass of things undone that need attention
overwhelmed by the good fortune of people
muffled in quiet terror of what they want
from me / I go inside slowly
& try to plan
how to manage myself in a way
that both does

& does not let the world wash me away
into the cold corners of my own brain.
I look to the happiness of being / alone but

ache with all this loneliness / remove
hat & boots &
rush to the quiet.


We end where we started – sort of. We're frantic under all the anxiety of the world, the crush of expectations and connections. But there's a small gasp of refreshment that comes from our experience of nature, and comfort, too, in the way it's there for us even as it is threatened with crisis. I think we can learn something from that.

I don't think it's too late to make changes that lead to salvation. And I think that comes from learning to be at peace with our contradictions, to stop trying to make everything right and embrace our own decoherence.

How to Approach the Yoga Pose and Guided Meditation
When you're ready, read the caption beneath the yoga pose. Get into the pose, and then stay there as you begin to breathe deeply.

Supported Headstand


Inversions reverse the blood flow and rinse the brain in oxygenated blood which in turn releases endorphins and serotonin. Getting upside literally flips your perspective. It allows you to go deeply inward with a laser-point focus so you emerge feeling resolved, contented, calm and coherent.

From this poem we acknowledge that we won't always feel in perfect equilibrium. There are times that we will feel the entire spectrum of emotions, from loneliness to anxiety and everything in between.

And yet it is through our yoga practice, our present moment awareness and connection to ourselves and nature that we're able to move past the feelings and find that place within of endless calm.

Perception is everything. What we believe, we perceive. Your thoughts, beliefs, words and actions dictate your reality. Choose your lens and color your world with bright light and love.

Make Every Day Poetry In Motion
Take time to reflect on the poem's meaning – how do you translate the meaning, and how does it touch your own life? Life can be demanding, busy, and downright stressful. Today, we invite you to step back, breathe and recognize the magic and the beauty that's all around you.

Thanks for practicing with us. Namaste, yogis!

This article has been read 1K+ times. Feelin' the love!