Learn 5 Different Ways to Practice and Modify Low Plank (Photo Tutorial)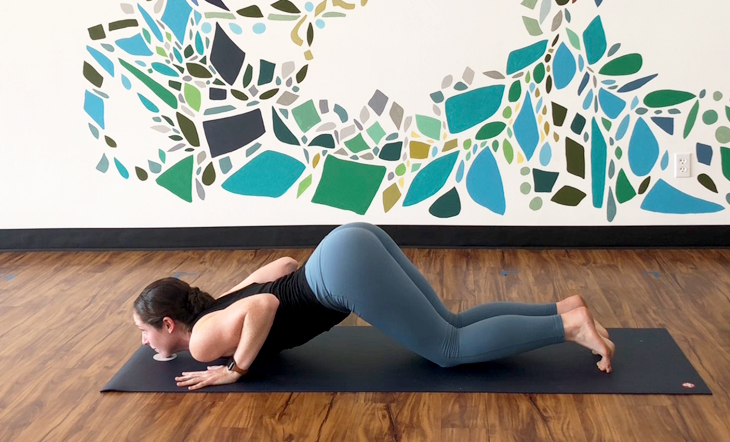 Ah, the Vinyasa practitioner's best frenemy: Chaturanga Dandasana (or Low Plank). So many of us have yet to master this elusive strength-based pose without hurting ourselves.
From low back pain to shoulder impingement, "low plank" or "yoga pushup" is full of dangerous pitfalls when done incorrectly. But there are ways that we can protect our bodies and deepen our practice while participating in a vigorous Vinyasa flow.
5 Tips to Practice Chaturanga Correctly
Modifications, with or without props, can make Chaturanga Dandasana more challenging or more accessible depending on your needs.
We've compiled a list of five different ways you can modify Chaturanga Dandasana in your everyday studio (or at-home) yoga practice. Let's take a look.

Practice Chaturanga Dandasana Modifications And Then Take Flight!
Yoga Program
With Leah Sugerman
Arm balances are the playful side of our yoga practice! Learn a variety of the most common arm balances in this 8-video series from YA Classes. You'll learn the proper warm-up, stretches and techniques to safely prepare for your arm balance practice. Not yet a YA Classes member? Try it out for free for 14 days.


Here Are 5 Different Ways to Modify Low Plank (Chaturanga Dandasana):
1. Modify: Lower Your Knees
One way to modify Chaturanga Dandasana is to lower your knees from High Plank. This reduces the full weight that your arms are supporting as you bend your elbows.
The trick is to keep your core working and practice strengthening your upper body to support your full weight over time.
Let's try it:
From High Plank, keep your shoulders over your wrists but release your knees to the mat
Imagine one line from your knees to the top of your head and press away with your hands
Bend at your elbows, keeping them in so that they graze your sides
Stop when your shoulders are at elbow height or when your low back begins to droop
Pull through to Upward Facing Dog or lower your hips to the ground for Cobra Pose

Yoga for Beginners – Learn Downward Dog, Plank, and Chaturanga (Free Class)


2. Add a Prop: Strap or Block
Props, or – what I love to call them – tools, are not only for beginners! They can deepen your pose to create a much more challenging posture when you know how to use them.
Since props might obstruct your mat, in this pose, a prop is best used when you're only practicing Chaturanga Dandasana (rather than a whole flow).
Let's try it with a block: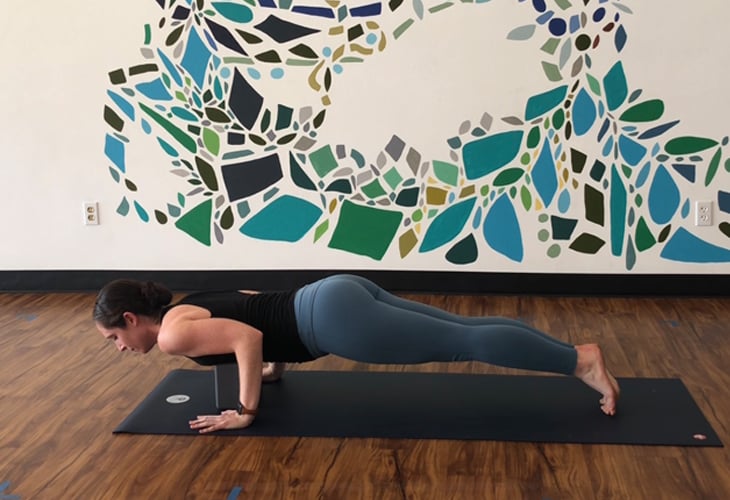 Place a yoga block on the middle height "hot dog" style between your hands
Find Plank Pose
Lower into Chaturanga Dandasana, so your chest is supported by the block
Pull through to Upward Facing Dog

Let's try it with a strap: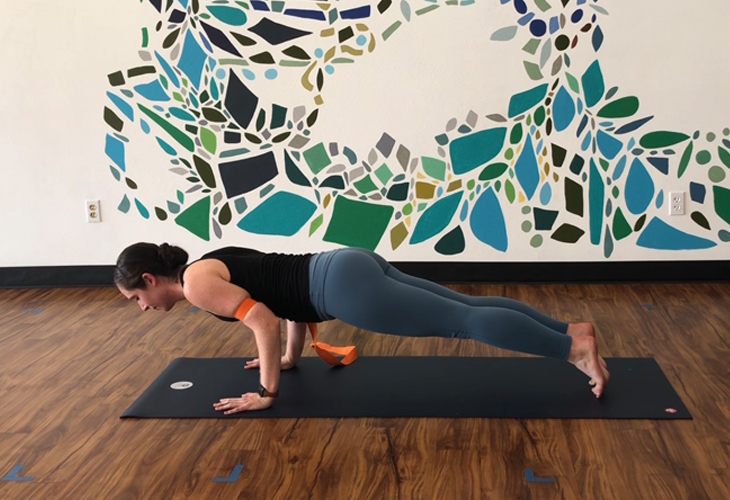 Adjust a yoga strap just above your elbows so your arms are shoulder-width apart
From Plank, lower to Chaturanga Dandasana
Notice how the strap holds you up
Press back up to Plank Pose
Repeat as many times as you feel confident

Looking for more yoga tutorials and yoga tips? Check out our full library of Yoga articles here

3. Change the Pose: Knees, Chest, Chin
One way to modify Chaturanga Dandasana is to not do it! Knees, Chest, Chin is a complex and strength-based posture on its own, not simply an "easier" Low Plank.
Practice Knees, Chest, Chin in Sun Salutation C! Learn Here With This Photo Tutorial
If you're flowing through many vinyasas in a single class, this is a great way to change up your practice, even if you've conquered Chaturanga Dandasana already.
Let's try it:
From Plank, keep your shoulders over your wrists as you lower your knees
When your knees are grounded, begin to lower your chest and chin to the mat
Keep your shoulders over your wrists and pull your elbows in tight
You may feel like an inchworm with your seat above your shoulders
Slide forward to Cobra or Upward Facing Dog, without moving your hands or feet
To add strength, lower knees, chest, and chin at the same time and/or hover your knees, chest and chin without ever touching the mat
4. Build Strength: Plank Hold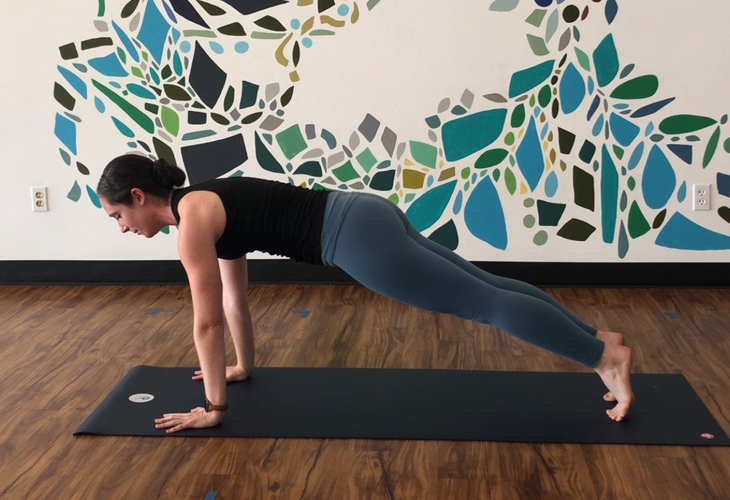 An option I personally like to offer my students is to skip Chaturanga Dandasana altogether and focus on the core.
This is also a really good alternative for someone who has shoulder pain in Low Plank. It's great because it still feels like a challenge – especially on your tenth vinyasa!
Let's try it:
Inhale to Plank Pose
Hold for the exhale
Inhale again
Exhale to Downward Facing Dog with the rest of the class
5. Add a Variation: Three-Legged Chaturanga Dandasana or Crocodile Hop
If you're a Chaturanga Dandasana veteran and you feel comfortable in every vinyasa in your flow, change it up!
A few options that I love are One-Legged Chaturanga Dandasana or Crocodile Hops, which are popular Low Plank variations in traditional Ashtanga Yoga.
Let's try One-Legged Chaturanga Dandasana:
From Plank, lift one leg to hip height
Keep that leg lifted as you lower to Chaturanga Dandasana
Lower your foot as you pull forward into Upward Facing Dog or Cobra Pose
Be sure to alternate which leg is lifted to keep it even!

Let's try Crocodile Hops:
From Plank, lower to Chaturanga Dandasana
Firm your entire body and press into your hands and feet to lift all four limbs at once for a quick "hop"
Repeat as many times as you want to fit into the flow (traditionally, you would take five hops forward and five hops back)
Continue your vinyasa by pulling into Upward Facing Dog
Modify Your Low Plank to Maintain a Strong Chaturanga Dandasana Practice
There's no doubt about it, Chaturanga Dandasana is a difficult posture. But one of the best aspects of yoga asana is the individuality of each person's practice. Chaturangas are designed to keep the whole body warm and engaged. But they aren't the only way to do it.
Keeping the integrity of the posture for your body may mean changing up your usual flow. If you are resistant to modifications, props, or variations, consider self-study (Svadhyaya) and discover what thoughts are creating the push-back.
5 Ways to Deepen Your Self-Study Using Svadhyaya (the Fourth Niyama)
This practice alone is a powerful chance to deepen your understanding of Self and yoga asana.
Yoga is accessible, no matter your abilities or preferences. There are many options to modify or create a variation of your yoga pushup.
These are only five options, but they are all wonderful opportunities to build strength and compassion for your body.
Have you ever modified Chaturanga Dandasana? What's your favorite way to spice up your vinyasa flow? We want to hear from you – comment below!
Photo Credit: Radiance Power Yoga
This article has been read 3K+ times. Feelin' the love!