8 Reasons Every Yoga Teacher Should Get Their 500-Hour Certification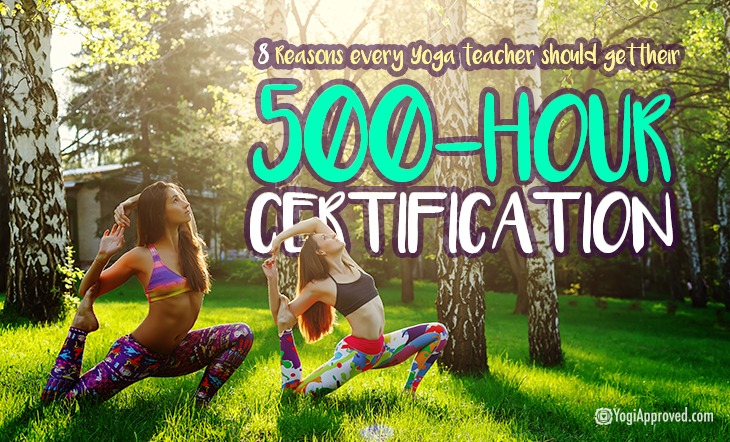 Have you completed your 200-hour yoga teacher training (YTT) program and feel like you are ready for the next step of self-discovery? Yoga instructors know there is SO MUCH to learn in a 200-hour training. Honestly, there isn't enough time to dive deeply into the psychological aspects and philosophy of yoga.

Yes, most teacher trainings will touch on the sutras, chakra system, anatomy and pranayama/meditation, but most of the time spent is learning how to find our voices, how to sequence a yoga class, and practice teaching the actual poses. The reason 500-hour trainings are not only getting more popular but are now required at many yoga studios is because you get an extra 300 hours to dive deeper into philosophy, chakras and anatomy.

You already have the basics down – you have a working knowledge of asana and can confidently teach a yoga class. Now it is time to REALLY get to know why the body moves the way it does, why pranayama is so revered, what the Bhagavad Gita really means page by page, and gain a deeper overall understanding of yoga.

Through these discoveries, students of 500 hour programs get the opportunity to delve deeper into the practice of yoga as a whole. Think of it as getting your Masters Degree in teaching yoga.

In most 500-hour yoga teacher trainings, you get top-notch, experienced and knowledgeable instructors – people who have been teaching for over 20 years, who have experienced everything and anything inside a yoga class. Knowledge is power – the more you know, the more you can share and inspire your students. Putting yourself in a room with a true master teacher will give you the knowledge and experience to make this a reality.

Through these discoveries, students of 500 hour programs get the opportunity to delve deeper into the practice of yoga as a whole. Think of it as getting your Masters Degree in teaching yoga.
Here are 8 undeniable things you will gain from a 500-hour yoga teacher training:
Deeper Self-Awareness
With a 500-hour YTT program, you get instruction on how to fully see the thoughts and stories we all play in our heads that hold us back in life. As yoga instructors, a common one is "I am not good enough." Constantly comparing our teaching and classes to other teachers. Or if we teach one 'bad' class, it can make us question ourselves as teachers. With a 500 hour program, you learn that these things are so common and you start to soften and release the bondage that we hold ourselves to.

Asana Breakdown
Since we are already teaching, we don't have to start from square one. You already know what Virabhadrasana 2 looks like. Instead, in a 500-hour, you get the knowledge behind exactly why it is dangerous to have the knee extended beyond the ankle.

Expect more in-depth instruction on why instructors say specific things and how to correct postures in your own body that you may have been doing wrong for years. Many students come out saying, "Wow, I had no idea I was tucking so much in my pelvis." Usually it is very minor, subtle changes that completely change our understanding of the physical yoga practice, not only for ourselves but for our students as well.


Subtle Body Exploration
There is so much to dive into when it comes to mantras, Sanskrit, pranayama, and the koshas. Most 200-hour programs don't even touch on this stuff. There are layers to all of us, and in a 500-hour yoga teaching program, you get to dive into how the breath works inside our bodies, which directions the air travels, and how to properly eliminate waste. You also get to open your mind to a whole world inside your body you had no idea that even existed.

Immersion in Ancient Texts
The Bhagavad Gita is an ancient text that most 200-hour programs touch on, but in a 500 you get to see exactly where the text came from and see that is actually part of a giant text. You also get to explore the Hatha Yoga Pradipika and other studies of philosophy. Not just the Yoga Sutras. There are so many different practices and takes on how to reach the Self – it just depends on what speaks to you the most. In a 500-hour, you get to explore what path you want to take.

Chakra Exploration
With more time, you get to really dive into the chakra system and see why they come off balance, how to align them, and how to completely transform your life and feel these subtle energy vortexes that are alive within all of us.

Healthy Dose of Yoga Inspiration
You will get inspired during your advanced teacher training. All the "yoga talk" and inspirational senior teachers will make you want to strive to be a better person and teacher, and will ultimately transform yourself and your classes. It is hard not to leave each lecture not feeling a life high. The connections you start making with yourself begin to blossom in ways you never thought could even exist.

Anatomy Workshops
When you have a deeper understanding of the three different planes of movement, specific muscle groups and common injuries to be aware of in your classes, it not only promotes your credibility as a teacher – this knowledge will also drastically change your own practice. In the extra hours you get to spend on anatomy breakdown, you begin to realize the vastness of the human body and will learn many valuable modifications for your students.

Lifelong Connections
There is no doubt that you will make everlasting friendships and family members in a 500-hour program. You spend many hours with people you are meant to meet in your journey and you will accomplish so much together. These people will know you better than some of your longest friends because with trainings will undoubtedly bring tears, laughs, pain and happiness. You will be surrounded by likeminded people, and you will grow together.


Just as no one has ever regretted going to a yoga class, no one has ever regretted completing a yoga teacher training. Even if you don't want to teach yoga, maybe you graduated your 200-hour and are in need of some more self-awareness. Whether you want to deepen your knowledge as a teacher, or simply find growth in a painful time, yoga teacher trainings are not just for you as a teacher; they are for you as a student and as a person too. These programs are designed for deep exploration on all levels.

Have you completed a 500-hour YTT program? Or are you considering attending one? We'd love to hear your thoughts and experiences in the comments below!

This article has been read 10K+ times. Bada bing!