7 (Not So Obvious) Reasons You Should Practice Hot Yoga All Winter Long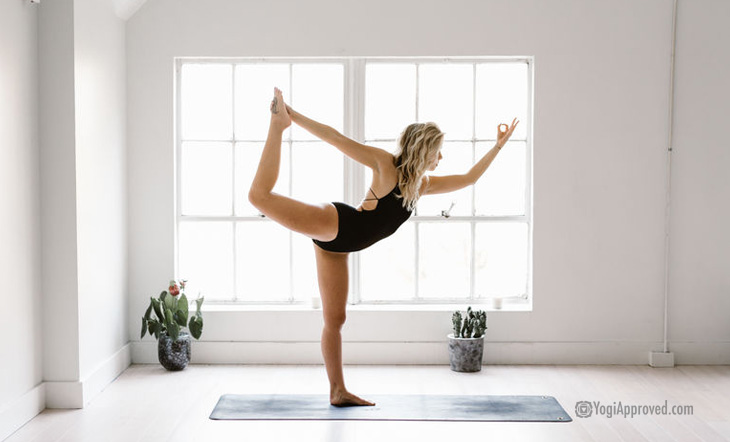 It's a new year. It's a new you. The holidays are over. And the detoxification must commence.
To top it all off, that winter wind is blowing strong and it's dark before dinner. Worry not, dear yogis, because there's one glorious pastime that can solve it all: Hot Power Vinyasa.
In a room set to roughly 97 degrees Fahrenheit and 50% humidity, you'll flow through an invigorating, yet calming series of postures designed to leave you feeling completely renewed.
And if that's not reason enough to check out a stimulating, sweaty Hot Yoga class with like-minded yogis, then read on . . .


Here Are 7 Ways Hot Power Vinyasa Can Really Spice Up Your Winter:
1. It Helps Shed Holiday Pounds
One cookie for Santa. Two for you.
We all overindulged this past holiday season. That's our universal right and pleasure.
Luckily, one hour of Hot Power Vinyasa burns between 400 and 600 calories, meaning none of that jolly old snacking was done in vain.
In need of a sugar detox after all the cookies? Get Healthy and Ditch the Sugar! 10 Tips to Do a Sugar Detox

2. It Combats Stiffness and Rigidity
Colder weather brings stiffer joints, leaving your body more susceptible to injury.
By spending time in the balmy climate of a Hot Power Vinyasa class, the loosening effects of your usual yoga practice are amplified even further.
So, if you're starting to feel locked up, use Hot Yoga to reverse the effects of winter rigidity and get back out there with newfound nimbleness. You might just need it to dodge those pesky snow piles and ice patches.

3. It Clears the Mind of Clutter
So much is swirling around in that head of yours. Perhaps you showed up to your mat with a mile-long to-do list and a stack of unnecessary notions.
The intensity of a Hot Yoga class leaves little to no room for your thoughts. They don't have the power . . . the practice does. You'll move so briskly and sweat so profusely that, by the end of class, only the essential elements will rise to the surface – your truths.

There's no room for clutter when you have clarity.

What do you really need right now? What kind of person do you want to be? How can you apply this tranquil feeling to life off the mat?
Hot Power Vinyasa evokes an exquisite sense of enlightenment that illuminates all these epiphanies and more. There's no room for clutter when you have clarity.

4. It Lets Your Whole Body Breathe
Your body's getting all too familiar with the fine art of layering – a bulky coat slung over a woolen scarf, draped atop a heavy sweater, wrapped tight in a set of gloves, all laced shut in a pair of oppressively chic boots.
I bet you didn't realize the soles of your feet could use a stretch, now did you?
Hot Power Vinyasa lets your body be free and your pores wring out for joy. It allows you to bear yourself warmly and proudly, shedding the layers – both physically and metaphorically – just like in those carefree days of summer.

One hour of Hot Power Vinyasa burns between 400 and 600 calories.

Not to mention the infinite benefits of pranayama breathwork.
Looking for more breathwork? Here are 4 Go-To Breathing Exercises For Meditation, Stress Relief, and Overall Wellbeing

5. It Tames Familiar First-Quarter Tension
Your workplace has a "New Year, New Us" policy too. It's full of implementing lofty initiatives, justifying budgets, increasing headcounts, and meeting fresh deadlines. This can come with a hefty amount of anxiety on your behalf.
The cathartic effects of a Hot Power Vinyasa in the winter easily offset the stress spurned by these fast-paced phases and allow you to bring a newfound vitality and ambition to your work.


6. It Tackles Seasonal Depression
Seasonal Affective Disorder (SAD) is real. And, according to Psychology Today, it's estimated to affect 10 million Americans.
Also known as the "Winter Blues," common symptoms include feelings of hopelessness and sadness, a tendency to oversleep, increased appetite, a decrease in energy levels, irritability and difficulty concentrating – to name a few.
By allowing the body to experience the heat and sweat that's induced by Hot Yoga, you can trick it in a way. It can be catalyzed from the inside out by increasing energy levels and firing up depression-combating endorphins. Ditch the couch and get to your mat!
Feeling SAD? These Yoga Poses Will Help You Combat the Winter Blues

7. It's Kind to Winter Skin
Feeling the need to slather on seven layers of coconut oil and Vitamin E to maintain that ever-diminishing moisture barrier?
The intense humidity in Hot Power Vinyasa hydrates your skin and leaves you with a glow not likely achieved anywhere but the tropics.
If you don't have time for a rainforest retreat, spend an hour practicing Hot Power Vinyasa in the winter instead.


Hot Power Vinyasa in the Winter Heats up the Dreary Months
It doesn't have to be summer for you to break a sweat. If you're sick of waiting around for the air to thicken up with dew, get yourself to Google and find out where your nearest heated Power Vinyasa studio is located.
These incredible opportunities for body strengthening, stress reduction, and personal growth are all around you. If you find yourself truly stuck, you can practice a few simple asanas in your local gym's steam room or sauna to create your own makeshift Hot Yoga studio.
Where there's a yogic will, there's always a way.
Disclaimer: All included information is not intended to treat or diagnose. The views expressed are those of the author and should be attributed solely to the author. For medical questions, please consult your healthcare provider.
This article has been read 4K+ times. Feelin' the love!