What Is Yin Yoga and What Are the Most Common Benefits?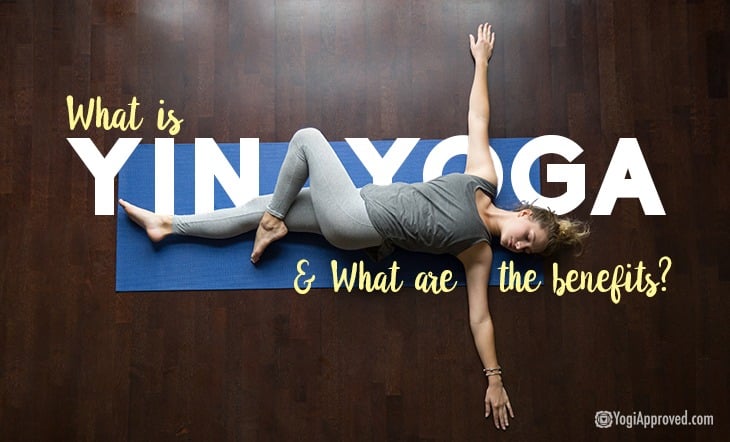 Many students ask, "What is Yin Yoga?" This article answers this common question, and dives into Yin Yoga benefits both mind and body.
Some yoga styles offer a more physically challenging practice while others offer a space to relax and breathe. We need both to stay whole. Yet many yogis skip the latter and choose a more vigorous practice, missing a deeper experience on the mat.
Yin is the calming, restorative counterpart to the 'yang' of a power Vinyasa practice.

Yin Yoga teaches us to reroute the mind.

We live in a culture that is constantly on the go, requiring a lot of movement, activity, stimulation, and responsibilities. So it may be surprising when a yoga class that asks us to be still can be more challenging than a fast-paced Vinyasa class.
Yin Yoga is popular because it offers the chance to be still, be present, and work within while you breathe and stretch deeply and create more space in mind and body.


What Is Yin Yoga?
Yin is a slow, soothing, and meditative style of yoga that targets the deep connective tissues, bones, joints, fascia, and ligaments in the body. It also focuses on stretching and stimulating different acupressure points from Traditional Chinese Medicine.
In Yin Yoga, we hold mostly passive poses for about two to five minutes to work into our connective tissues.
The more we work our fascial system and deep tissues, the less dense and tight our bodies become as we age. Movement and stretching hydrate fascia and literally help slow the aging process.
Lengthening extremely tight tissues can be an uncomfortable practice, but using this time to focus on breathing is a large part of Yin Yoga and also one of the many Yin Yoga benefits.
Typically when we experience discomfort, our bodies naturally become tense and we use our fight-or-flight response. Yin Yoga teaches us to reroute the mind and slow the heart rate when we experience discomfort.

We live in a culture that is constantly on the go.

Eventually, your mind will remain relaxed throughout your entire practice and you will be able to release the tension and more easily stretch your connective tissues.


So, Why Do People Practice Yin? What Are Yin Yoga Benefits?
As we age, our bones begin to degenerate, we lose mobility in our joints, and our fascia tightens. But a consistent Yin Yoga practice helps to regain mobility and ease pain in the body. This is because it applies gentle, healthy stress to our joints and gentle stretch to our connective tissues.
Yin Yoga is an excellent counter to the more physically demanding – or yang – yoga disciplines. This deep stretching is the perfect follow-up to intense yoga or other physical activity so you can stay balanced and flexible to help avoid injury.
Key Yin Yoga benefits:
Targets connective tissues including fascia, bones, and joints
Reduces stress
Increases circulation
Balances internal organs and improves flow of prana
Balances our yang or fast-paced physical yoga practice
Relieves tension
Improves flexibility
Encourages mindfulness and meditation

Bernie Clark, a prominent Yin Yoga teacher discusses the benefits of a Yin practice. While he acknowledges that there aren't (at least for the time being) any scientific studies specifically for Yin Yoga benefits, many general yoga or meditation studies have proven benefits that can be also be associated with Yin.
Clark goes on to explain:
"There are also several studies that look at the effect of Yin Yoga-like stresses physiologically. These studies provide evidence that the stresses applied during a Yin Yoga practice can lead to greater physiological and psychological well-being."


What Will I Experience During a Yin Yoga Practice?
During a Yin Yoga class, it is common to experience different emotions such as: anxiety, fear, happiness, sadness, or boredom. As humans, we are emotional beings, and much of the emotion from our experiences is stored within the body.
According to Traditional Chinese Medicine (where many of the principles of Yin Yoga stem from), these stored-up emotions can manifest as pain or blockages like knots in our shoulders, tight hips, sore necks, or internal pains.
It is important to release the stored anger, sadness, anxiety, and fear to keep the body pain-free, healthy, and balanced.
Yin Yoga encourages you to become aware of these stored emotions so you can begin to recognize them and release them. You can expect slow, deep stretches and meditation in a Yin Yoga class that balances and strengthens the body, mind, and spirit.


The Takeaway on Yin Yoga and Yin Yoga Benefits
Yoga is about finding balance and feeling whole. If you don't have a Yin Yoga practice or have never tried it, check it out. You will likely be pleasantly surprised by the growth in your yang and meditation practices.
The more you practice Yin Yoga, the more you will embrace slowing down and connecting to yourself. As Bernie Clark said, "Completeness, wholeness often requires a rebalancing and a returning to the center where I can see my energies and care for my soul."

Interested in Trying Yin Yoga?
Check out our 7-class Yin Yoga Program. See the classes here.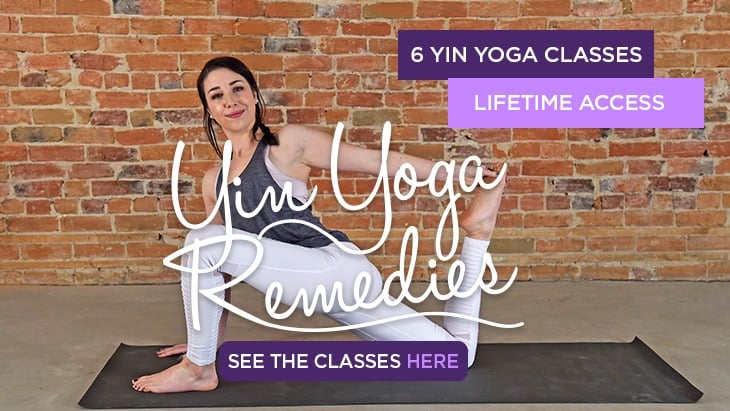 This article has been read 30K+ times. Bada bing!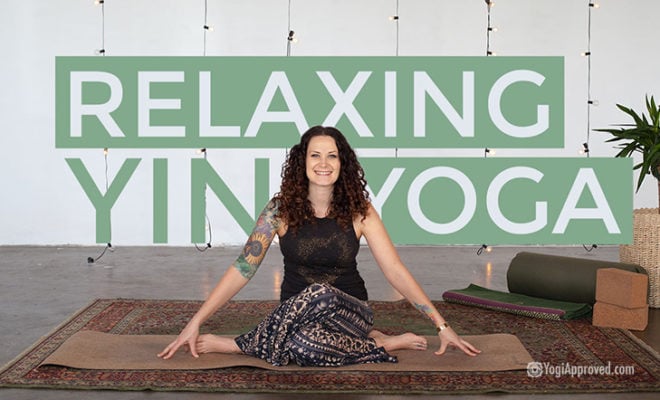 35-Minute Yin Yoga For Full-Body Relaxation (Free Class)
This 35-minute Yin Yoga practice will open shoulders and hips, ease digestive issues & create full-body relaxation through deep stretching.
Read »

An Arizona native, Jesse finds peace within her yoga practice, and spreads light through her yoga teaching and writing. She loves connecting with herself and others through meditation, asana, and a healthy lifestyle. You can find Jesse traveling the world, writing about inspiration, and taste-testing every sushi restaurant ever.