10 Yoga Props to Enhance Your Yoga Practice
There are tons of yoga props out there to choose from. How are you supposed to know which yoga props are for you? How do you determine which yoga props are necessary and which you can do without?
As yogis, we quickly learn the importance and value in honoring our bodies and what they're telling us. We have yoga teachers there to guide us into proper alignment, and we continue cultivating the ability to listen to our own bodies.
These are valuable tools in our yoga practice, but there's another way to support, strengthen, and continue to advance in your practice: yoga props.


10 Yoga Props That Will Enrich Your Time On the Mat
Here are 10 yoga props, along with a description of each so you know exactly what they are and what to look for when you're on the market: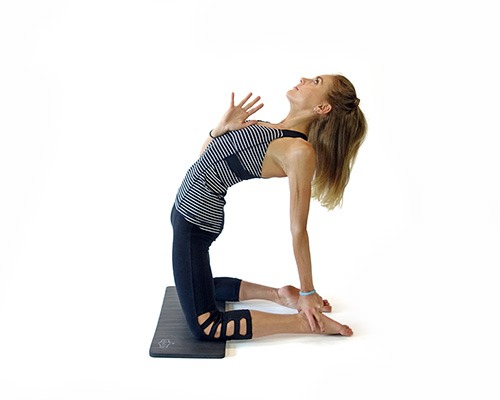 1. Knee Pad by SukhaMat
SukhaMat makes the Yoga Knee Pad, designed specifically to alleviate pressure on the knees and other weight-bearing joints during your yoga practice.
At 15mm thick, it makes an excellent addition to your yoga mat so you can practice in comfort. The Knee Pad is 24"x10" – a great size for a variety of poses – from table top to camel pose, ab work, and more.

You'll like it if: You suffer from knee or joint pain, or if you're an older yogi or athlete/recovering injuries.


sukhamat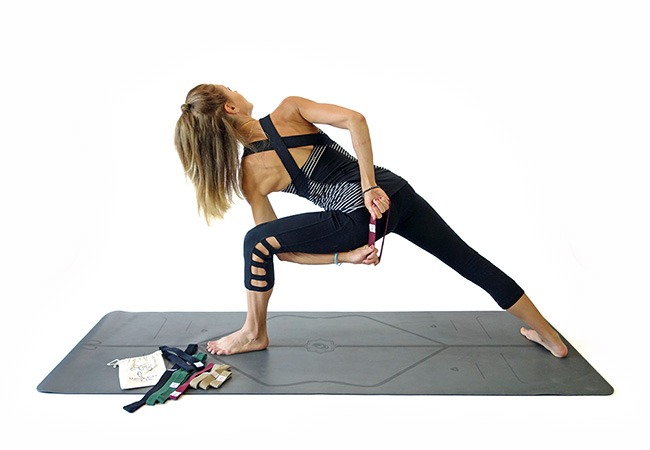 2. YogaSphere Yoga Straps by Mama Kuka
Mama Kuka brings you the YogaSphere – an evolved approach to a yoga strap. In place of the traditional strap with adjustable buckles, the YogaSphere is a closed circle design, and comes in small, medium, large, and extra large so you have a sphere for any pose.
YogaSpheres help with safety, proper alignment, and make challenging poses more accessible.

You'll like it if: You want to use a strap to improve your flexibility, create more space in the body, and gain more accessibility in challenging poses but don't want to deal with the annoying buckle.


Mama Kuka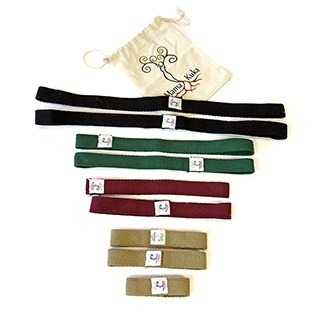 YogaSphere Yogi Pro Kit ($29.99)
Made from 1-inch wide natural cotton material, the YogaSpheres are sturdy yet flexible. The Yogi Pro Kit contains two spheres of each size, for a total of 8 spheres. The kit also includes an illustrated instruction manual and cute carrying case for yoga on the go.
Shop these yoga props here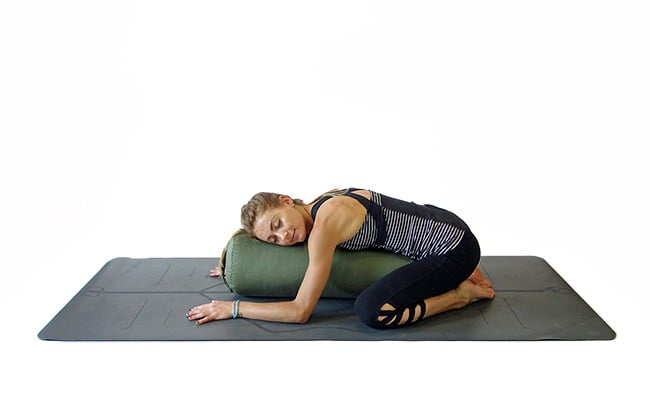 3. Round Yoga Bolster by Hugger Mugger Bolster
Hugger Mugger sets the standard for high-quality yoga products at reasonable prices. Their Round Yoga Bolster is made from upholstery-grade fabrics, and its firm, round shape makes it a sturdy support base for any restorative pose.
You'll like it if: You're a yin/restorative junkie or any yogi who wants to add a restorative element to their practice with a quality, comfortable, bolster.


Hugger Mugger
Round Yoga Bolster in Olive Green ($76.95)
Round bolsters are excellent for placing beneath the knees in savasana, and for using in a wide variety of restorative postures. This Hugger Mugger bolster is handmade and high-quality, weighing in at six pounds of pure restorative love.
Shop this prop here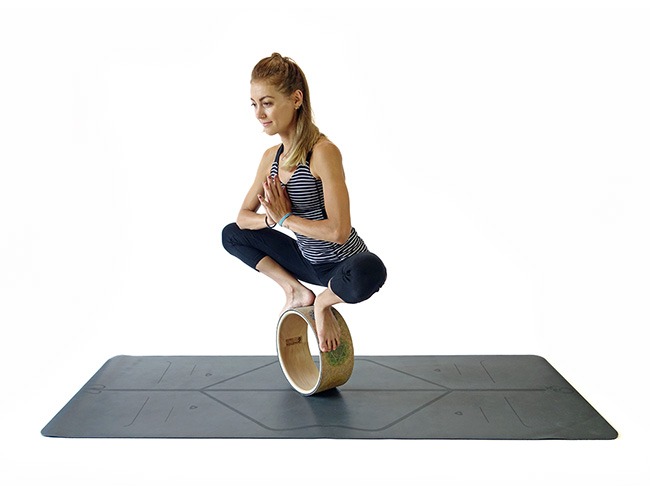 4. Chakras Cork Yoga Wheel by Yoloha
The Chakras Cork Yoga Wheel is a beautiful, innovative yoga wheel from Yoloha, made from heavy duty wood that's hand-carved in the USA and lined with sustainable cork for its antimicrobial properties and superior traction.
Here's How to Use a Yoga Wheel (Video Tutorial)
Yoga wheels help release tension and increase space in the body, in addition to massaging the spinal column and increasing strength and balance overall.
You'll like it if: You're a yogi who wants the best from their yoga props, and cares about important things like sustainability and superior craftsmanship. You're looking for the diversity in a yoga prop (balance, strength training, therapeutic, etc.) that a yoga wheel offers.


Yoloha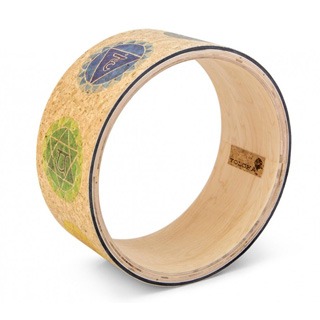 Chakras Cork Yoga Wheel ($138)
This yoga wheel is backed by a lifetime guarantee. It's solid wood construction holds up to 200 pounds. The cork surface is naturally slip, bacteria, and odor resistant. The yoga wheel is 12 inches in diameter and weighs 2.5 pounds.
Shop this yoga prop here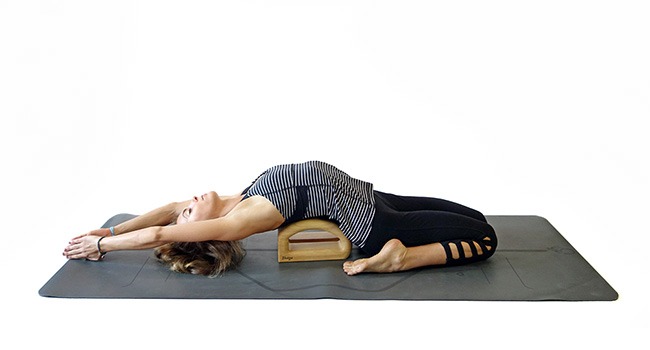 5. Bhoga Infinity Block
While a typical yoga block has square edges and hard angles, the Infinity Block by Bhoga is an extension of your body's natural shape and contours.
This helps provide more accurate alignment, and the sides are rounded and open, giving you even more ways to use the block. The Infinity Block provides ergonomic support and aids in proper, safe alignment – perfect for restorative poses.
You'll like it if: You love using yoga blocks but want a more ergonomic design to match the contours of your body and get the most out of your yoga block practice.


Bhoga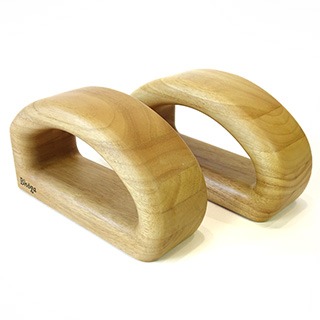 Wood Block ($45 for one, or $80 for two)
The unique ergonomic design of Bhoga's Infinity Block is made from the rubber tree, one of the most sustainable, renewable, and dense wood options. The blocks weigh about 2.5 pounds each, making them a sturdy support system for your yoga practice.
Shop this yoga prop here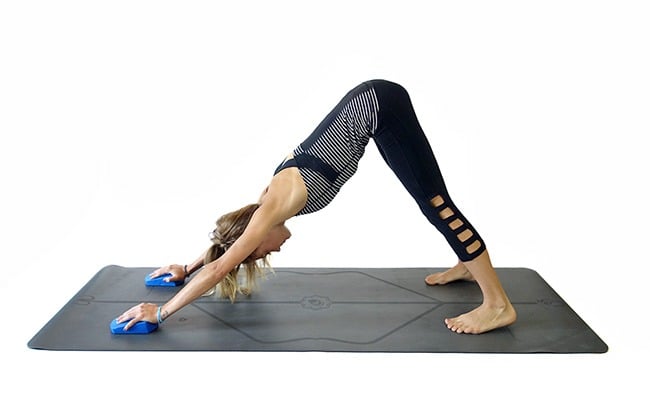 6. Wrist Wedges by DOD Fitness
DOD Fitness created the Wrist Wedges to provide support and relief for any exercise that puts weight on the wrists. The wedge is a simple, ergonomic design that angles the heel of your hand to take the pressure and weight off the wrist.
This angle shifts the distribution of body weight, so you can practice that Plank pose, Down Dog, or arm balance pain-free. What a relief!
You'll like it if: You're a yogi or athlete who suffers from wrist pain or injury and need extra support so you can keep doing the poses and exercises you love.
Learn How to Ease Wrist Pain and Prevent Injury In Your Yoga Practice (Video)


DOD Fitness
Wrist Wedges ($24.99)
Many yoga poses and other exercises put a lot of pressure on the wrists. If you are one of many who suffer from wrist pain or injury, the Wrist Wedges from DOD Fitness provide the ergonomic hand positioning you need to reduce pressure and alleviate pain.
Shop this yoga prop here
Other Yoga Props to Consider Adding to Your Practice:
Rad Roller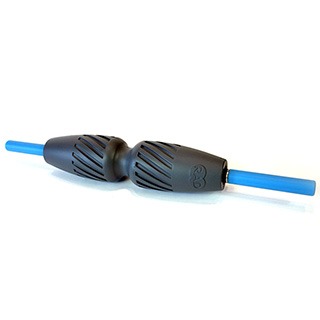 Rad Helix ($49) and Rad Rod ($39)
Rad Roller created the Rad Rod and Rad Helix combination, an evolved take on the classic foam roller. The Helix and Rod can be used together or individually for therapeutic muscular release, massage, and overall relief.
Shop this yoga prop here
Barefoot Yoga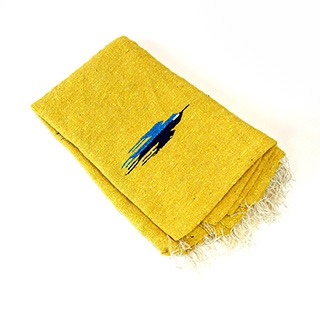 Deluxe Mexican Yoga Blanket ($35)
This beautiful Mexican Yoga Blanket is eye-catching but also incredibly beneficial to your yoga practice. Place the blanket beneath your tailbone to aid in flexibility in a seated forward fold. Barefoot Yoga's blanket is made from recycled yarn and at 55"x80", is big enough to fold several times for restorative postures, or spread out for picnics, the beach, and more.
Shop this yoga prop
Dharma Yoga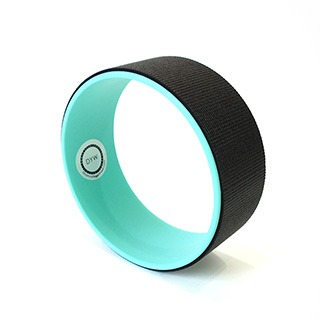 Dharma Yoga Wheel Basic ($59)
You can rely on Dharma Yoga Wheel to make high-quality, well-made yoga wheels. The yoga wheel is durable yet lightweight - just right for a yoga wheel - and the inside mint color really makes this wheel stand out. The wheel comes in a nice box with a carrying handle and includes a picturegraphic card with 15 great yoga poses to try on your new wheel.
Shop this prop here
Gaiam
Yoga Essentials Foam Block ($10.98)
Gaiam brings you a classic design in this lightweight foam yoga block offered in a wide variety of colors. The foam material makes this block soft and forgiving, perfect for sensitive joints or Yin/Restorative yoga classes. If you're looking for a simple and classic design in your yoga block, this one's for you.
Shop this yoga prop
Manduka
Unfold Yoga Strap ($12)
If you're a traditional yogi who wants more leverage and support in your yoga practice, you'll like Manduka's Unfold Yoga Strap. Six feet long and made from recycled polyester with a square D-ring buckle, it's a simple, straightforward, classic yoga strap to aid in flexibility, alignment, and stretching.
Shop this yoga prop
From providing extra support and aiding in proper alignment, to helping increase flexibility, create more space in the body, and more, yoga props are a necessary and incredibly helpful addition to your yoga practice.
We want to hear from you!
Do you currently practice with yoga props? If so, what's your favorite prop to use? Which was your favorite prop featured in this article? Were there any props that weren't included that you want to give a shout-out to?
Please share in the comments below.

This article has been read 40K+ times. Bada bing!
How to Use a Yoga Wheel (Video Tutorial)
Yoga wheels are round wheels that you can use as a yoga prop to enhance your practice. Learn how to use a yoga wheel in this tutorial video and article!
Read »

YouAligned is an online yoga, health and wellness publication for your life on and off the mat. We are here to help you live happier, healthier, more fulfilled lives. Yoga is our passion. Your healthy lifestyle is our obsession!