We Review the Wonder Wheel – a Jumbo Yoga Wheel By YOGABODY (Video)
When it comes to product reviews, we don't mess around. All of the items we review are put through the ringer of everyday use. You can trust that our reviews are non-biased and completely honest. Full-disclosure – while we do charge brands for these reviews, we do not publish negative reviews. If a product doesn't live up to our standards, we won't promote it. Everyone has their opinion, this is ours – let's get started.

A yoga wheel is easily one of the most popular yoga props on the market. And while yoga wheels may be a dime a dozen, this product review takes a look at the unique jumbo-sized Wonder Wheel yoga wheel from YOGABODY, a popular yoga and wellness brand.

Yoga wheels can be used for strengthening, lengthening, balancing, and restorative stretching. They're a fun addition to your yoga practice and can also be used for general fitness and toning. While there are a lot of yoga wheels on the market, not all are created equal . . .

And as it turns out, not all yoga wheels are the same size, either! Yoga wheels are typically about 12 inches in diameter, the Wonder Wheel however measures in at a grand 15 inches!

Watch Our Product Review Video to See the Wonder Wheel For Yourself
In this video, we review the unique Wonder Wheel yoga wheel. Watch the video below to see why we think bigger is better!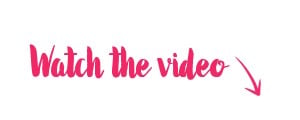 Never miss a FREE class. SUBSCRIBE HERE
Meet the Wonder Wheel Jumbo Yoga Wheel
The Wonder Wheel stands apart from the rest at the jumbo size of 15 inches in diameter. And while you may think that three inches isn't a big difference, it's a difference you can feel when you practice.

This yoga wheel is a bigger yoga wheel than the standard size, but lightweight and easy to use. It comes with a pose chart and instructional DVD for beginners, which is great for those just starting their yoga wheel practice, and also anyone curious about how to approach the bigger wheel.

The Wonder Wheel is offered in teal or orange, or you can pre-order the new baby pink wheel set to launch in January.

With your purchase of the Wonder Wheel yoga wheel, you receive a 365-day guarantee (meaning you can return it for up to one year), along with a 10-year warranty. We always love to see long-term guarantees and warranties like this, because it speaks to the product's quality and durability.

Why a Bigger Yoga Wheel, You Ask?
Yoga wheels are an excellent yoga prop for strengthening and stretching, toning and opening. But what makes this bigger size so desirable?

1. Deeper Backbends
A fan favorite supported backbend on a yoga wheel is Fish Pose. For a gentler variation, bend your knees and plant your feet hip-distance apart to focus on a passive backbend for the middle and upper spine. If you're ready to go deeper, try a gentle Reclined Hero's Pose over the wheel.

2. Restorative Stretching
Backbends are just the beginning. You can use this jumbo wheel to access a wide variety of restorative poses and stretches with added support from a supported Baddha Konasana to side body stretching, and targeting specific parts of the body.

3. Better For Balance and Support
Since this yoga wheel is bigger and therefore stands taller, you can settle deeply into standing poses like Warrior I and II, Side Angle, and Crescent Lunge to strengthen your stabilizing muscles, ability to balance, and also stamina to hold poses for longer.

4. Even More Core Strengthening
Whether you prefer practicing balancing poses on the wheel for core strength and stability, or if you want to focus on plank variations using the yoga wheel, the Wonder Wheel will target and strengthen all parts of your core – plus it's a fun challenge!

5. Increase Flexibility
Stretching is key to a safe and sustainable yoga practice. Yoga props have been traditionally used to aid in increasing flexibility, and the Wonder Wheel specifically targets the back, shoulders, hips, and hamstrings to increase flexibility and range of motion safely.

Your New Favorite Yoga Prop!
The Wonder Wheel yoga wheel from YOGABODY is a yoga wheel you definitely want to try for yourself. It's great for any size body, and its jumbo size increases the versatility in all the ways you can use and benefit from it.

Roll your way to increased strength, flexibility, and self-care. Namaste!

Shop the Wonder Wheel™
Wonder Wheel™ from YOGABODY ($49.95)
Experience deeper backbends, better balance & build core strength with the Yoga Wonder WheelTM! 15" in diameter. 10 Year Warranty
Shop this yoga wheel
This article has been read 2K+ times. Feelin' the love!
How to Use Massage Balls (Video Tutorial)
Check out this massage ball video tutorial, featuring the Hurts So Good massage balls made from all natural rubber by Yoga Body Natural's.
Read »

YouAligned is an online yoga, health and wellness publication for your life on and off the mat. We are here to help you live happier, healthier, more fulfilled lives. Yoga is our passion. Your healthy lifestyle is our obsession!