Review of Three Different Sized Yoga Wheels From SukhaMat
When it comes to product reviews, we don't mess around. All of the items we review are put through the ringer of everyday use. You can trust that our reviews are non-biased and completely honest. Full disclosure: we don't publish negative reviews. If a product doesn't live up to our standards, we simply won't promote it. Everyone has their own opinion – this is ours. Let's get started.

If you have visited Instagram or searched #yoga on any social channel in the last year, odds are you have seen a yogi with his or her yoga wheel. A yoga wheel is a new and trendy yoga prop. This circular-shaped yoga prop helps open up your chest (and heart) and stretch the entire front side of your body, from your hips through your shoulders. Yoga wheels are there to assist you in more challenging and advanced yoga poses, such as backbends and forearm balances. Yoga wheels also massage and deeply roll-out your spine in a safe manner.

The marketplace for yoga wheels is a fairly new one, and there are just a few key players in the game. SukhaMat first entered the market with their ultra-plush 10mm knee pads, and soon expanded to yoga towels and mats, all under the slogan "Practice in comfort." Translated, "Sukha" means "ease" or "enjoyment."

Now the brand dedicated to comfort has rolled out (pun intended!) three types of yoga wheels: Yoga Wheel, Yoga Exercise Wheel and Mini Yoga Wheel.

Let's take a closer look at what makes these three yoga wheels by SukhaMat ideal for your yoga toolbox:

Construction
SukhaMat offers three solid, high-quality yoga wheels that are durable and provide support for many yoga poses. The hand-crafted wheels are all beautiful and well-made. All three wheels are made in the USA.

The all-wood Yoga Wheel is hand crafted from 100% American Hardwood by a Florida artisan. It is finished with a vibrant blue or a green varnish to seal the wood and protect the finish. The 12-inch yoga wheel has a 6.75-inch width.




The Yoga Exercise Wheel is made of eco-friendly PC Alloy Plastic with 1/8-inch eco-friendly TPE foam. It has a 12.5-inch diameter and is extra-grippy for incredible traction and support. The high-impact wheel is super strong and can hold up to 500 pounds.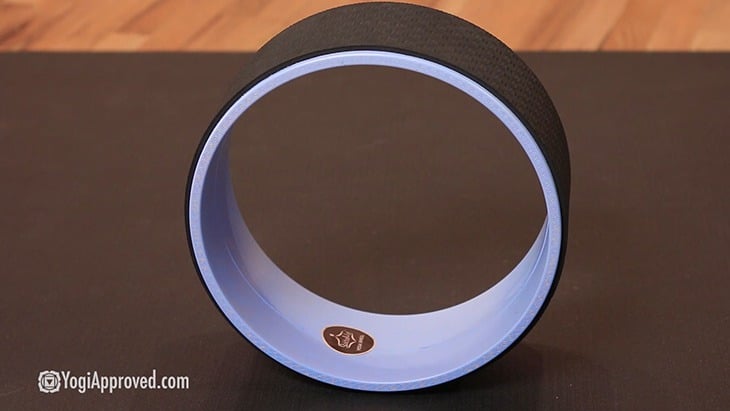 The Mini Yoga Wheel is made of eco-friendly PVC with yoga mat material as the exterior cushion. It has a 6-inch outer diameter and, despite it's small stature, it can also hold up to 500 pounds!


Watch the video review of these three yoga wheels
Experience and Use
Whether you are new to yoga or an advanced practitioner, a yoga wheel is a useful prop for yogis who want to deepen and explore their practice. You can use a yoga wheel to open up your back and shoulders and help reverse bad posture from prolonged sitting or driving.

Yoga wheels can also help align the spine, open and relax your muscles, and stretch your quadriceps and hip flexors. You can also use a yoga wheel for balancing poses, to build strength and flexibility throughout a variety of muscle groups, and to advance and deepen postures, such as backbends, forearm balances and heart openers.

Here is an overview of each wheel's details and particular uses:

SukhaMat Yoga Wheel
This beautiful work of art is the widest of the three yoga wheels. This extra wide yoga wheel creates a steady foundation, ideal for balancing poses (as featured in the video). The size also offers extra leverage, providing maximum support for going deeper into certain poses. The smooth wood surface is sentiment to its superior craftsmanship.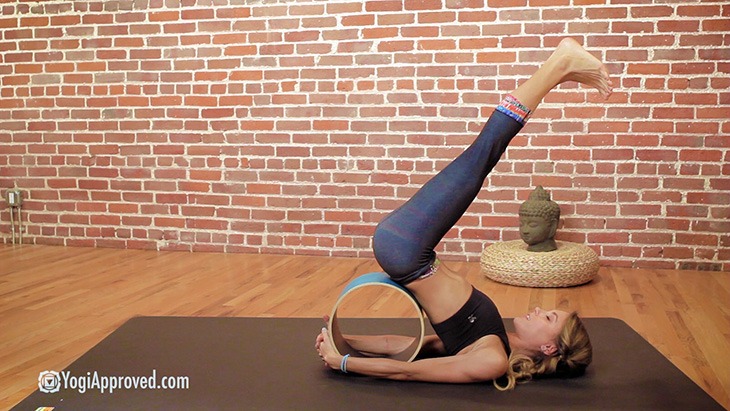 SukhaMat Exercise Yoga Wheel
The Exercise Yoga Wheel is designed for specifically that – exercise! Its outer foam cushion offers plenty of traction, making it easy to use for strengthening and toning exercises. The cushion also provides traction on most surfaces so you can practice with ease virtually anywhere. The attention to detail on this wheel makes it unique and aesthetically appealing. Best suited for intermediate to advanced practitioners.


SukhaMat Mini Yoga Wheel
The Mini Yoga Wheel is tiny but mighty! You can tell it's durable and built to last. The smaller size makes a wonderful beginner yoga wheel. It helps gently guide you into deeper stretches, and the size is ideal for massaging target areas of the body.




To learn how to use a yoga wheel, you can scroll through the #yogawheel hashtag on your favorite social network to find some inspiration, or check out the How to Use a Yoga Wheel Video Tutorial video.

Value
When you're on the market for a new yoga wheel, you've got to look for high-quality, durable, and well-made products that are built to last. SukhaMat covers all these bases by offering unique, quality yoga wheels that are functional, practical, and good looking! Here are the price breakdowns:


Mini Yoga Wheel by SukhaMat
Mini Wheel $49.95
6.5″ DIAMETER, 5.5″ WIDE The SukhaMat Mini Yoga Exercise Wheel is quickly becoming a must-have yoga prop for yoga practitioners from who are looking to push their practice to a new level. This beautifully hand crafted Mini Yoga Wheel is used to open the entire back, open the shoulders, align the spine, relax muscles, expand the chest, and stretch the hip flexors and quadriceps. It can also be used to help relieve back pain.
Shop this wheel
Yoga Exercise Wheel by SukhaMat
Exercise Wheel $44.95
The SukhaMat Yoga Wheel is a beautifully detailed, Yoga Prop used to open the entire back, shoulders, align the spine, relax muscles, expand the chest, and stretch the hip flexors and quadriceps.
Shop this wheel
Yoga Wheel by SukhaMat
Yoga Wheel $99.95
The SukhaMat Yoga Wheel is a beautifully hand crafted, all wood Yoga Wheel used to open the entire back, shoulders, align the spine, relax muscles, expand the chest, and stretch the hip flexors and quadriceps. Hand-crafted by local Florida artisan.
Shop this wheel
YouAligned™ aims to help you find the right yoga tools that are beneficial to your yoga practice. SukhaMat offers three yoga wheels that can each complement your yoga practice in unique and effective ways. Because of their durability, versatility, and stellar craftsmanship, the SukhaMat yoga wheels are 100% YouAligned™.


You can get your own SukhaMat Yoga Wheel here.
This article has been read 10K+ times. Bada bing!