How to Use a Yoga Wheel (Video Tutorial)
Yoga wheels are all the rage in the yoga community. For those of you who have not yet experienced them for yourself, the magic may not be fully understood. Yoga wheels are in the spotlight in the yoga scene because they offer an inspiringly diverse range of uses.
From therapeutic and restorative benefits for the spine, to creating space in the front body, and helping you safely advance into deeper poses, yoga wheels are going to be your new best friend for your yoga practice (if they're not already!).
Whether you've been rolling around on a yoga wheel for a while now, haven't even heard of one, or fall somewhere in between, let's take a closer look at what this new breed of yoga prop is, what it does for your body, and how to use it in your own yoga practice.


What Is a Yoga Wheel and What Does It Do for Your Body?
Yoga wheels are round wheels that come in various sizes. They are a yoga prop designed to help you deepen your practice, aid in advanced poses, and offer therapeutic benefits to create space in the body, massage the spine, and more.
Just like a bolster or block feels sooo yummy supporting your spine, yoga wheels can do the same – but offer the added benefit of movement.
You can roll the wheel up and down the length of your spinal column to massage the spine, and/or find a static hold of a heart-opening backbend to help counteract the negative effects of hunching over a computer screen, cell phone, or steering wheel all day.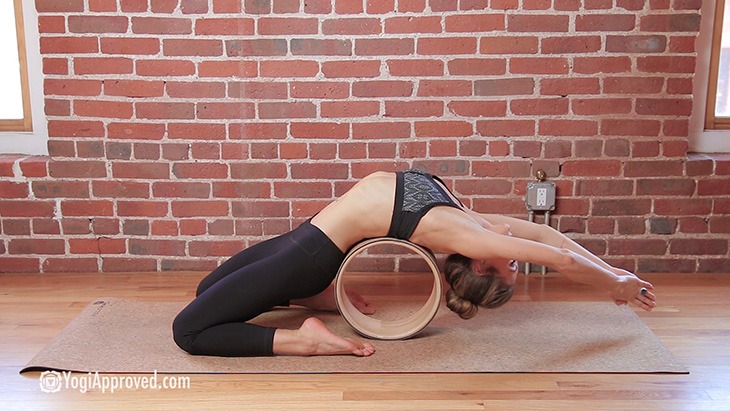 Speaking of heart-opening, yoga wheels also help open your entire front body, from your shoulders, chest and abdomen, and even your hips. This helps alleviate hunching and rounding that contributes to bad posture, and creates more space in these areas for increased range of motion and decreased tension and tightness.
Crack Your Heart Open With These 7 Heart Opening Yoga Poses
Yoga wheels make a great support system as you work to deepen your practice. They can aid in going deeper in backbends, they help you gain more flexibility, and also effectively help strengthen and tone (all demonstrated in the video tutorial below).
Looking to cultivate more balance in your yoga practice? The yoga wheel has you covered there too, bridging strength and flexibility for a full mind-body challenge.


What Is the Best Feature of a Yoga Wheel?
The versatility!
Truly, the sky is the limit (or maybe your imagination) with what you can do with a yoga wheel. While this article and video tutorial brushes the surface, take some time to scroll through Instagram using the hashtag #yogawheel to find limitless inspiration on all the fun ways you can play with your new yoga prop.
Just remember to be safe and take it slow – your yoga practice is about self-discovery and evolution.
Evolution doesn't happen overnight – it requires patience (be kind to yourself and honor where your body is presently), research and self-education (if you're reading this or watching the video, you're well on your way!!), and the right attitude (if you're not smiling and having fun, why bother?!).


Here's How to Use a Yoga Wheel In Your Yoga Practice: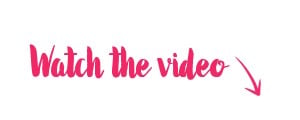 Never miss a FREE class. SUBSCRIBE HERE

For this yoga wheel tutorial, we are using Yoloha's beautiful Chakras Cork Yoga Wheel which you can snag on their website for $139.
Yoloha put themselves on the map for their super unique and incredibly high-quality cork yoga mats. Great news – Yoloha rolled out (pun intended) their own line of beautiful cork yoga wheels!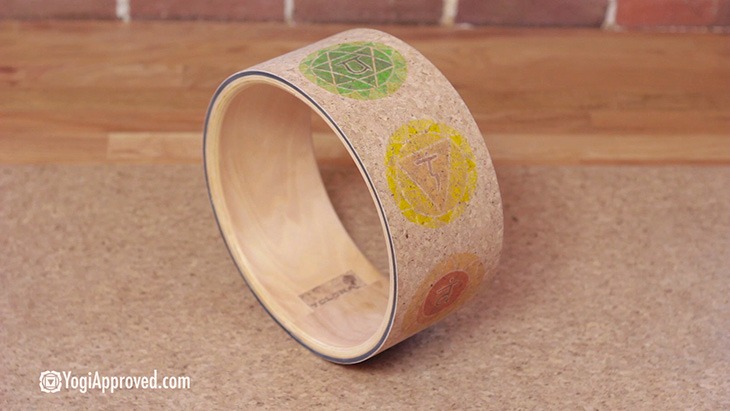 Yoloha Yoga Wheel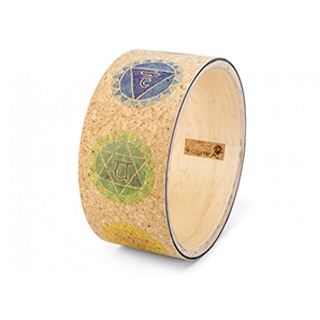 CHAKRA CORK YOGA WHEEL $139
Stretch and release tension from your back, shoulders and more with our handcrafted wooden Chakra Cork Yoga Wheel. Sustainable cork exterior aids in grip and offers an antimicrobial surface. Backed with a 5mm thick, latex-free closed-cell foam that is easy on your back and joints. Every wheel is thoroughly carved, sanded and finished by hand in the USA and guaranteed for life.
Shop this yoga wheel

Want more yoga wheel guidance? Check out this Yoga Wheel Tutorial: Here Are 5 Ways to Use a Yoga Wheel (Photos)
Any yoga wheel questions, comments, or experience you want to share with our community? We love hearing from you in the comments below! Roll on, yogis!!

This article has been read 5K+ times. Feelin' the love!