If You Suffer From Chronic Pain or Injuries, This Yoga Book Is Your Path to Recovery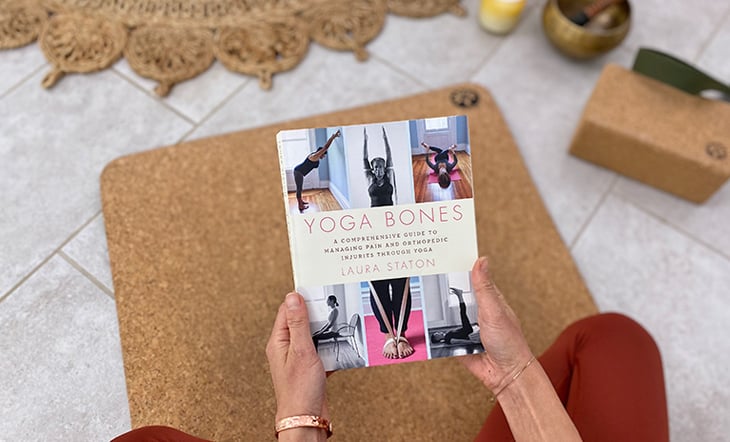 Movement is medicine. Anyone who has practiced yoga, or dance, or who has ever fallen in love with a particular form of fitness has found that movement can be medicine – both physically and mentally.
When it comes to yoga, there is no shortage of physical benefits. And based on the type of yoga you practice (particularly the gentler formats like Yin and Restorative), the benefits become more and more concentrated around physical improvement.
Increased joint mobility and range of motion, improved flexibility and agility, along with better blood circulation, postural alignment and body awareness are just some of the reasons that yoga appeals to – and helps – practitioners of all ages.
So what about yoga for managing pain and orthopedic injuries specifically?

"There is a book for that."

As you may have guessed, yoga has been scientifically proven to be a natural and effective method of managing pain and injuries. But if you're struggling with pain or recovering from an injury, finding a trusted and reliable source for support and guidance through this journey is key.
Enter: Yoga Bones: A Comprehensive Guide to Managing Pain and Orthopedic Injuries Through Yoga.
What injuries or pain fall under the orthopedic umbrella? From chronic neck pain, sciatica, or herniated discs, to frozen shoulder syndrome and hip or knee replacements, Yoga Bones author Laura Staton covers these bases and more in a methodically organized and comprehensive guide.
We had a chance to check out Yoga Bones for ourselves . . . Read on to learn more about this book, what it includes, and our opinion of it.


We Review Yoga Bones: A Comprehensive Guide to Managing Pain and Orthopedic Injuries Through Yoga
Author Laura Staton is a certified Yoga Therapist and Senior Occupational Therapist at a Northwell Health teaching hospital. With a Master's Degree in Occupational Therapy in addition to her past as a dancer and choreographer, Staton is a highly qualified and informed specialist, which shines throughout the pages of Yoga Bones.
What first struck us about this book is the seamless integration of Western Medicine and yoga in a thorough yet easy to understand presentation.
Yoga Bones offers a balance of up front information and explanation on different parts of the body (Chapter 1, for example, starts with The Spine), along with pages of asanas (physical poses) to target that part of the body with in-depth guidance on how to practice each pose.
Each chapter also includes a Functional Wellness section with 'bonus' information, guidance and support for a deeper relationship to the practice you just completed in that chapter.

"One of our favorite chapters is Chapter 5"

One of our favorite chapters is Chapter 5: Lower Back Pain and Your Iliopasoas. According to the opening paragraph, roughly 80% of Americans experience back pain in their lives. With so many people suffering from back pain, this chapter provides an overview of the main causes (weakness and poor posture at the top of the list) and also explains the psoas muscle and its connection to low back pain.
Next you'll move onto yoga poses that help you tap into your body awareness, followed by poses to stretch and strengthen the psoas (yes please!). The chapter ends with a Functional Wellness section on the seven chakras and a chakra scan.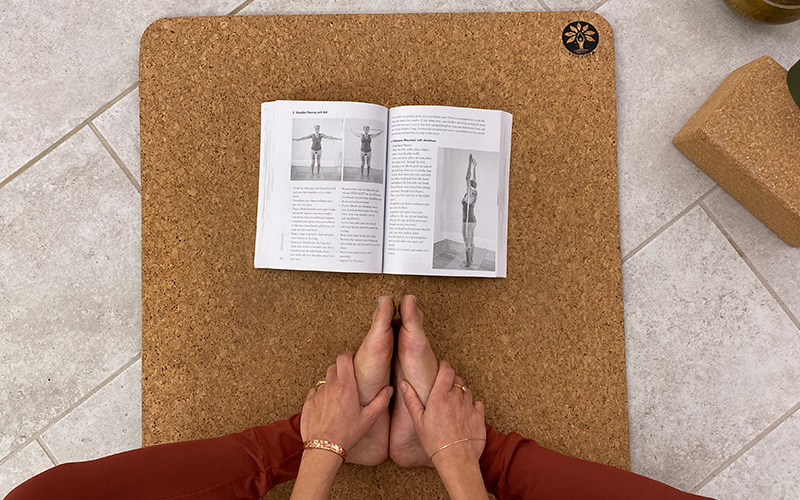 A Few Key Highlights From the Book
Yoga in general is best supported with plenty of clear and comprehensive guidance from the facilitator, and Laura Staton does not disappoint.
The intentional presentation of yoga poses for each orthopedic condition includes explanations of the condition, a very detailed bullet-point list of cues for accessing each pose, and supported by photos and images.
There's also Notes at the end of each pose that offer modifications, more ways to incorporate the yoga props, and a brief explanation of how that pose helps the particular part of the body you're targeting.
As the back cover succinctly describes, "With a holistic and gentle approach, Staton provides a bridge between mainstream medical practices and mindful healing."
From a yoga instructor standpoint, the most important aspect of Yoga Bones is how accessible it is for all ages and levels of ability. By incorporating a generous amount of yoga props (think yoga bolster, blankets, yoga strap, etc) throughout the poses and chapters, Staton ensures this gentle, mindful approach which is key for overcoming injuries, managing pain, and ultimately healing.
Staton also incorporates household props such as a chair or the wall, making the poses and practices throughout the book even more accessible and realistic for the average practitioner at home. Yoga Bones sets you up for a safe and fruitful, as well as informed, practice from the comfort of your home.


Yoga Bones: The Takeaway on This Guide for Navigating Injuries Through Yoga
At just under 300 pages and jam-packed with knowledge, information, and applicable guidance that's easy to understand and incorporate, Yoga Bones: A Comprehensive Guide to Managing Pain and Orthopedic Injuries Through Yoga lives up to its name and clout.
Laura Staton expertly crafts an accessible step-by-step guide to address your injury or pain in a manageable and realistic way that's safe, effective, and actually enjoyable.
For any yoga teachers out there, this book is an excellent resource to deepen your knowledge and ability to fully assist your students. For any yoga practitioners dealing with chronic pain or seeking a holistic way to remedy an orthopedic injury, it's a great place to start.
Priced at less than $20, Yoga Bones is a no-brainer to add to your yoga arsenal. For all these reasons, this book is 100% YouAligned™.
Learn more about this book and grab yourself a copy here!
This article has been read 1K+ times. Feelin' the love!