Yoga Teachers: Here's How to Prevent Injury In Class (and What to Do If Someone Gets Hurt)

If you are a yoga teacher, you've definitely seen students practicing a particular pose with improper alignment. And as a yoga teacher, hopefully you are making the necessary adjustments for these students to help teach them safe and correct alignment and avoid yoga injuries.
We're all aware of the many benefits of practicing yoga. Yet as with anything, there are also risks associated with it.
When it comes to teaching yoga, the teacher's primary focus should always be on keeping their students safe. A large part of this is in teaching – and reinforcing – safe and proper alignment. While we don't always know how a particular pose feels in a student's body, we do know how to recognize incorrect alignment or movement that could lead to injury.
This article will share a few basic tips to help you help your students avoid getting injured on the mat. We will then discuss a few ways to handle a student getting injured in the event something does happen.
Altogether, you will come away feeling equipped with the information you need to lead a safe yoga class and what to do in the event a student gets injured on your watch.

An Ounce of Prevention Is Worth a Pound of Cure
When it comes to injury, the most important aspect of teaching is to know how to prevent this from happening in the first place!

Here are a few ways to keep your class as safe as possible:

1. Check Your Surroundings
Make sure there aren't any safety hazards or anything in the space that could lead to injury. Check the yoga room before your class begins – is there any spilled water or pools of sweat on the floor from a previous class that someone could slip on? Anything lying around that someone could trip on – cords, props, etc?


2. Know Your Students
If you have a classroom full of beginners, it's probably not the time to whip out advanced variations or arm balances. If you have a student who is elderly or pregnant, talk to them before class – offer modifications, tips, and ask if they've spoken to a doctor. Gauging your students before class begins is an important step in keeping the practice safe and accessible for everyone.


3. Offer Modifications and Adjustments
If you see someone struggling with a pose, offer modifications! Yoga props are an easy and effective way to help students get the most out of a pose while avoiding risk for yoga injuries. If you see someone practicing a pose incorrectly, don't ignore them! This is not only your opportunity to teach them proper alignment – it's also how you help them avoid getting hurt.

Want to learn more about adjusting your students? Check out How to Adjust Your Yoga Students in 6 Poses

---
Yoga teachers: Need yoga insurance? Our friends at beYogi are offering YogiAproved.com readers $30 off your annual premium, dropping the annual cost to $149. Learn more here
---
4. Correct Improper Alignment
First, be sure that your cuing and verbal guidance is clear and precise so students understand the important details of how to practice the poses. Next, take time to demonstrate key alignment cues so students can see the proper form for themselves. Finally, similar to #3, if you see a student practicing a pose incorrectly (or at least in a way that could lead to injury), correct them.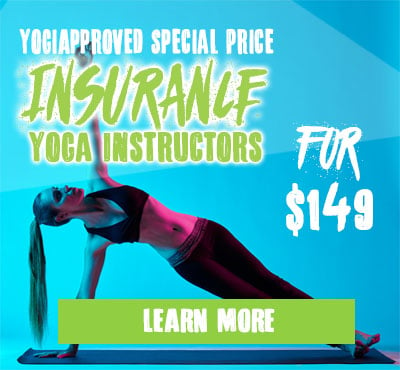 If Your Student Gets a Yoga Injury, Here's What to Do:
No matter if it's a small or serious injury, it can be scary and stressful to be in a situation like this. Your mind begins to race and your instinct to comfort your student goes into action.

Even if the injury was not your fault, it can still leave you at risk for liability but with these tips you can feel a little more at ease if this situation does occur.


1. Check In With Your Thoughts
If a student does get injured during your class, stop what you are doing and check in with your thoughts. Limit the panic that is going on in your head. If you begin to panic, you will not handle the situation with a good mindset. Allow the student to explain to you what happened and take it from there. Try not to overthink the situation.


2. Evaluate and Take Action
Before you do anything, evaluate the circumstances to determine what action you need to take. Be sure to institute proper safety procedures if the injury looks serious (i.e. inability to move, excruciating pain). Also be sure to inform management or the studio owner of the situation, and get medical assistance if needed.


3. Get the Student's Contact Information
This is an important step – make sure you have all the information you need about the student. This will allow you to contact them in the future if need be. You also want to get a copy of the sign in sheet to keep and review to make sure you know who else was in the class during the incident.


4. Notify Your Yoga Insurance Carrier
Yoga injuries happen more often than you may think, which is why yoga insurance is so important for every yoga teacher to have.

Yoga insurance is different from sports and personal liability insurance policies, many of which don't actually cover yoga. Even yoga-specific policies may have exclusions, so it's important to do your research and find an insurance policy that will cover the different styles of yoga along with other modalities.

Want to learn more about yoga insurance policies and which you should choose? Here's How to Find the Right Yoga Insurance For You

Focus On Keeping Your Students Safe and Avoid Yoga Injuries
As a yoga teacher, it's important for you to practice and teach proper techniques to students, so they can have a successful yoga practice. However, accidents happen and it can be a little scary when a student gets injured while in your care. If you take the proper precautions, you can prevent injuries from ever happening to you or your students.

Being prepared and cautious, and keeping your students safe is key for a successful yoga teaching career. Now you have the information you need to lead a safe yoga class and confidence to know what to do in the event a student gets injured.

This article has been read 2K+ times. Feelin' the love!