Building a Nidra Nest Is the Ultimate Act of Self-Care: Make Your Own In 5 Steps!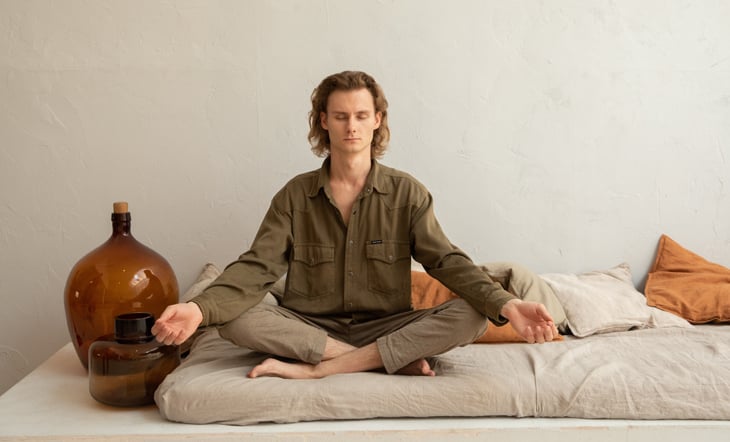 The first time I participated in Yoga Nidra, the thing that had the greatest impact on me was not the guided relaxation (though that was pretty amazing, too). The most healing part was setting-up the nidra nest.
I didn't know what a nidra nest was, but something about the word "nest" automatically conjured feelings of comfort and support, as if I were a tender baby bird and my feathery surroundings were holding me, lovingly protecting me.
What Is Yoga Nidra? Learn All About Yogic Sleep Here
As the instructor walked us through the setup of our "nest" (our sacred space), it taught me a self-love practice that has had a profound impact on my spiritual journey of self-love and compassion ever since.
As a certified Yoga Nidra instructor, I love watching yogis have the same healing experience with the nest. If you are in need of support and self-compassion, here are five steps to nesting so you can experience deep rest and relaxation, even if you only have ten minutes.
These 8 Benefits of Yoga Nidra Will Make You Want to Practice ASAP


Follow These 5 Steps to Build a Yoga Nidra Nest: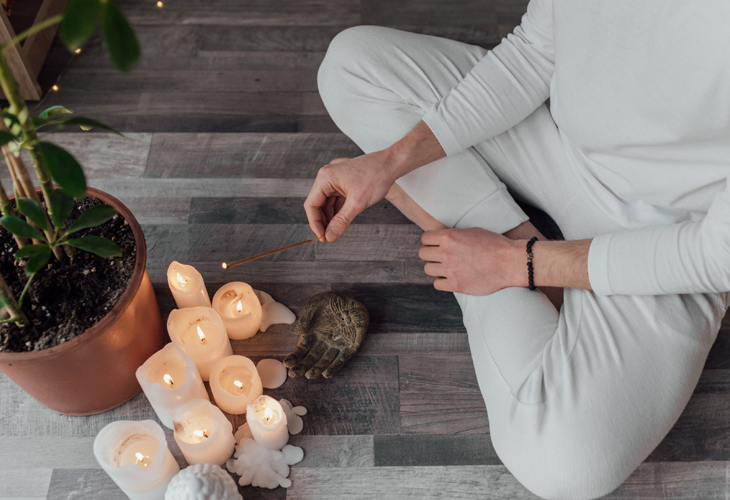 1. The Preparation Is Part of the Practice
When we participate in any mindfulness ritual — meditation, nidra, journaling — we often forget the setup is part of the practice.
Pause. Look around at the space you are about to inhabit. Is it conducive to your healing? Where do your eyes and body feel pulled? Towards a sunny cushion, a candlelit corner?
Trust your instincts about where you want to settle in, and give yourself permission to arrange the space to be most nurturing to you. This is your sacred space.

2. Set Up for Your Beloved
If someone told you your partner or sister or best friend was going to have thirty minutes of relaxation, and you had the honor of setting up their nidra nest for them, how would you set it up?

Trust your instincts about where you want to settle in.

Would you skimp and only give them the bare minimum or would you create the coziest, luxurious landing place? This is not about Pinterest perfection, but about abundant support. Channel your caretaking gestures, and offer them to yourself instead.
This requires a mental reframing that you are worthy and deserving of giving yourself the gift of relaxation. So if you have to trick your brain to think you are setting this up for your beloved, that's perfectly fine. YOU are your beloved.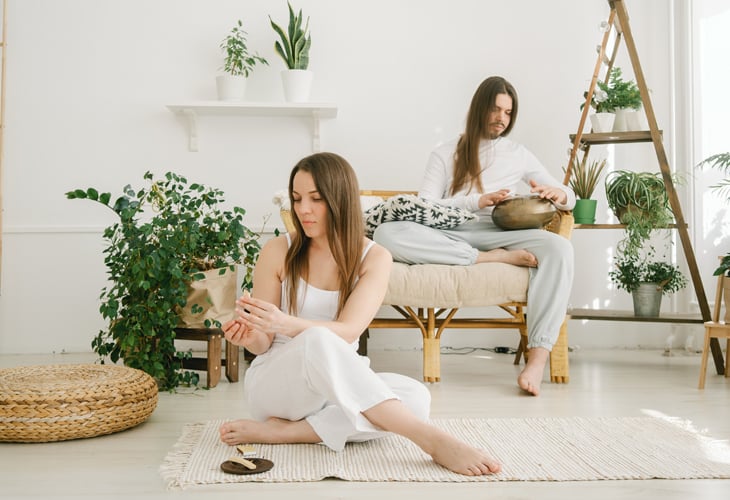 3. Ignite Your Senses
How can you incorporate your five senses into this experience?
Fluffy pillows or fuzzy blankets? Sunshine or candles? Lavender or palo santo? Lemon water or tea? Eye mask or journal? Soft music or silence? What makes you feel simultaneously alive and rested?
This isn't about "shoulds" but about desire, and tuning into what comforts you.


4. Comfort is Queen
Whether you plan to lie down for Yoga Nidra or sit up for meditation, your nidra nest is about comfort rather than stiffness.
Center Yourself With These 5 Guided Meditation Videos
If you had an injury, how would you support your body? Tune in. See what's stressed or strained and give that part of your body the props it needs.
That might be a pillow underneath your head so it can rest into the ground when it gets heavy. It might mean a yoga bolster beneath your knees or turning onto your left side – your yin side – in the fetal position.
Imagine yourself softening into the earth. What can assist in this melting process?

5. Create a Safe Sanctuary
Think of this space as an actual nest where your soul is nurtured and nourished by Mother Earth.
Imagine a glittery bubble of protection around you. You might even call in the spirit of your favorite people or animals. Imagine they are in a circle around your nidra nest; encouraging you, giving you permission to turn your responsibilities off and surrender into a space of rest.

Whether you plan to lie down for yoga nidra or sit up for meditation, your nidra nest is about comfort rather than stiffness.

Nothing is required of you for these ten, twenty, thirty minutes. Your job is to relax in your nidra nest so you can send a signal to your nervous system that it can go into repair mode. You are in a hammock of total love and support, feeling both held and free.


Nidra Nest: The Ultimate Act of Self-Care
As so many spiritual healers have ultimately discovered: our greatest desire is to feel held, as we were in the womb.
The nidra nest is one of the closest things to that – the ultimate act of letting go, trusting and knowing we are supported, so we can surrender into rest and replenishment.
And most importantly, it is a reminder you are truly worthy of this gift.

Set Up Your Nidra Nest for This Yoga Nidra Class!
Yoga Class
With Yogi Bryan
Set up your sacred space and settle into your nidra nest with this guided Yoga Nidra practice on YA Classes. It is deeply calming and great for when you need to relax, when you're feeling stressed, or anytime you need quality y.o.u. time to rest and reset.
This article has been read 1K+ times. Feelin' the love!