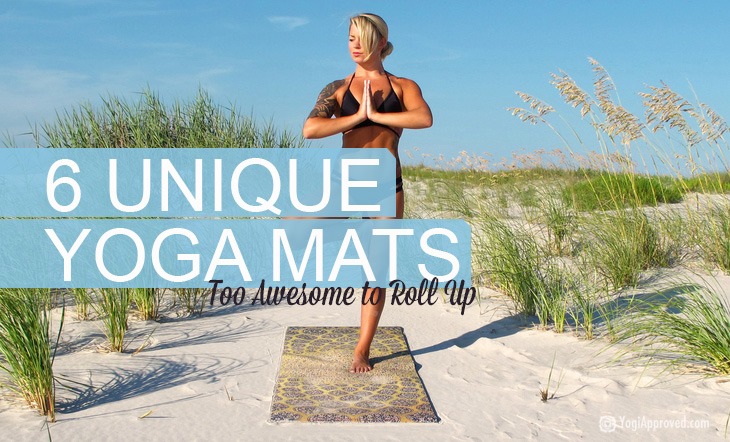 6 Unique Yoga Mats Too Awesome to Roll Up
When you are ready to purchase your next yoga mat, you may be overwhelmed with all the options available online today. Just because you want a traditional yoga mat for your practice does not mean that you need a traditional-looking mat. There are countless unique mats out there to fit your personal needs, preferences, and lifestyle. Choose a mat that inspires you and keeps you feeling positive, cute, and motivated.
Your time is valuable, so we've done the work for you and tested a diverse group of unique yoga mats from all over to find the perfect fit for your unique taste. We only include the mats that passed our test and are 100% YouAligned™, so you can take the guessing game out of your next yoga mat purchase. Here's our findings: 6 quality-tested unique yoga mats with fun and funky designs that will make you look forward to your time on the mat.
Which one will you choose?


Pravacana Eco Mats ($79)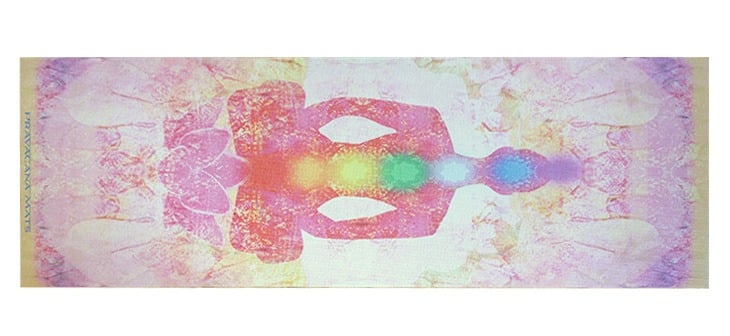 The Pravacana Mat is a customizable yoga mat, meaning you can print almost anything you can dream up to express your unique personality. This includes original artwork, photography, quotations and logos. There are also a variety of stock images that you can choose from, including the breathtaking Chakras print that displays the seven chakras in vibrant color. Each time you step on your mat, you will feel a sense of familiarity and self-expression because your mat reflects your personal style. How cool is that?
The Eco Mat is made in the USA with eco-friendly, non-toxic BPA-, latex- and phthalates-free clear vinyl that offers a plush, cushiony feel beneath your feet, while the mesh center membrane provides stability and grounding. The 4mm mat is covered by a protective top layer that preserves the artwork and provides traction for your traditional yoga practice.
As seen in this article's featured image.
Shop this mat here

---
Hugger Mugger Nature Collection Ultra Yoga Mat ($39.95)

Hugger Mugger's Nature Collection Ultra Yoga Mat is a beautiful yoga mat with soothing swirls of white that flows throughout the brightly-colored mat. This Hugger Mugger mat is made with a naturally-occurring and latex-free PER material – a non-toxic and durable alternative to traditional plastics. The mat weighs in at just more than three pounds, so it's lightweight for easy portability to and from class or wherever your yoga practice takes you. The ultra-plush mat measures a full quarter-inch thick to provide you with extra cushioning and support in kneeling and hand-supporting poses.
This yoga mat is so sturdy and durable, you'll be as shocked as we were that it costs less than $40, making it a smart economical investment. It is available in nature-inspired colors, including energreen (green), flame (orange), ocean (blue) and purple mountain (purple).
---
Liforme Yoga Mat ($140)

The Liforme Yoga Mat is a non-slip, incredibly grippy mat from the second you take it out of the box – no break-in period required – even during hot yoga. It is made of natural rubber and eco-polyurethane, so it's good for mother earth. Cushioned felt separates the top and bottom layers and creates a solid and non-sinking surface for you to enjoy throughout your practice.
The 4.2mm mat includes Liforme's revolutionary AlignForMe system: strategically-placed lines that help guide your alignment. Whether you are a new yogi who needs help with proper placement, or an experienced yogi who needs the occasional spot-check, these lines are immensely beneficial during your time on the mat. It is also a few inches wider and longer than a regular yoga mat, giving you the luxury to stretch out and take up space. Your mat purchase also includes a Liforme mat carrying bag with a comfortable strap.
---
Mouna Mats ($84)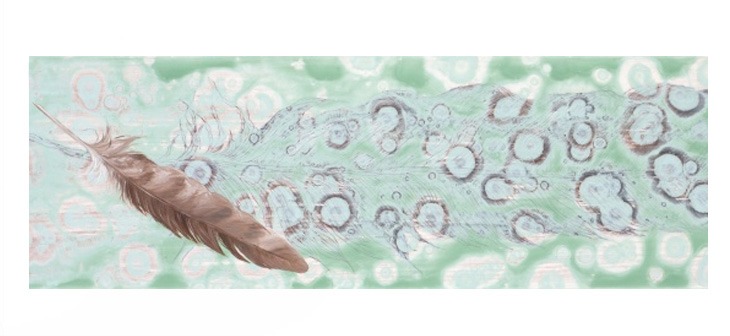 Named after the Sanskrit word for the practice of silence, Mouna Mats are designed as a gentle reminder to use our yoga practice to quiet the chaos of the outside world and in our own minds. Each mat features beautiful, unique graphics from an oil painting by Beth Carson, an acclaimed artist from Pennsylvania. These graphics are printed on non-toxic, durable foam that is latex- and phthalate-free. The 4mm-thick foam provides tremendous cushion for your sensitive joints, while allowing you to feel stable and grounded on your mat.
The mats are offered in unique prints, such as Unwind, which shows an unraveling orange peel and reminds you to unwind and relax, and Warrior that showcases an arrow with a dangling feather tied to it to remind you that you are strong, powerful, and capable of anything. Get ready to be artistically inspired with Mouna Mats.
---
Yoloha Sacred Geometry Cork Yoga Mat ($139)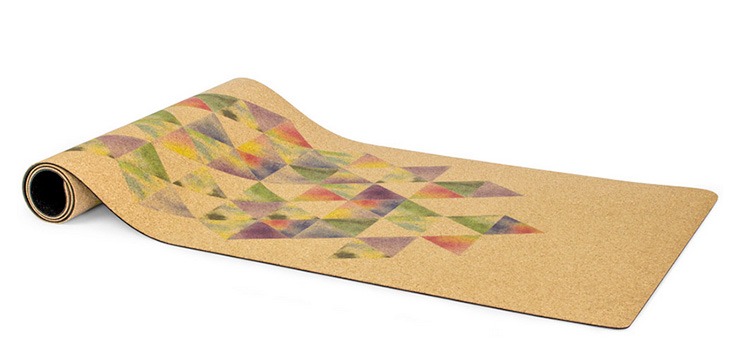 From the moment you step on the Sacred Geometry Cork Yoga Mat by Yoloha, you will notice the unique cork surface. Why cork? For starters, this 4mm mat's grip gets even better once wet, so you won't need a towel during your next hot and sweaty yoga practice. Plus, the natural and renewable cork surface is anti-microbial, self-cleaning and non-absorbent. The Sacred Geometry diamond pattern isn't just a pretty design – the diamond patterns help you find your center and achieve 45-degree alignment.
The Yoloha mat also features an odor-free recycled tire bottom designed to lay flat and prevent sliding, even on hardwood floors or other slick surfaces. The mat is available in 72" at 6 pounds, or 80" at 6.8 pounds. The best part? All Yoloha mats are backed by a lifetime guarantee.
---
La Vie Boheme Parisian Lace-Marseille ($86)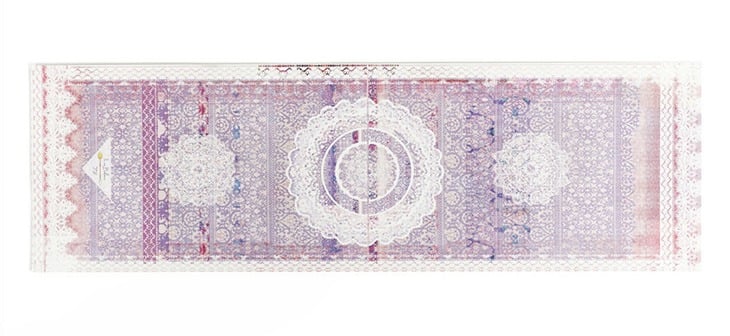 La Vie Boheme literally means to "live the Bohemian life." The Marseille Yoga Mat by La Vie Boheme offers eye-catching, super unique designs inspired by a bohemian, southern California beach girl style with a Parisian flare. The latex- and heavy metal-free mat has a quarter-inch thickness and feels plush and cushioned on sensitive limbs. The Marseille mat is well-made and durable, yet light and portable, weighing in at under four pounds.
Fresh out of the packaging, the mat has a plastic smell, but it dissipates when laid to air out. The muted pink and purple mat resembles a magic carpet, so step on and take a magical yoga adventure! Your yoga practice will always feel fun, fresh, and funky with a mat from La Vie Boheme.
Shop this mat here


Don't blend in with the crowd when it comes to your next yoga mat. Choose a color that brings you bliss, a print that inspires you, and a mat that helps guide you through your practice. What mat brings you joy and entices you to come back day after day? Share in the comments below to help your fellow yogis find their perfect mat too.  🙂  
This article has been read 10K+ times. Bada bing!