Review of the Okryna Lunar Peyote Yoga Mat + Microfiber Towel
When it comes to product reviews, we don't mess around. All of the items we review are put through the ringer of everyday use. You can trust that our reviews are non-biased and completely honest. Full disclosure: we don't publish negative reviews. If a product doesn't live up to our standards, we simply won't promote it. Everyone has their own opinion – this is ours. Let's get started.


Okryna makes stunningly vibrant and unique yoga mat designs. We love this company for several reasons. First, their all natural materials! Using jute and recycled rubber materials creates eco-friendly yoga mats that are durable and offer plenty of traction for any yoga discipline.

Next, the stunning aesthetics of Okryna designs. Your yoga practice is beautiful, colorful, and diverse. Why should your yoga mat be any different? Finally, we love Okryna's story. Born in Mexico and inspired by the Wixarika culture (also know as the Huicholes), the designs reflect these origins. Okryna takes it a step further by donating a portion of their profits to the Grupo Teukari Alianza con Jicareros, an organization formed to help preserve the ancestral practices of the Huichol Culture.

Now that we've met Okryna, let's check out their popular Lunar Peyote yoga mat + matching microfiber towel: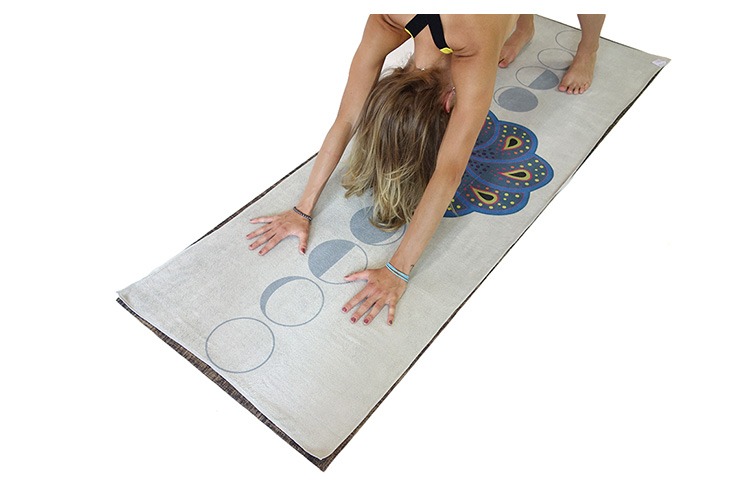 First, we will look at the Lunar Peyote yoga mat from Okryna. This mat is an absolute piece of art. Our testers got compliments or were asked where to buy it from multiple yogis each time they practiced on it!

The brilliant lunar phase design pays homage to the moon's feminine energy and the stages it goes through based on Mother Nature. The moon represents self-reflection, intuition, and everything that is invisible in nature. Peyote has been traditionally used in healing ceremonies and represents transformation – fitting symbolism for your yoga practice.


Important details for Okryna's Lunar Peyote yoga mat
The mat is made from all natural jute and rubber materials, and is 100% recyclable. The mat is 6' x 2' with a 6mm thickness and weighs just over 5.5 pounds. The top is made from jute, which is like a burlap/hemp-like material that is slip-resistant and creates optimal traction for your practice.

The bottom of the mat is a natural rubber. The mat's thickness provides a plush base for your practice, and it's a very comfortable mat for any discipline, whether you practice yin, vinyasa, hot yoga, and beyond. This combination of materials makes the mat both lighter and thicker – two very important ingredients in a great yoga mat!

Unique features of the Lunar Peyote yoga mat
While the material itself and the traction it provides is a unique and favorite feature of the mat, we also enjoy the aesthetic design. The unique peyote flower is not a common design and certainly stands out in the crowd. The beautiful rendition of the moon phases is not only eye-catching, but also symbolic. Add meaning, beauty, and art to your yoga practice with Okryna's Lunar Peyote mat.


Okryna Yoga Mat
Lunar Peote Mat ($113)
Made from all natural jute (burlap/hemp-like material) and rubber materials, and is 100% recyclable. The mat is 6' x 2' with a 6mm thickness and weighs just over 5.5 pounds.
Shop this mat
Now, let's take a look at the Lunar Peyote microfiber towel by Okryna. For all the hot yogis out there, or anyone who likes to practice yoga with a yoga mat towel, you will love this microfiber towel. It's plush, super soft, and beautifully designed to match the Lunar Peyote yoga mat. While the mat featured in this review is a darker hue, the microfiber towel is a light gray/blue to make the colors and contrast pop.


Important details and features of Okryna's Lunar Peyote microfiber towel
This microfiber towel is incredibly grippy both on the mat beneath it, as well as on your body's points of contact during your practice. Whether you dampen it with a bit of water, or prefer to keep it dry, this yoga mat towel won't slip during your yoga practice, no matter how much you sweat or move around.

The Lunar Peyote towel is durable, high-quality, and made to last. It's the same measurements of the Okryna yoga mat, and fits perfectly over it. You can machine wash it on cold (or hand wash), but be sure to air dry. You can even take the microfiber towel with you to the pool or beach to use as a fashionable beach towel – it's great for travelers!


Okryna Towel
Lunar Peyote Towel ($48)
For all the hot yogis out there, or anyone who likes to practice yoga with a yoga mat towel, you will love this microfiber towel.
Shop this towel
Overall value for both products
Priced at $113, the Lunar Peyote mat is an investment in an eco-friendly, high-quality, and high-performance mat. The fact that Okryna donates a percentage of the proceeds to maintaining the ancient traditions of the Huichol Culture is an awesome bonus.

Priced at just $48, the Lunar Peyote microfiber yoga mat towel is a great deal. Many yoga mat towels cost much more for plain and basic designs. This towel is artistic, durable, well-made, and performs well for any type of yoga.

The verdict
Here at YouAligned, we test and review products and hold them to a strict standard of quality, durability, and overall performance. We also take the manufacturing into consideration because eco-friendly practices are important to us. Finally, giving back to the community for a good cause is the icing on top. For these reasons, the Okryna yoga mat and towel line is 100% YouAligned™.



This article has been read 1K+ times. Feelin' the love!