10 Amazing Activewear and Yoga Brands that Give Back When You Buy
Yoga is about community. Yoga is about loving and learning about yourself so you can better serve others. In yoga philosophy, seva is the concept and practice of selfless service.

Just as we practice this in yoga, so too should the brands that cater to the yoga community. And why wouldn't yoga brands give back? Fortunately, more yoga brands are making it a priority to give back to our planet and its inhabitants.

Yoga in the West is rapidly growing, and so is the amount of yoga and activewear brands. In 2015, Americans alone spent over $16 billion on yoga clothing, gear and classes. That's a lot of money that could be used to support amazing causes and make a difference in the world.

So what sets these yoga brands apart? Is there a way to honor the seva aspect of our yoga practice when we buy yoga clothing? Seva, or service, is what sets brands apart and gives you the opportunity to use the yoga gear you're going to buy anyway to make a difference in the world.

These brands give you the opportunity to make a difference in the world while your shopping.

Many yoga brands are donating portions of their profits to causes and foundations to help make a positive impact locally and globally. We respect and appreciate brands who are committed to seva (Seva in Sanskrit means selfless service), and that strive to make our world a better place for everyone.

Here are 10 amazing activewear and yoga brands that give back when you buy:
1. Lineagewear
With eye-catching prints, a comfortable and functional design, moisture-wicking fabric and sizes to fit every body type, Lineagewear is a favorite among yogis and athletes. Founder Katie Pippin incorporates her broadway costume designing background into her yoga and activewear brand to create pieces made for movement, durability and comfort.




Lineagewear not only provides amazing leggings but an ethical, sustainable, environmentally friendly and body-positive brand. Lineagewear has donated over $28,000 to foundations such as Project Fit America, Team for Kids, American Foundation for Suicide Prevention and NEDA.


2. JuJa Active
JuJa Active was founded by Jen Russo in 2015 when she left her corporate job to create a company that would be a place of community for women. Jen was inspired by the many yoga and activewear brands founded by women and wanted to create a place of sisterhood to support and showcase many of these brands.




Empowering women is an important mission for JuJa Active. They created community yoga classes that donate 100% of the profits to different non-profit agencies benefiting women and girls. Another way to help is by purchasing their super comfy Mission Tanks which donates funds to Sanctuary for Families.

JuJa Active is offering new customers 25% off of their first order. Use code: YOGI25 at checkout. 🙂


3. Tribe Vibe
If you're looking for unique and bold pieces for a yogi or yogini, you must check out Tribe Vibe. Each piece is made with eco-friendly materials like bamboo, organic cotton, and recycled polyester, all made in the U.S.A., and each design is hand-painted by owner Alexa Varano for an individual artistic feel.




Tribe Vibe bases their entire business around giving back. Instead of donating to one single charity, Tribe Vibe supports a wide variety of awesome causes. Check out the NO DAPL Water is Life tank which raises money for Standing Rock and the Water is Life campaign. Tribe Vibe also created a BOGO promotion to help kids in the Denver, CO area by donating one hand-painted shirt for every shirt sold.


4. Spiritual Gangster
Spiritual Gangster is a popular yoga brand that keeps their message all about love and positive vibes. Spiritual Gangster has a laid back style featuring crop tops, t-shirts, tanks and leggings that yogis can rock in the studio and off the mat.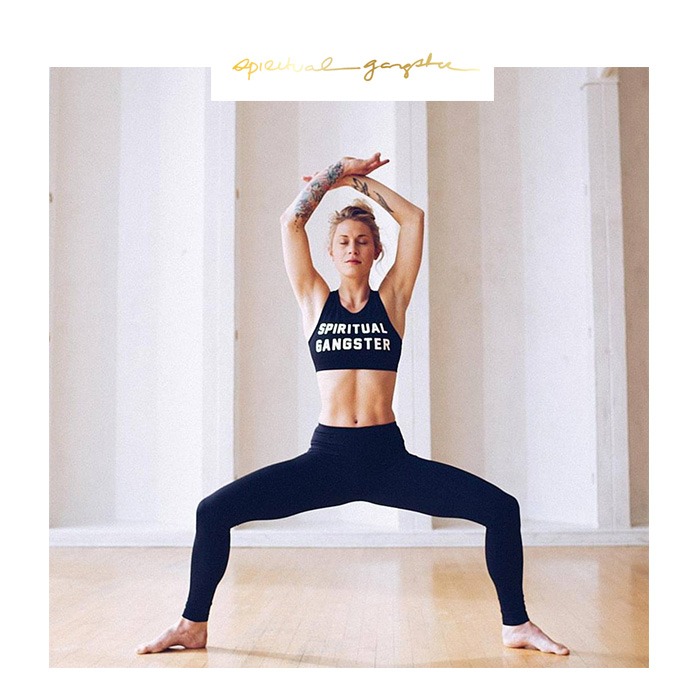 Keeping the good vibes alive and promoting a sense of oneness, Spiritual Gangster donates proceeds from their profits to help fight hunger. They have donated over 2.5 million meals to Feeding America and have also donated proceeds to Children's First Academy, Cambodian Children's Fund, and Make-A-Wish.


5. Kira Grace
Kira Grace creates beautiful and feminine yoga wear that embodies strength and grace. Kira Grace's core values behind their business is creating a sense of community that encompases giving and nurturing.




In their efforts to create a giving community, Kira Grace partnered up with Hanuman Festival and Robert Sturman to create a beautiful yoga legging inspired by Nepal. Kira Grace generously donates 100% of the net profits to the Hanuman Seva Fund that supports different organizations each year.


6. NamasteFit Life
NamasteFit Life is a family-owned business that strives to promote well-being and movement. NamasteFit Life also believes everyone can wear fun, bold and funky prints while staying active. Their items are printed, hand pressed and sewn per order by well paid artisans and printer specialists, not in factories or overseas.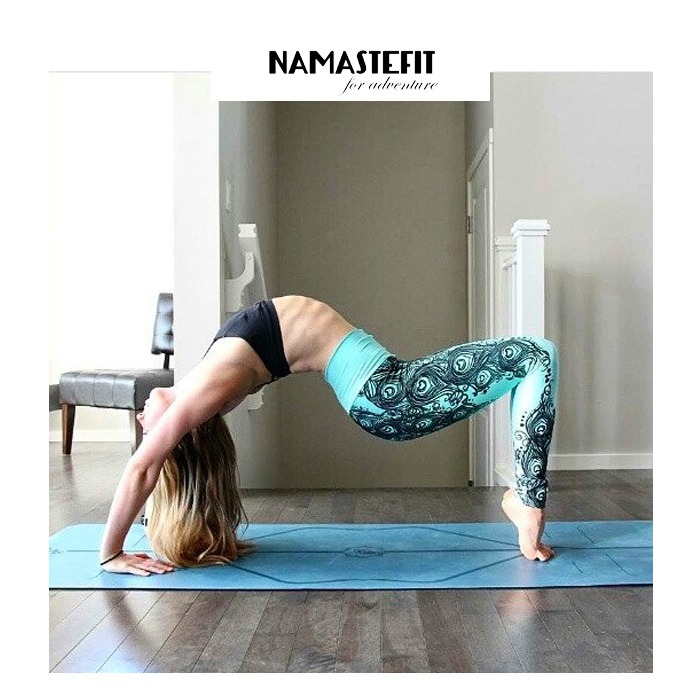 NamasteFit Life is proud to be a Seva-based company that donates a lot of time, resources and awesome yoga wear to foundations to help raise funds and awareness. Every month NamasteFit Life shows support to a different group or charity. In the past they have supported groups such as Empowerhouse to help domestic violence victims, HAND to support those suffering from neonatal death and the TEAL Recover Project in Tampa who supports women fighting cervical cancer.


7. GIVIDA Activewear
GIVIDA Activewear began early in 2015 when co-founder, Kelly Olson wanted to shift her generation's focus from taking selfies to giving back.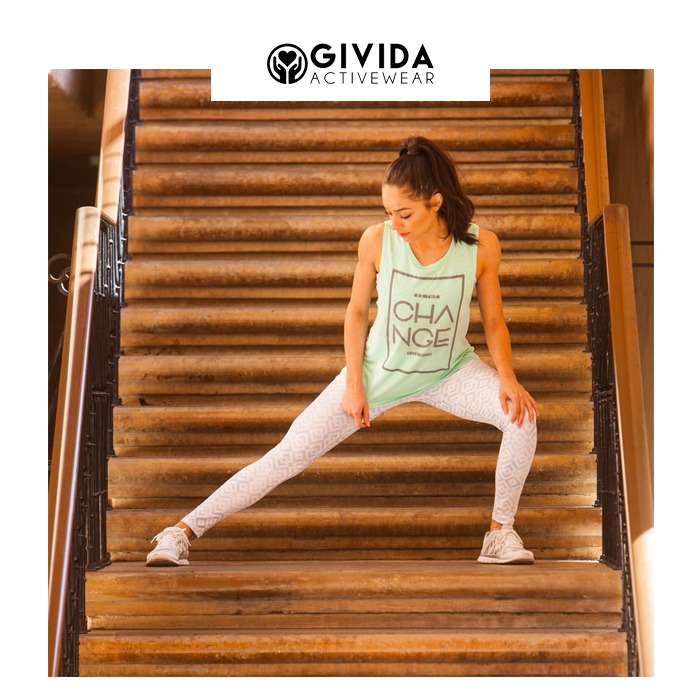 GIVIDA Activewear uses the women's activewear brand as a platform dedicated to ending world hunger by providing life-saving supplement meals to severely malnourished children in Uganda. They have partnered with Action Against Hunger and donate 10% of the purchase price from their line to help children in need.


8. Wolven Threads
Wolven Threads creates beautifully patterned yoga, SUPyoga, and swimwear that is inspired by sacred geometry and nature. They are dedicated to using sustainable fabrics and create their pieces from recycled plastic that is free of harmful and toxic chemicals.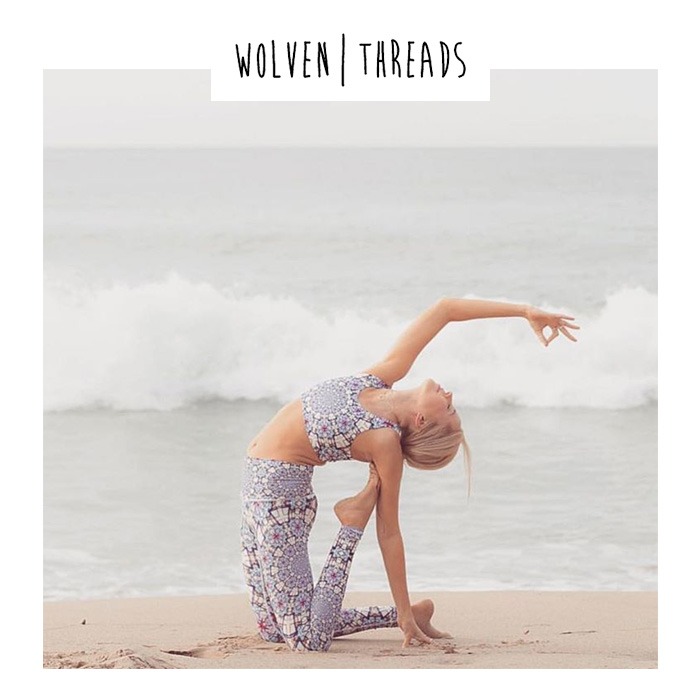 In addition to being a sustainable company, Wolven Threads also donates 5% of their proceeds to bringing yoga to at-risk and incarcerated youth – what an awesome cause.


9. Beyond Yoga
Created in Los Angeles, Beyond Yoga is a body-positive brand designed for all shapes and sizes to make women feel amazing in their own bodies. Beyond Yoga offers many styles in comfortable fabrics with basic prints to wear on and off the mat. Beyond Yoga offers leggings, activewear tops, dresses, maternity wear and more.




Beyond Yoga created a wonderful campaign called Moms for Moms to help support underprivileged mothers and mothers-to-be. Beyond Yoga is also passionate about Midwives for Haiti that provides support to help reduce infant and maternal mortality rates in Haiti.


10. LVR
LVR is a family-owned company with a passion for creating high-quality athletic clothing that is also environmentally friendly by using sustainable fabrics and eco-friendly dyes.




LVR doesn't stop their service with protecting our planet. In their effort to benefit both local and global communities, LVR donates a portion of revenues quarterly to aid in the rescue, rehabilitation, and release of wild animals through ARCAS in Guatemala.


11. The Elephant Pants
The Elephant Pants creates comfortable, trendy and ready to wear harem and lounge pants that you won't want to take off. This awesome brand has an impressive variety of versatile pants and also tops, scarves, jewelry and backpacks.




Elephant Pants has a mission to provide a safe and sustainable future for elephants. They have partnered with the International Elephant Foundation and donate a portion of every sale to help elephants thrive. They focus on anti-poaching, habitat protection and ways to prevent human and elephant conflict.


12. SoloSol Movement
Created by sisters in 2014, SoloSol Movement creates activewear that blends fashion, functionality and fitness. Their collection reflects their desire to wear clothing that fits the body well and expresses each individual's free spirit. Each design is conceptualized from their adventures together to create unique and beautiful activewear for women, men and kids.




SoloSol Movement knew the importance of giving back to the community from the beginning. After a trip to Bali and the eye opening realization that many dogs are suffering, Solo Sol began donating $1 of every sale to BARC to help the abused and neglected dogs on Bali's streets.


Living a life of Seva is not only important, but it is a necessity. We are grateful for these yoga brands and others who know the importance of Seva and how it impacts our world. As a consumer, it is also nice to know our yoga legging purchase will do more than just make ourselves happy – it will help benefit others as well.

Which brand is your favorite from the ones we featured here? Do you want to recommend another Seva-based brand not included in this list? We would love to hear from you in the comments below.

Feature image: LVR
This article has been read 7K+ times. Feelin' the love!