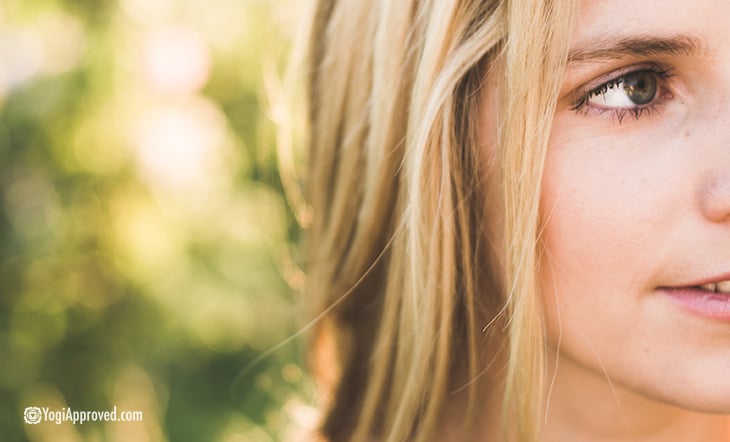 This Ancient Ayurvedic Skincare Technique Will Give You Radiant, Healthy Skin
Glowing skin is an indication of health and vitality. Ayurveda and living an Ayurvedic lifestyle supports your health from the inside out, and your skin reflects this . . .
But if you don't already have an Ayurvedic arsenal at home, don't worry! It's easier than you may think to make your own Ayurvedic clay exfoliant for radiant, healthy skin.

By rubbing the body with clay, sweat and dirt are removed, and the body becomes shiny and soft. -Sri K. Pattabhi Jois
Ayurveda is the Radiant Skin Remedy
We've got the radiant skin remedy and it comes in the form of Ayurveda!

Ayurveda provides simple and practical techniques to consciously support your doshas (Ayurveda classifies us into three main doshas – or characteristics – that dictate things like body type, dietary needs, etc) using foods, yogic practices, and herbal applications, among various other methods.

The answer to your prayers for shining skin is in the ground you walk on.

Balancing the doshas in your skin will lead you to the luxurious skin you were born with, not the skin your geographic climate dictates. The solution – like most Ayurvedic remedies – is simple, inexpensive, and natural, but it requires a little extra elbow grease, or should I say elbow clay . . .

Ayurvedic Skincare Guide: Here's Everything You Need to Know
If you're already an Ayurveda aficionado, you can skip down to the DIY Clay Exfoliant Recipe below. If not (or if you'd like a refresher), read on to learn all about Ayurvedic skincare, why we should use clay instead of soap, how to establish a simple skincare routine, and all the benefits that come with it.

First off, if you need a crash course in Ayurveda, here's Everything You Need to Know in a Nutshell.

Ayurveda Says to Choose Clay and Ditch the Soap
The answer to your prayers for shining skin is in the ground you walk on. According to Dr. Robert Svoboda in his book, Prakriti: Your Ayurvedic Constitution, the Ayurvedic tradition recommends clay as a substitute for soap.

Why? Soap strips your skin of naturally occurring protective oils, which in turn dries out your skin and encourages growth of the bacteria that causes body odor. Sounds a little counterproductive, right?

Moral of the story – unless you're seriously dirty, consider skipping the soap.

Comparatively, clay soaks up oil left over from abhyanga (self oil massage) while toning and smoothing your skin, without the drying effect of soap. Studies show that clay also leaves beneficial skin bacteria in your epidermal microbiome which functions to educate your body's immune system.

How Does Clay Benefit Our Skin?
Wet clay, the basis of the exfoliant recipe given below, is the essence of Kapha Dosha. Kapha consists of the earth and water elements: wet, cold, and earthy.

When this mixture is applied to skin that is oily and overheating (caused by excess Pitta), or dry and rough (caused by excess Vata), the clay works on an elemental level to balance these energies, which in turn supports healthy, firm, and vibrant skin.

Want to learn more about the Doshas and find out which Dosha you are? Read What Are the Doshas? Everything You Need to Know

Exfoliating your face and body not only feels great and produces lustrous skin, it also provides you with an opportunity to develop a nurturing and protective relationship with your body every morning.

Establishing a self-care routine is so important, not just for our beauty and grooming habits, but for a positive mindstate and wellness overall.


Here's How to Make Your Own DIY Ayurvedic Clay Exfoliant
Prep Time: 5 minutes
Yield: Approximately 8 oz

Tools and Ingredients You Will Need:

¼ cup Dry Bentonite clay: you can find quality Bentonite Clay online
5 drops tea tree essential oil – this makes it smell nice and adds a mild antibacterial agent that keeps the mixture from molding at room temp (which is really important, especially if you make bigger batches)
½ tsp. Organic turmeric powder: try to buy fresh ground spices when possible for maximum nutritional content since naturally occurring substances degrade over time
¾ cup spring water: avoid using tap water or other water that contains added substances like chlorine and fluoride
Mixing bowl, fork, rubber spatula, and one 8 oz glass jar with lid


Instructions:
In a clean mixing bowl, use a fork to mix together turmeric and clay powder. While mixing, slowly drizzle water into the dry ingredients

Once the clay begins to clump, add all the water and mix until a smooth, uniform consistency is reached

Eventually a spatula will move the mixture easily and it will spread smoothly on your hands. If necessary, add water by the tablespoon to adjust the consistency

Using the spatula, transfer the clay mixture into glass jar, and cover loosely (be sure to leave a small opening)
This batch should last about 2-4 weeks when used daily. If not using daily, store in fridge to prevent molding
When and How to Use Your Clay Exfoliant
The clay exfoliant we'll learn how to make below is best used during your morning routine ten minutes after abhyanga (your self oil massage). If you don't practice abhyanga, no worries! Simply apply the exfoliant during your morning or evening skincare routine.

Step 1: Apply the clay exfoliant to your skin and firmly rub it into your entire body. You can choose to only use this as a face mask if you prefer.

Step 2: After applying, you don't need to leave the mask on. Bathe your body (or wash your face) thoroughly using a clean, natural fiber washcloth to remove the clay. Don't use soap here – just clean water and a washcloth.

Important to note: The turmeric in the clay exfoliant can stain fabrics, so be sure you wash it off thoroughly before getting dressed.

Step 3: Option to finish with a natural facial cleanser or facial toner. While this isn't necessary, it can be a great addition to this routine.

Add Clay to Your Everyday the Ayurvedic Way
Establishing a daily morning routine – which includes this DIY Ayurvedic Clay Exfoliant – will support overall skin health. And according to Ashtanga Yoga Master Sri K. Pattabhi Jois "By rubbing the body with clay, sweat and dirt are removed, and the body becomes shiny and soft."

This article has been read 30K+ times. Bada bing!