More Eye-Opening Than Mascara: This Is the Symbolism of Makeup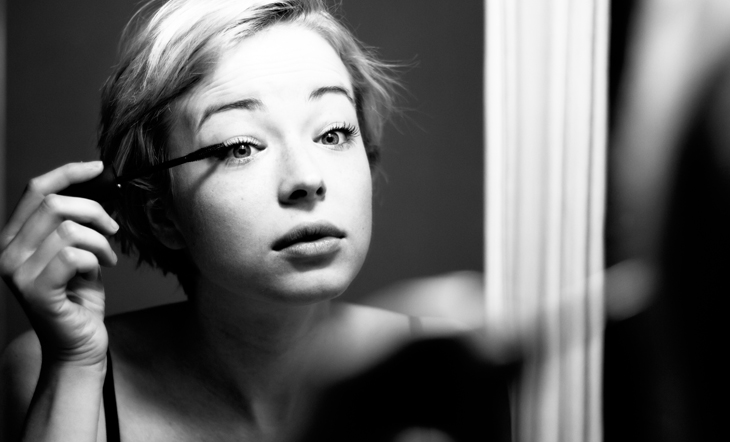 Have you ever wondered why it's called "makeup"? Beauty is skin deep and we have everything we'll ever need inside of us already – so what exactly are we lacking that we need to make up for?
Why do we need to cover up our faces in order to be seen? Why do we need to conceal how we feel?
You can't buy anything externally that is more valuable than what you already have internally.
In this article, we won't gloss over the truth that you are perfect just the way you are. No need to blush – we're not making that up! We also don't mean to throw shade just because you choose to wear eye shadow.
Instead, we want to build a solid foundation for the idea that when you break down the symbolism of makeup, you may never look at yourself in your makeup mirror the same way again!


Makeup Can't Make Up for This: Let's Break Down Makeup
If we were talking in any other context outside of makeup, you would probably be offended if someone told you to your face that you need to:
Blend in
Cover up
Tone it down
Yet these are actual things that we do to our own faces by applying makeup! Let's break down 3 specific makeup products and their hidden implications.
WARNING: After reading this, you may want to lash out!


Exploring the Symbolism of Concealer, Primer, and Contour
1. Concealer
Concealer is a product that is applied to one's face in order to . . . well, as its name implies . . . conceal! It is used to hide perceived imperfections such as dark circles, age spots, and blemishes.
But why do we even feel the need to conceal these in the first place?
It's because of subconscious programming from the "beauty industry" that ironically conceals its own agenda of making up reasons for you to buy makeup such as "you won't be loved without this product."
For example, are our dark circles bad because we're up all night caring about the state of humanity?
That actually sounds like compassion, which is a good thing. Maybe those circles only look so dark because of the contrast of how bright our light within is shining out through our eyes!
And why would the "beauty industry" want us to conceal that?
The "beauty industry" will try to convince us to see our age spots as a horrific reminder that we're getting closer to the end and that applying a product will stop this process.
But, there is a wrinkle in that logic that warrants more attention than any wrinkle on our faces.
We should celebrate our life and wear our spots as a badge of honor; as a reflection of times that we had to put on some tough skin but came out on the other side full of a certain wisdom and knowledge that only comes with age.
Would we want to conceal our spots if we thought about them in this way?

2. Primer
Primer is a product that is applied to one's face as a base. It is used as an undercoat for the makeup that comes next – such as foundation, cover-up, and/or concealer. It ensures better adhesion of those items without having those products creating conflict or bumps.
The "beauty industry" primes us to accept messages like "you are not worthy without makeup, you are not beautiful without makeup, you cannot be happy without makeup."
And the point is that we can mimic the primer we use on our faces by just accepting what's put onto us as truth – such as we are not lovable – if we don't practice self-awareness.
This article implores you to do the opposite of what the primer does in your makeup routine: create conflict and bumps that challenge the sometimes ugly agenda of the "beauty industry."

3. Contour
Contour is a product that is used to create an illusion that your nose is thinner than it actually is, or that your cheekbones are higher than they really are, or that your forehead isn't actually a five head.
The very definition of the word contour is "to mold into a specific shape, especially one designed to fit into something else."
Quite symbolic of the point we're making! You should use makeup to fit into your own idea of beauty and not to fit into societally imposed, materialistic, or unrealistic standards.
Why do we need to change the shape of our face?
Do we think if our nose is too big it means we aren't lovable? Why do we need to lie about how high our cheekbones are? Do we think people will think low of us if we left them as-is?
Why do we care more about the size of our forehead than to have the foresight that if we use makeup as an emotional crutch, the "beauty industry" will always have a leg up?


Here Are 5 Questions About Using Makeup to Open Your Eyes:
If after reading the above, your eyes have been opened to a whole new perspective, then that is just beautiful! We must be as thoughtful with making up our minds as we are with making up our faces.
6 Eco-Friendly Makeup Brands to Bring Out Your Natural Beauty
Below are 5 additional prompts that are more eye opening than mascara! They are intended to help you build a solid internal foundation.
The next time you are:
Trying to make your lashes longer on the outside, ask yourself: "What am I longing for on the inside?"
Brushing your brows, raise your eyebrow and ask yourself: "Am I brushing off any uncomfortable feelings right now?"
Trying to get your lips lined perfectly, ask yourself: "What is not currently lining up in my life that I'm not speaking about?"
Giving your cheeks definition, ask yourself: "How do I define my self worth?"
Adding concealer to the bags under your eyes, ask yourself: "What baggage am I still holding onto that I can't see?"
Let's face it – until you stop covering up any limiting beliefs or self-doubts, putting on cover-up will not hide what's deep down.
Take this at face value: if you apply makeup because you believe it gives your face value or it feels unnatural to show your natural face – then you might want to consider a break from putting it on.
At the end of each day, you will need to wipe your face clean. And if you haven't uncovered your true intentions for why you wear that cover-up, then as soon as that makeup infused water goes down the drain, so will your self-esteem. Wash, Rinse, Repeat.
That is exactly what the "beauty industry" capitalizes on because it means you will be back to buy a fix for (insert perceived flaws here) tomorrow.


Make Up Your Mind Not to Buy Into It
You can buy lashes for your eyes, but you can't buy vision.
You can buy lipstick for your mouth, but you can't buy truth.
You can buy contour to change the shape of your cheekbones, but you can't buy anything that will change the shape of your soul.
You are the product. You are the commodity. You are everything and a bag of chips! Don't sell yourself short. It is absolutely priceless when you realize that you can't buy anything externally that is more valuable than what you already have internally.
There is a reason they say "glowing skin is always in." It's not just because it's a hot makeup trend – it is because beauty radiates from the inside out! It's called "inner beauty" because you shine naturally from within!
Your glow does not come from the bronzer and highlighter that you may love to apply but rather it comes from applying self-love!
Check out 13 Tips to Cultivate Self Love and Live a More Fulfilling Life (especially tip #4 which is "Rock a no make-up day")
It's pretty simple. You don't need to try to be pretty because you simply are . . . period. Makeup doesn't make up who you really are. It's your genetic makeup that truly matters.
Your true foundation is not what you put on your face. Your true foundation is made up of self-acceptance, self-confidence, and self-worthiness. But in order for you to actually believe all this is true, you must first make up your mind that it is!
How do you use physical makeup as an accessory to what you're divinely made up of already? How have your eyes been opened after reading this? How do you put your best face forward each day with or without makeup?
We'd love to hear from you in the comments below!
Dive Deeper: Check Out This Video About the Symbolism of Makeup
I made a video titled "Uncover The Truth About Cover-Up: The Symbolism of Makeup" that you can watch here!

This article has been read 1K+ times. Feelin' the love!