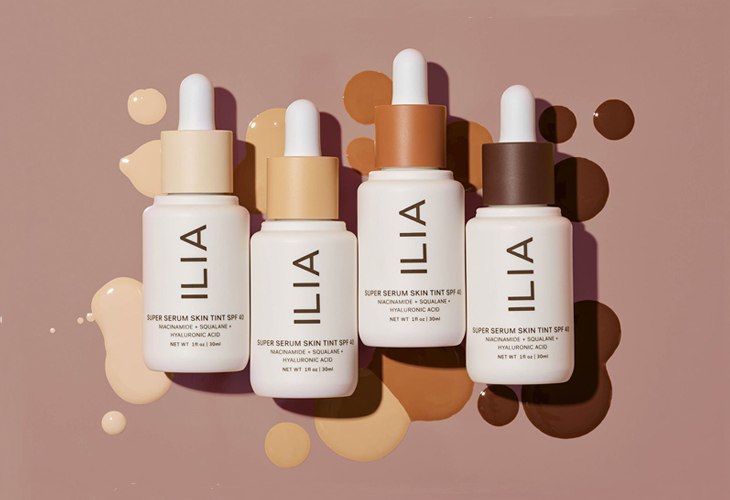 The Ultimate List of Best Natural Makeup Products (Use This, Not That!)
Finding the clean, natural makeup brands that actually work, are actually clean, and are actually worth your money can be a real headache – so we did it for you!
These days, it seems like there's a new "must-try" clean beauty or natural makeup brand on your favorite influencer's platform each week, and while we appreciate the variety, who has time to try each one?!
So we fell down the rabbit holes for you and found the tried and true, most hyped clean, beauty products worth giving a go.


Full Disclosure: Clean Makeup Doesn't Always Mean the Same to Everyone
Much like "green", "natural", or "healthy", "clean" is one of those vague terms that is too often hijacked for shady marketing ploys.
For the purpose of this article, when we say clean and natural, we're referring to ingredient lists devoid of known-no-nos like parabens, mineral oil, sulfaces, silicones and more. As a bonus, all these products are cruelty free and vegan.
Know the "Dirty Dozen" of the Biggest Offenders of Toxic Chemicals Lurking in Your Beauty Products


The Ultimate List of Best Natural Makeup Products
Ready to give your makeup bag the natural refresh it deserves? Let's get gussied up!

Foundation: Ilia Super Serum
Reviews don't lie – the serious cult following around this natural beauty product means you've likely heard of it already – people are crazy about this stuff!
Unlike a traditional, heavier foundation, the Ilia Super Serum glides on more like just that – a serum, but with dewy coverage and sun protection to boot. It's silicone-free, fragrance-free, chemical screen-free, oil-free, vegan, and has won a list of accolades about a mile long.


Concealer: Kosas Revealer
We've probably all tried concealers that felt like a waste of money. When choosing a natural concealer, you want it to, you know, conceal!
This natural makeup covers blemishes, scars, or dark spots like the best of them, and boasts brightening perks with a creamy texture. Kosas Revealer's concealer is vegan and cruelty free, plus has no parabens, sulfates, phthalates, talc, mineral oil, etc.
First-Hand Review: After trying the Kosas concealer myself for this article, it's become my daily go-to. It simply works, and doesn't crease, pull or cake like so many concealers. The tube is large and has lasted several months and is still going strong.

Powder: Range Smooth Out
Powders are one of the makeups that can often contain a smorgasbord of ickies from talc to fragrances, but Range Smooth Out Powder is a natural makeup you can feel good about literally dusting all over your face.

These super-effective, tried and true natural makeup brands prove that natural beauty is way more than a phase.

It works thanks to ultra-fine minerals and exactly zero paraben, talc, fragrance, sulfates, etc. All vegan and cruelty free, another amazing natural makeup beauty product in our bag.

Highlighter: Tower 28 SuperDew Highlighter Balm
Highlighter can be tricky – it can often wind up a little too reminiscent of the early 2000s with a bit too much glitter and shine.
Tower 28's highlighter balm is a totally shimmer-free balm for any place you'd like a super-natural glow without the disco-ball gleam. Also missing are the sulfates, parabens, formaldehydes, animal by-products, or fragrance – to name a few.




First-Hand Review: I've had a spotty relationship with highlighters over the years, but since testing this balm out, hardly a day has gone by where I haven't tapped a little onto my face.
For days when I'm feeling tired or a little meh (so, most days!) it adds the most natural oomph to my cheeks and forehead in a way that's decidedly post workout-glowy, not greasy.

Blush: Axiology Beauty Balmies
What's so cool about Axiology Beauty Balmies is not just what they're missing in terms of icky ingredients (none of those here), but also the packaging!
They're totally plastic free, wrapped only in paper, and come in a compostable box made from recycled trash. Use these natural makeup blushes anywhere – on lips, cheeks and eyes – and choose from a delicious range of shades.
First-Hand Review: If I could only use one natural makeup product forever it'd be these balmies. I use them daily on my lips, cheeks or eyes, often on all three.
They're blendable with your fingers, buildable, and melt completely into your skin for the most natural color.

Bronzer: Cocokind Chagaglo Bronzer Highlighter
For when you want to feel a little sunkissed and fresh from the beach, or add dimension to your face, bronzer is a must.
This stick bronzer from Cocokind is super affordable, made with ingredients like sunflower seed wax, mango seed butter, and chaga mushrooms, and adds the most natural, non-orange glow.
First-Hand Review: Bronzers have a tendency to make me look orange and dirty, but not this one. The chubby stick is a mega chapstick, so it's easy to apply exactly where you want it. And the super moisturizing texture means it glides right on for a boost of goddess-y glow.

Lipstick: 100 Percent Pure Fruit Pigmented Cocoa Butter Matte Lipstick
Traditional lipsticks are shockingly full of ingredients you probably don't want near your face, much less on your mouth!
Luckily, 100 Percent Pure's lipsticks are made to be nourishing, long lasting, and vibrant (the colors are truly gorge!) Only with ingredients like cocoa butter, shea butter, and hues from real fruit pigment this beauty product gets top spot for natural lipstick.

Mascara: Thrive Liquid Lash Extensions
Natural makeup just makes sense when it comes to mascara, since no one wants questionable ingredients lurking near their eyeball. And Thrive's Liquid Lash Extension mascara is the ultimate natural brand.
This mascara has something of a cult following both for its ingredients (shea butter, no parabens, phthalates, or sulfates), and technology (it coats your lashes in individual "tubes" that slide right off without makeup remover – no smudging possible.)
First-Hand Review: The first time I wore this mascara to a friend's house, she asked if I'd gotten eyelash extensions. I'm now on my third tube and don't think I can ever go back – nothing has ever given my lashes the separation, length, and volume that this bad boy does.

Brow: Mented High Brow Pencil
Finish off your full face of natural makeup with a good eyebrow pencil, to bring it all together.
Mented's High Brow Pencil is made to last ten plus hours and provide waterproof precision. Other things to love: all their products are paraben free, cruelty-free, and vegan. Plus, Mented caters to people whose skin tone is often left out of many makeup brand's ranges!


There's So Much to Love About Natural Makeup Products!
Conventional makeup? Never heard of her. It's 2021 and no one wants to slather questionable ingredients on their face.
Whether you're a hardcoreingredient snob (go off!) or just playing it safe, there's no disputing the shocking lack of regulation when it comes to our beauty and personal products.
And thanks to consumer demand, clean and natural makeup brands are becoming easier to find in the local grocery or drugstore, more affordable and accessible, and made for a wider range of skin tones and types. We love to see it!
These super-effective, tried and true brands prove that natural beauty is way more than a phase, so enjoy enhancing your natural beauty with ingredients you can feel good about.
Looking for More? Fall in Love With These 10 Natural, Vegan, Black-Owned Beauty Brands
This article has been read 510 times. Share it and spread the love!