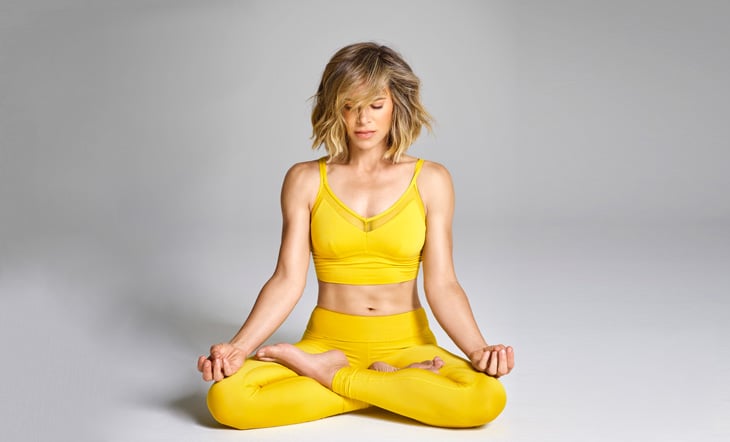 Fitness Icon Jillian Michaels Shares How to Stay Motivated With At-Home Workouts (Interview)
"I was planning on working out at home today, but I lost all motivation." Does this sound like you? The at-home fitness motivation fatigue is real, right?
Here's another one. "I would love to practice yoga but I just don't have it in me. Maybe tomorrow." Has this ever been you?
How do we remain accountable for our at-home workouts and in our overall fitness journey when we don't have the motivation, or life's inevitable challenges and interruptions get in the way?

It is critical to establish your "why."

When it comes to our fitness (and especially with at-home workouts), the reality is we won't always stay on track with our goals. It's not so much about never deviating from the course; it's about finding a way to get back on track when we do.
Leading fitness expert Jillian Michaels has plenty of motivational guidance to share when it comes to fitness, and who better to share her experience and advice than the woman who has gained international recognition for her accomplishments in the world of fitness?!
Read on to hear firsthand from Jillian Michaels as she shares her thoughts, tips, and experience on everything from fitness motivation, practicing yoga, and how to remain accountable along your fitness and wellness journey, particularly when you're working out from home.
This Fitness Coach Shares Her Top 5 Tips for Getting the Most Out of Your Home Workouts

Jillian Michaels Talks Yoga, Accountability, and How to Stay Fitness Motivated With At-Home Workouts
YA: How has accountability played a role in motivating your own personal fitness journey?
Jillian Michaels: I think the degree in which having accountability impacts the individual can vary, but it certainly can't hurt.
For me personally, fitness is my career – so not only do I owe it to myself and my family to be the healthiest version of myself, but it's also my livelihood – so that's pretty significant accountability.
If that wasn't an issue though, I personally would stay the course because of how being healthy and strong makes me feel.

YA: What sorts of accountability can people use to stay motivated for at-home workouts?
Jillian Michaels: I would make appointments to do Zoom workouts with friends. You can do any workout with them on Zoom from separate homes.
Or, if you have a small circle, maybe you could hike together, go for a bike ride etc. Something where you can meet up safely to get the social interaction and the activity.




I think a personal appointment with someone you care about is what is most impactful.
I've been encouraging members of my app to do that together. We help users find each other on the app forums or my private Facebook group so they can do the workouts together if they like.

YA: What advice do you have for those who struggle to find motivation in the first place?
Jillian Michaels: It is critical to establish your "why." It's been said by people far more intelligent than me that if you have a "why" to live for, you can tolerate the how (the work and sacrifice associated with the goal).
And don't speak in generalizations. I don't want to hear "I want money, love, and health." This means nothing. What do these things look like and how do you want them to manifest in YOUR life?

Work with a purpose becomes passion – but workout without purpose can just feel punishing.

For example – does health mean living to 100 with great quality of life? Does it mean feeling comfortable having sex with the lights on? Role modeling fitness and health for your kids? Wearing a certain brand of skinny jean? Living your healthiest life because you lost a loved one to an obesity-related disease?
It doesn't matter how superficial or how profound your reasons as long as you care about them. Write them down. Meditate on them. Tell everyone about them. Form an emotional connection to them. Work with a purpose becomes passion – but workout without purpose can just feel punishing.


YA: Why did you feel it's important to incorporate yoga into a fitness routine?
Jillian Michaels: I personally love what yoga does for me. It brings balance to my weight and HIIT training with mobility work. Plus, it boosts my confidence as I grow in my practice and it enhances my overall mood. I wanted to share that with my audience by adding a variety of yoga workouts to my app including this one.
It's crucial that we train our body in ALL modalities of fitness. I find that yoga offers not just functional fitness and mobility (strength + flexibility), but it's also great for mind-body awareness and connection.
I personally am not the pro in being able to explain all the transformative powers of yoga, but I have experienced many first hand.
Follow These 10 Helpful Tips for Practicing Yoga at Home


A Big YouAligned Thank You to Jillian Michaels for Sharing Her Insight and Fitness Inspiration!
Fitness and yoga are powerful and important forms of self-care, and regardless of which modality you most resonate with, it's all about showing up for yourself and taking care of yourself both physically and mentally.
Finding the fitness motivation, inspiration, and accountability to maintain a regular yoga / at-home workout routine is key, especially when you're doing it from home! Fitness, like yoga, is a journey that can be as challenging as it is rewarding.
A big aspect of remaining inspired and motivated is finding ways to remain accountable.
If you'd like to learn more about Jillian's app, you can check out her website.
Need more ways to motivate? Check out A Year of Self-Motivation for Women: Ashton August's New Book Is Here Just in Time for 2022!
This article has been read 567 times. Share it and spread the love!