These Major Benefits of Pilates Will Motivate You Big Time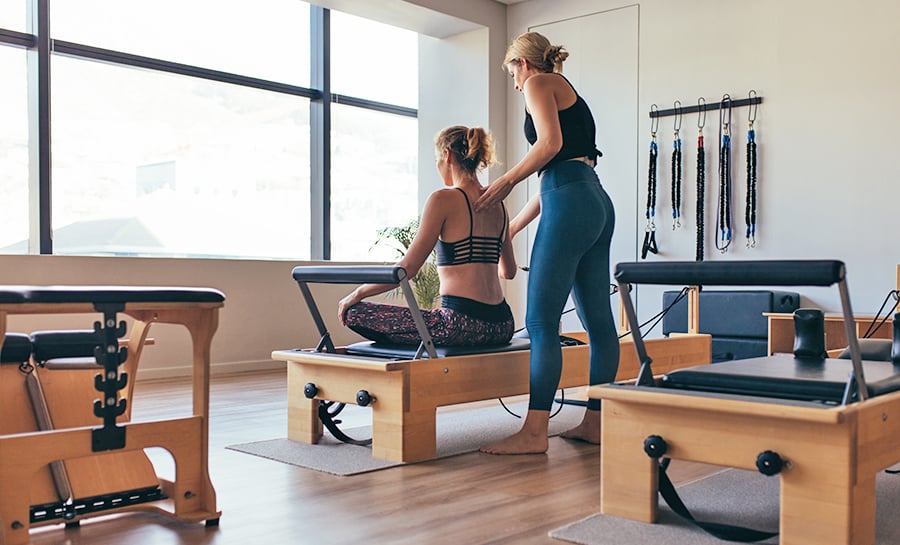 The benefits of a consistent Pilates practice are substantial. While Pilates has been around for a while, this slow burn workout format is enjoying a moment in the spotlight. But this isn't a passing trend . . . Pilates is definitely here to stay.
Developed in the early 1900s, Pilates is a form of exercise that uses simple yet effective poses that focus on low-impact flexibility and muscular strength. It is a total-body workout that emphasizes the use of your abs, thighs, hips and lower back through repetitive movements.
Pilates is great for people of all fitness levels, from serious athletes to fitness novices and even those rehabilitating from injuries.
Completely new to Pilates? Then you'll want to read this Introductory Guide to the Pilates Practice
Pilates is a very flexible (pun intended) workout format. With thousands of exercises and possible modifications for beginners and advanced practitioners, it is also great for those who want to supplement their yoga practice and new moms who are ready to start working out again.


Here Are 10 Major Benefits of Pilates:
Pilates is incredibly strengthening and also increases flexibility and mobility for a well-rounded workout. Pilates compliments other modalities like yoga, barre, and any other fitness regimen.
Whether you practice it regularly or are interested in trying it for the first time, these Pilates benefits are going to get you motivated!

1. It's a Fun Full-Body Workout
Pilates engages your core and helps you develop balanced muscle strength throughout your entire body. It also helps you develop lean, toned muscles, and increases your overall flexibility and range of motion in your joints.
Pilates is an intense workout and with a dedicated practice, you can see results quickly, which will give you motivation to keep practicing.

2. You'll Have Increased Energy
Pilates, just like all forms of physical activity, provides you with the benefits of increased energy. The more you exercise, the more energy you will have.
Pilates gets your blood circulating, breath flowing and stimulates all of the muscles in your body to feel energized. After your practice, you will feel a rush of energy as the endorphins course through your body.

3. Deepen Your Mind/Body Awareness
Similar to yoga, during Pilates, you move with complete attention and intention. You center your mind and focus on your breath, spinal and pelvic alignment and concentrate on your body's precise movements, control and flow.
This practice is about releasing tension and uniting your mind and body by being mindful of your movements.


4. Help Prevent Future Injury
A strong, balanced body is less likely to be injured, while an imbalanced body can lead to injury and pain.
Pilates has been known to be a rehabilitative tool that can improve back pain. Pilates works all of the muscles in your body, leaving no muscle group over- or under-trained.

5. Improve Your Posture and Balance
Poor posture can cause imbalances in your back, head, shoulders, neck and even hips, causing pain throughout your body. Good posture is achieved by a strong core, which includes the muscles in your back, abdomen and pelvic floor.
A strong core supports your body and allows your shoulders and neck to relax and release stress and pressure. All of these elements work together for improved, healthy posture and balance.

6. You Don't Need Any Equipment
While many people practice Pilates on a reformer machine, a traditional Pilates practice only requires a yoga mat or a pair of grippy socks to help you maintain your grounding and prevent slipping.
You can stream Pilates sequences online and tailor your workouts to your needs from the comfort of your own home.
Ready to try Pilates? We've got just the class for you!
This all levels mat Pilates class on YA Classes is the perfect introduction to the practice.
Pilates Class
With Sarah King
7. You'll Relieve Stress
Many people store emotions, anxiety and stress in the body, which is evidenced in poor posture, clenched jaws and tight hips, pain, muscle spasms and hypertension.
Physical activity metabolizes stress hormones and relieves stress tension that builds up in your body. Pilates relaxes and gives you control of your core muscles that store your emotional baggage.

8. Compliment Your Other Forms of Exercise
Pilates is a great addition and compliment to yoga, or other forms of exercise that you already do. Regardless of how you stay active, it's so important to diversify your fitness routine.
If you practice yoga, not only is Pilates a fun and accessible fitness format for you; it will also make a lot of sense in your body as you'll notice some of the movements and exercises are similar.

9. Maintain a Healthy Weight
Losing weight and maintaining a healthy weight is typically a simple formula of building muscle while burning more calories than you take in.
Like yoga, this exercise practice is a great method to increase the muscle tone in your body and help maintain a healthy weight. Pilates is a full-body workout that can transform your body.

10. Build Full-Body Strength and Toning
Commitment to a regular practice will help you develop a strong, defined physique. Pilates helps you develop stronger muscles with improved muscle tone and core, which encourages you to have great posture (see #5).
During your practice, you will use both sides of your body equally to achieve balance and alignment.



Enjoy the Benefits of Pilates: An Effective Fitness Format for Everyone
This list proves that the benefits of Pilates are vast and compelling! If you already do Pilates, then hopefully these benefits will motivate you! And if you haven't yet experienced Pilates for yourself, perhaps you now feel inclined to check it out.
Pilates offers numerous benefits for people of all ages, fitness capabilities and backgrounds. It offers a head-to-toe workout that can challenge you and quite literally transform your body, increasing your flexibility, strength and balance.
Whether you are looking to tone up, try something new, or simply spice up your existing exercise routine, Pilates is a great workout choice!
Interested in Pilates exercises for core strength? Here Are 10 Mat Pilates Exercises to Build Serious Core Strength

Ready to Take Your Pilates Practice to the Next Level?
If you already practice Pilates and want to turn it up a notch, try this intermediate Mat Pilates class on YA Classes!

Pilates Class
With Sarah King
This article has been read 972 times. Share it and spread the love!