This Is the Best Way to Break a Sweat Based on Your Zodiac Sign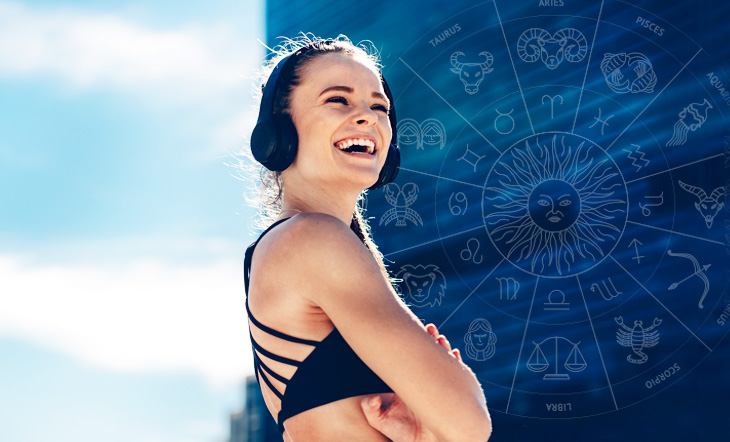 What's the best exercise for your zodiac sign? It's an interesting question to ask. Because all of our zodiac elements are so different, our fitness routines can be different too!
Personally, as a yoga teacher, I've developed a deep appreciation for the many ways our bodies can move. In fact, I believe it is the foundation I have created through yoga that has empowered me to broaden my own approach to fitness.
From running to resistance training, I often find myself dabbling in a few different forms of exercise, many of which have helped to enhance my strength and endurance – both on and off the mat.
Trying a new workout class or regimen is often equally fun and intimidating. The sensation of being a complete beginner forces you outside of your comfort zone and into a place of total unknown.
This, however, is where the groundwork of yoga comes in. Our practice teaches us the importance of utilizing the breath to move through challenging experiences, and in turn, helps us to develop into stronger versions of ourselves. And while I can only speak for myself, I believe that at the end of the day, growth is really what it's all about.


This Is the Best Exercise for Your Zodiac Sign:
If you're ready to explore different forms of movement, then congratulations. As you likely already know, pushing yourself is never an easy endeavor.
So, to help you navigate the ever-evolving world of fitness, we've created a helpful list of suggestions based on your zodiac element.


Zodiac Element: Fire Signs
Zodiac signs: Aries, Leo, Sagittarius
Best exercise to try: Spin
Strong, courageous, and competitive, fire signs know a thing or two about facing the world with passion. From career to romance, everything about this trio screams natural confidence. And while their flames may occasionally burn a bit too bright, a well-intended fire sign can help to bring out the zest, inspiration, and creativity in just about anyone.
Usually, the perfect place for a fire sign is right in the center of the room. So, it's no surprise that surrounding them with a class of competitive, like-minded athletes will have them thriving.
Give an Aries some spin shoes and a chance to see their name on the leaderboard, and let's just say, you've got yourself an ideal zodiac workout!

Zodiac Element: Earth Signs
Zodiac signs: Capricorn, Taurus, Virgo
Best exercise to try: Running or resistance training
When it comes to an earth sign, reliability is the name of the game. Loyal, trustworthy, and at times, a bit rigid, Caps, Taureans, and Virgos are as grounded as they are hard-working. Not afraid to take their time with things, earth signs prefer a practical approach to life, and are typically not ones to feel comfortable in the midst of major risk.
Diligent and industrious, an earth sign appreciates the opportunity to work toward and witness their improvement. For that reason, running and strength training (both of which allow for easy-to-measure progress) are ideal for these three.
For those seeking a bit more instruction, studios like Orangetheory Fitness (which offer members trackable results) are also a great option for an often-analytical earth sign.

Zodiac Element: Air Signs
Zodiac signs: Gemini, Libra, Aquarius
Best exercise to try: Functional group training classes
If there were ever a word to describe an air sign, "dynamic" would probably be it. Known for their quick wit, impressive intellect, and communication skills, those born a Gemini, Libra, or Aquarius are naturally curious. As a result, they thrive in settings that keep them on their toes.
With that said, workout classes that regularly switch up the format are the key to an air sign's heart. Whether it's CrossFit or F45, the important part here is that they find a form of fitness that is versatile.
After all, these adventure seekers live for a little variety which is why these types of groups classes make the perfect zodiac workout for the zodiac element of air.


Zodiac Element: Water Signs
Zodiac signs: Cancer, Scorpio, Pisces
Best exercise to try: Dance
Emotional, empathic, and sensitive, water signs feel their feelings fully. As a result, they aren't afraid to dive more deeply into experiences that bring them joy or connection.
However, much like the sea, a water sign's temperament is often susceptible to change. Therefore, they require the freedom necessary to navigate life based on feeling, rather than logic.
With deep connection at the forefront of all things dance, there is no better practice for a water sign to explore. Whether moving through a sweaty cardio dance class or a challenging barre workout, dance will provide emotional Cancers, deep-feeling Scorpios, and compassionate Pisces with the movement they need to release and recharge.
Water Signs! Try This Cardio Dance Class for Your Zodiac Workout on YA Classes

Fitness Class
With Crystal Palermo
The Best Workout for Different Zodiac Elements: Are You Ready to Try Something New?
Regardless of what form of exercise you choose to explore, remember that above all else, movement is meant to be fun. So never be afraid to take the leap and try something new. Your yoga practice will always be there to keep you feeling safe and supported!
Prefer a different workout for your zodiac element? Want to add to the list of exercises for your zodiac sign? Let us know in the comments below – we love hearing from you!
This article has been read 1K+ times. Feelin' the love!