Our 15 Favorite Wellness + Self-Care Gifts Ideas for 2023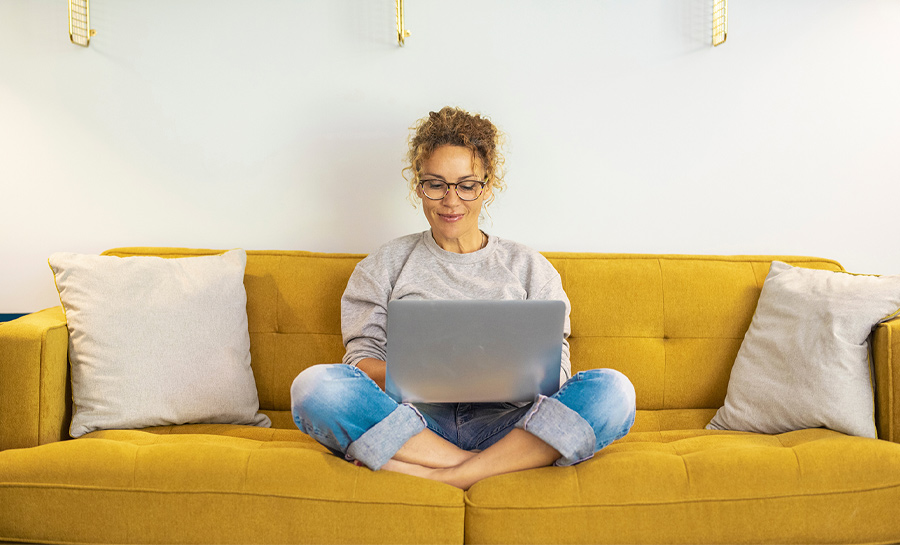 Looking for wellness gift ideas and a roundup of the best self-care gifts to give in 2023? You found it!
This curated collection of wellness and self-care gifts has something for everyone on your list.
Each item is thoughtfully included to support a specific element of wellness, from staples like a virtual yoga and fitness membership or the best massage gun on the market, to more unique items like a cold plunge and an insulated water bottle that doubles as a foam roller, plus much more.

The best part about giving the gift of wellness? It's the gift that keeps on giving!

Taking care of your health and wellness is a lifelong journey. There are little ways to help yourself each day, especially if you have the latest tools and experts to help. Give your loved ones some of the best self-care gifts this year to treat everyone to a future of optimal wellness — including yourself.
You'll show your loved ones how much you care for their well-being while discovering tools you can use in your life. Check out the new ways people are improving their self-care routines to gather wellness gift ideas for everyone – including your own wishlist!
Create a Realistic Self-Care Routine: Choose From These 17 Simple Practices


Here Are Our Top Wellness Gift Ideas and Best Self-Care Gifts for 2023:
Find something for everyone on your list this holiday season – and don't forget to include yourself! This diverse collection of self-care gift ideas will inspire your shopping, and inspire your recipients too. 🙂
The best part about giving the gift of wellness? It's the gift that keeps on giving! Read on for the best self-care gifts and most popular wellness gift ideas in 2023.

1. YA Classes Membership Gift Card
People newer to self-care or longtime workout and yoga enthusiasts alike will love the 5-star classes at YA Classes. Virtual classes and full programs are available for people interested in on-demand meditation, yoga, barre, pilates and fitness.
Experienced and welcoming instructors will guide you and your loved ones through classes designed for all fitness levels and endurance abilities. All classes can be downloaded to play offline (great for travel!).
A YA Classes membership is the gift that keeps on giving to your loved ones and the planet all year long. Each class a member completes helps plant a food-producing tree. Your purchase gives back while supporting your loved ones on their wellness and fitness journey from the comfort of their own home.
The membership gift cards can be purchased in 3, 6, and 12 month increments. A YA Classes membership is the best self-care gift idea on the list!
Who would love it: Busy wellness and fitness enthusiasts and curious first-timers to yoga or meditation.
Price: $36
Check it out here


2. Flex|Bag
The award-winning Flex|Bag is taking the travel world by storm with its innovative and gorgeous design. This dependable-meets-fashionable travel bag is the perfect gift for any minimalist, travel, or fashionista on your list. The pockets leave room for on-the-go wellness products like mini lotion tubes, hand sanitizer, tissue packs and more.
The vegan leather bag comes in five colors and uses only eco-friendly materials to keep your carbon footprint at a minimum. Anti-theft technologies prevent people from snagging the crossbody bag, while the flattened design prevents excess bulk. Easily maneuver through crowds, subways, and airports with the Flex|Bag across your chest or back.
With your purchase, you are supporting a female- and Black-owned small business.
Who would love it: Minimalists, fashionistas, and frequent travelers
Price: $160
Check it out here

3. Guided Breathing Buddha and Calming Ripple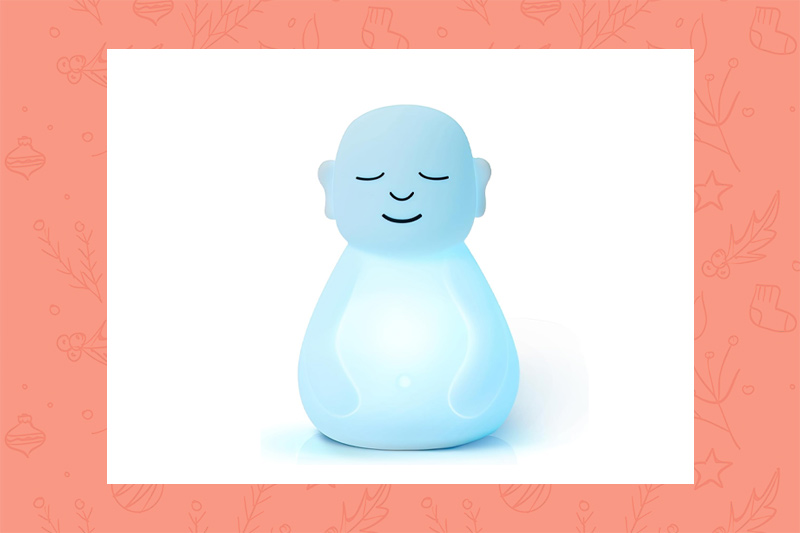 A successful meditation session can reduce anxiety, but it can be challenging to practice breathwork on your own if you're already in an anxious state. It's common to rush through inhales and exhales, which is where a pacing tool like the Guided Breathing Buddha comes in handy.
The perfect self care gift idea, this miniature meditation statue has two programs to steady your breathing — the 4/7/8 and 5/5 breath routines. It glows green for inhaling, purple for holding your breath and blue for exhaling. There's even a tapping sensor to adjust the brightness.
You or your loved ones can use it at night to fall asleep more easily or at work when the day gets busy. Plus it's cute enough to sit on your desk or on a child's nightstand.
Who would love it: Adults and/or children who would benefit from calming guided breathwork
Price: $22
Check it out here

4. Theragun Mini Deep-Tissue Massage Gun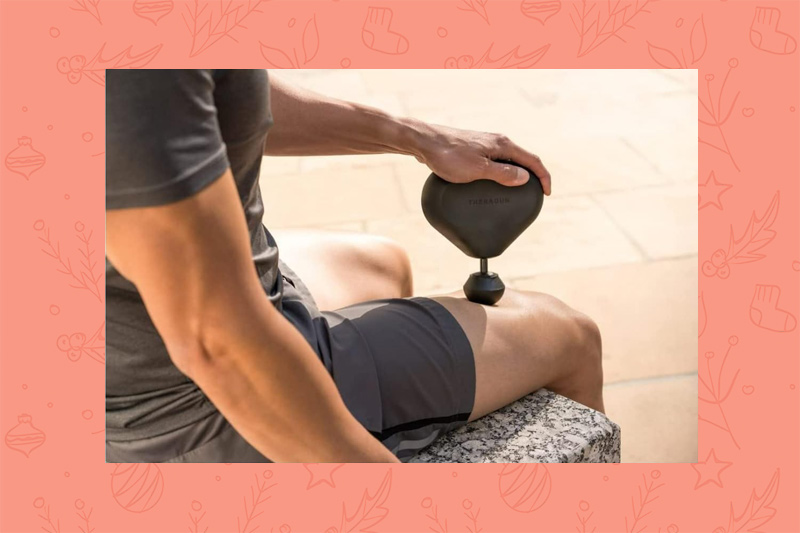 There's nothing quite like a good massage. It instantly relieves any tension carried in your muscles but may come with a price tag you and your loved ones prefer not to spend.
Give everyone in your life natural pain relief by gifting them a Theragun deep-tissue massage gun. The miniature model is affordable and easy to hold in one hand. Place the ballpoint tip against any tension and select from the unit's three speeds to massage your pain away.
Research shows this type of massage reduces inflammation while grounding people during stressful periods. Keep it in your car, backpack or purse for easy use anywhere. It's one of the best wellness gift ideas for people dealing with anxiety or stress at any age.
Who would love it: High performance athletes, frequent travelers (including driving) or anyone with frequent muscle aches or a high-stress lifestyle
Price: $149
Check it out here

5. Learn. Grow. Shift. 30 Days of Personal Growth
Have you been growing this year the way you wanted to? What about the people in your life? Encourage everyone to embrace better habits and positive growth with Learn. Grow. Shift. 30 Days of Personal Growth.
Ashton August shares daily guided practices and journal prompts to help you delve deeper into your self-awareness that will in turn boost your self-confidence and sense of self. You and your loved ones will come away with a solid foundation and the knowledge you need to continue on your own.
Who would love it: People who enjoy motivational books and want to deepen their self-work and self-worth journey
Price: $24
Check it out here

6. A Year of Self-Motivation for Women
Motivating yourself is the foundation of any self-care routine. You're the only one in charge of it, but what happens if you're someone who lacks motivation? Enter the book called A Year of Self Motivation for Women: Daily Inspiration, Courage, and Confidence.
Each page contains a self-confidence booster. The entries remind readers how to navigate their lives while encouraging themselves with quotes, affirmations and creative activities. Make 2024 you and your loved ones' best year yet with 365 days of guidance. A Year of Self Motivation for Women is beautiful and makes a great coffee table book or a great wellness gift idea any time of year.
Not sure which of August's books is right for the person you have in mind? A bundle will solve the problem and make them feel twice as loved. Her two books are frequently purchased together on Amazon.
Who would love it: Women who desire more self-confidence and a daily boost of motivation, inspiration, and mindset support
Price: $19
Check it out here
Bundle both Ashton August books: $43 for both


7. It's Just F*cking Meditation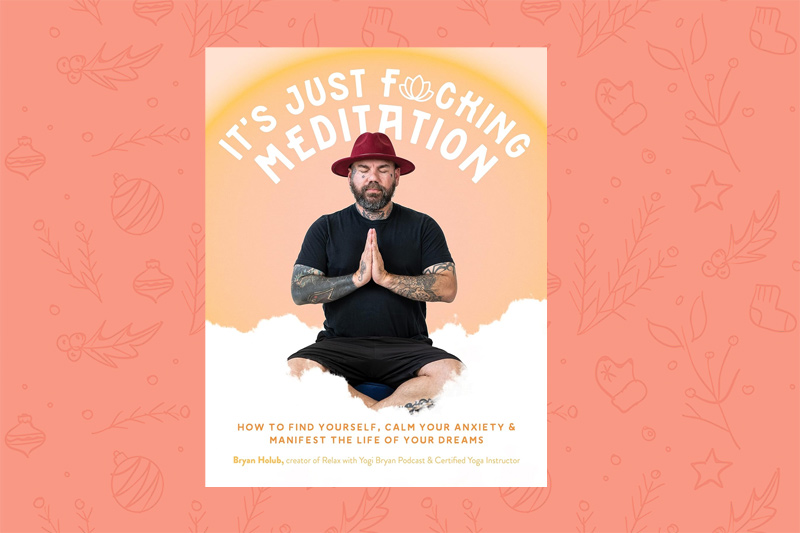 Sprinkle some humor into your life with Bryan Holub's comedic approach to meditation. It's Just F*cking Meditation breaks down the practice without making it seem inaccessible.
Each page teaches readers how to find time to meditate, even if they have a busy schedule. The insightful lessons also create opportunities for emotional reflection. You or your loved ones will learn more about yourselves during each meditation practice, which is the whole point of a wellness routine.
This book will help reduce your anxiety, teach you breathwork patterns and even improve your posture. Posture awareness improves emotional regulation and even your confidence. A little more of both could help anyone enjoy their life more deeply.
Who would love it: Someone with anxiety who appreciates sarcastic humor and wants to begin a meditation practice with a teacher who is down to earth
Price: $24
Check it out here

8. Pearl Toothbrush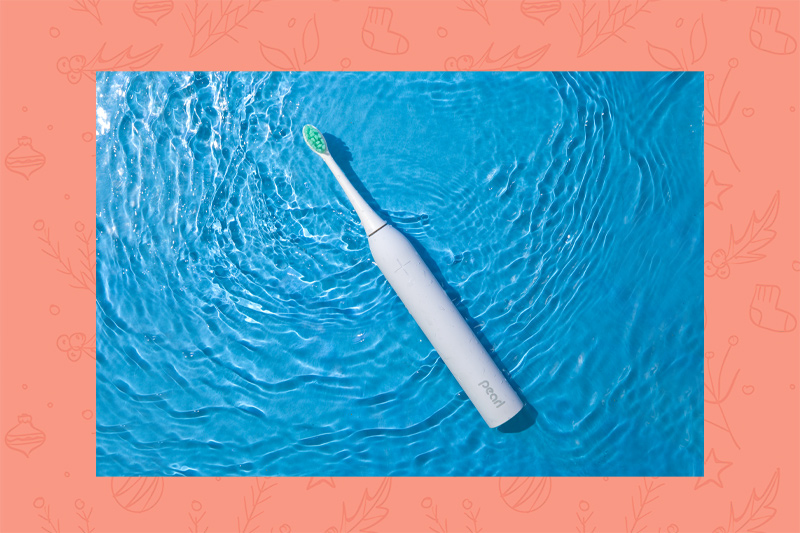 Welcome to modern at-home oral care with the sleek and sexy Pearl toothbrush. The model comes in white or black and has 36,000 vibrations per minute to effectively whisk away plaque and food buildup. Bacteria doesn't stand a chance against the four brush modes (including gum care and whitening) and a whopping three-month battery life (perfect for travel!).
This is one of the best self-care gifts because it makes oral hygiene easy. Everyone deserves a comfortable, confident smile without spending a fortune on the big brand toothbrushes that are inferior in quality, functionality, appearance, and higher in price! Ditch the big brand loyalty and buy the toothbrush that actually works best. Not sure? Each brush comes with a two-year warranty.
Who would love it: People who occasionally avoid eye contact with their toothbrush (or who should!)
Price: $62
Check it out here

9. Ice Barrel 300
Taking a quick dip in an ice bath might seem like a popular wellness trend, but it's also a proven wellness technique for physical healing. Cold water therapy offers a wide range of benefits for mind and body which is why cold plunges are gaining in mainstream popularity.
Give yourself or your loved one the gift of pain relief with the Ice Barrel 300. The compact size makes it smaller than a hot tub but big enough for one person to be fully immersed. Polyurethane foam insulation keeps the water and ice at the same temperature regardless of where you have the ice barrel. The barrel itself is lightweight and easy to move when empty.
The Ice Barrel 300 is the #1 cold plunge in the world, and after trying it ourselves, we've deemed it the cold plunge choice of the year!
Who would love it: All athletes, people with arthritis, and diehard wellness enthusiasts
Price: $1,199
Check it out here

10. Harmony Crop Top + Skin Wrap Leggings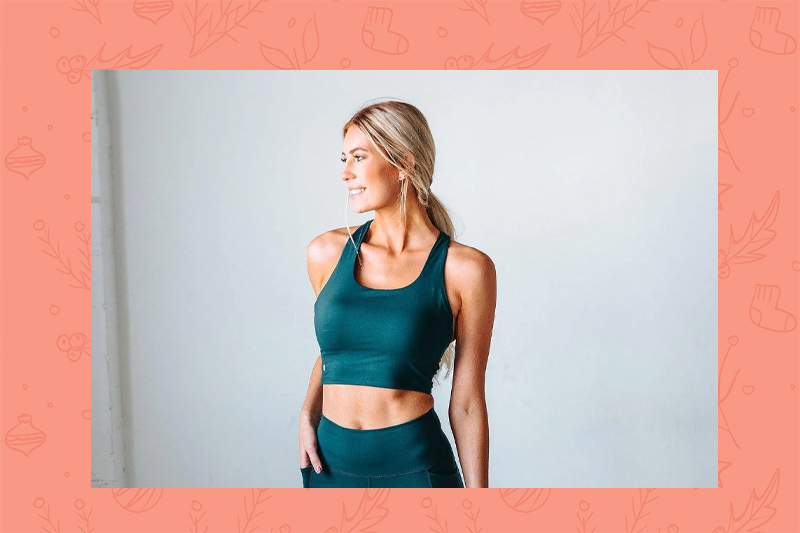 Not only does Senita Activewear use luxuriously comfortable fabrics; they are also incredibly affordable and community-centered, making this our activewear choice for 2023. The Harmony crop top ($34) and new skin wrap leggings ($45) are an adorable activewear gift set for every body type.
The crop top features four-way stretch, ultra-soft fabric that works with your body shape to create a snug fit without being uncomfortably tight and the built-in sports bra is perfect for low-impact workouts. The popular skin wrap leggings feature cell phone pockets and contour your body with its high-rise waistline.
The best part? At $79, this outfit is less expensive than the top alone would be from other brands. Senita helps you stop overpaying for activewear!
Who would love it: Women who frequently work out or love rocking activewear
Price: $79 (Use code YACLASSES for 15% off your entire order)
Check the top out here and the leggings here

11. Stress Relief, Self-Care, and Mindfulness Cards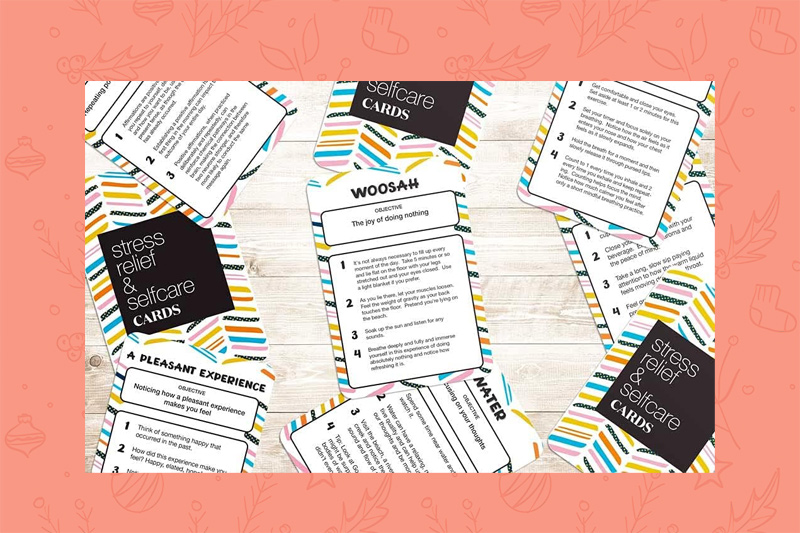 Choosing from wellness gift ideas might be challenging if you're unsure what self-care looks like. The mindfulness and meditation card deck from Allura & Arcia takes the guesswork out of it. The card pack contains 52 mental health exercises to reduce your stress, hone your meditation skills and relieve your anxiety.
Chronic stress increases the risk of depression and other health conditions. These meditation cards provide practices that relieve stress that will support your loved ones for years to come. Try it for yourself to see how you like it and you'll know if it's something your family or friends will love too.
Who would love it: Anyone interested in mindfulness or in need of stress relief
Price: $15
Check it out here

12. Organic Cotton Acupressure Mat and Pillow
Acupressure is a wellness practice rooted in Traditional Chinese Medicine that works similarly to acupuncture while being less invasive. It has been used to relieve stress, pain, and tension. Acupressure mats work much the same way, and are believed to help relieve pain, boost energy, and sleep better.
The ShaktiMat brand offers the most popular option on Amazon – the organic cotton acupressure mat handcrafted in India. When unrolled, the mat reveals 361 acupoints with signature spikes to effectively restore circulation and reduce pain. All you have to do is lie on the mat for at least a few minutes to feel the effects.
Each purchase sends a small donation to impoverished families throughout India. You'll help yourself, a loved one and someone in need by gifting a unique and effective wellness tool.
Who would love it: Acupressure and acupuncture lovers, or someone seeking natural pain relief
Price: $89
Check it out here

13. Manduka PRO Lite Anise Lime Green Yoga Mat
For the person on your list who would love a new yoga mat, Manduka is the obvious choice. Arguably the most popular yoga mat brand out there, the Manduka PRO lite yoga mat is a fan favorite. It comes in three sizes and 11 colors so it fits most every body size and personality.
This lightweight, high-quality yoga mat is perfect for a home or studio practice. Despite it being lightweight, this yoga mat provides ample cushioning for your joints and has superior grip for a safe and distraction-free practice. Pro tip: break it in by washing it with warm soapy water.
Who would love it: Low-impact workout enthusiasts, the frequent stretcher, or anyone in need of a new yoga mat
Price: $108
Check it out here

14. Zafu Meditation Cushion by Hugger Mugger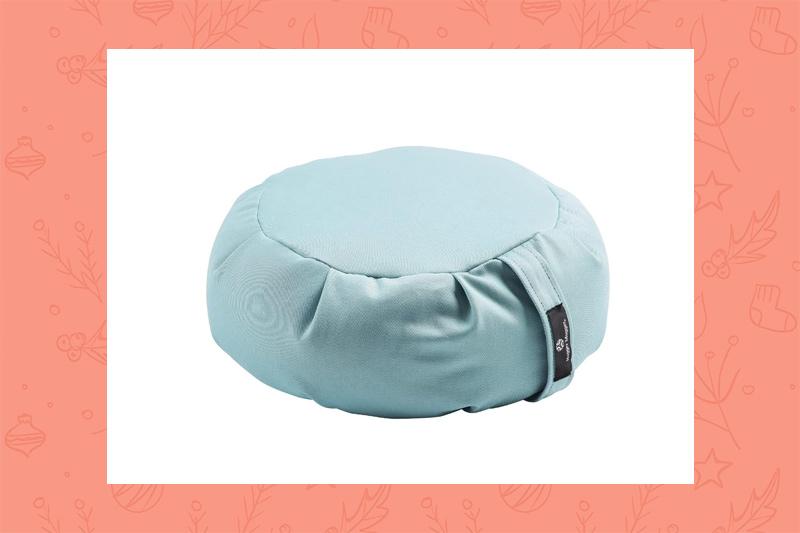 Meditation cushions help practitioners find a comfortable, supported seat for their practice. The beautiful and comfortable Zafu cushion comes in 12 designs that each make a lovely addition to you or your loved one's home decor. This meditation cushion has an organic buckwheat hull filling, has a removable cover for cleaning, and is five inches thick for max comfort.
Hugger Mugger is one of our favorite yoga and meditation products brand, so rest assured that any self-care gifts you buy from this brand will be quality that lasts.
Who would love it: Established and beginner meditators alike
Price: $63
Check it out here

15. 2-in-1 Foam Roller and 40 oz. Water Bottle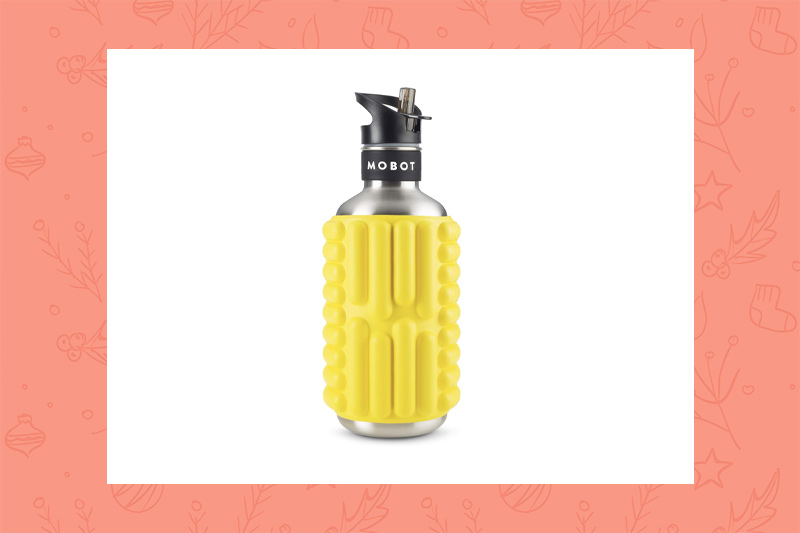 A great wellness gift in the form of a creative, functional hybrid is the 2-in-1 foam roller water bottle!
Foam rolling used to be a popular wellness trend, but is now an established wellness practice. The immense benefits self-myofascial release are enough motivation for athletes or those with tight muscles to make foam rolling a regular part of their fitness recovery and wellness routine.
Merge your hydration and comfort with this foam roller water bottle. Such a unique product makes a great self-care gift idea.
Who would love it: The hydration and foam rolling enthusiast with a big gym bag 😉
Price: $60
Check it out here


Find the Wellness Gifts and Best Self-Care Gift Ideas for Everyone On Your List
Finding wellness gift ideas doesn't have to feel challenging. Use this list to get inspired this year with the leading self-care tools and resources. Many of the wellness and self care gifts on this list are available on Amazon Prime or online to make your shopping even easier.
You'll show your loved ones how much you treasure them and care for their overall well-being. After all, our wellness is the most valuable gift of all!
During the holiday season, it's easy to get wrapped up in shopping for and doing things for others. But the holidays also bring added stress, which is why you can't forget to add someone to your list – you!
It's fun to consider how these best self-care gift ideas could uplift your wellness routine too. Whether you desire guidance during meditation or want to explore new physical activities through virtual classes, you'll find the best presents for your loved ones and some exciting new things for your daily life too.