6 Convenient Health and Wellness Supplements From Onnit: Tested + Reviewed
When it comes to product reviews, we don't mess around. All of the items we review are put through the ringer of everyday use. You can trust that our reviews are non-biased and completely honest. Full disclosure: we don't publish negative reviews. If a product doesn't live up to our standards, we simply won't promote it. Everyone has their own opinion – this is ours. Let's get started.
You are active, and you care about your health and wellness, but you have a busy lifestyle. You are constantly on the go, fitting in a yoga class here, a gym sesh there, and even though you're a busy bee, staying healthy is a top priority.
We get it! So we decided to review convenient supplements for on-the-go lifestyles from Onnit, a fitness and wellness brand that we love and trust for their top-notch, high-quality products. The 6 supplements we chose bring you full-body health head to toe, to get you feeling, looking, and performing your very best.

We handpicked these supplements because they all have one thing in common: convenience!

For those of us with demanding lifestyles, we don't always have the time to sift through all the supplement options out there. We don't always have the ability to make sure we're getting all the nutrients that we need through the food we eat.

Tested & Reviewed: 6 Convenient Health & Wellness Supplements from Onnit:
Let's take a look at these six, easy-to-take supplements that support your brain, your gut, your immune system, energy, and health and wellbeing overall.

1. Alpha Brain Instant

The name says it all! Alpha Brain Instant contains a variety of earthgrown nutrients to support cognitive function, and specifically memory, focus, and processing speed. The best part? It's powder form and comes in convenient, individual servings in peach (the flavor we tested – yummmm) and spice and blends easily into water, seltzer water, or a smoothie.
We tried it and the results are in. This stuff works amazingly well! It's a natural and simple way to boost your concentration, creativity, and mental clarity. Alpha Brain is something we'll definitely continue using here at the office.

2. Oatmega Brownie Crisp Protein Bar


14 grams of grass-fed whey protein, 300mg of Omega-3s, and 7g of fiber are packed into these delicious, nutritious, and satisfying protein bars. Other bragging points: gluten-free, non-GMO, and only 5g of sugar makes these protein bars top on our list.
We found these bars to be the perfect pre- or post-workout snack and fuel source. They taste really good, but if brownies aren't your thing, then try the Vanilla Almond (another one of our faves), Chocolate Peanut, or Chocolate Mint.

3. Total Gut Health

By now, you've probably heard that your immune system lives mostly in your gut. That's why gut health is so important for your body's overall performance and wellbeing. This individually wrapped supplement provides everything you need for optimal gut health: pre- and probiotics, digestive enzymes, and betaine HCI.
It's important to remember that not all probiotics on the market are created equal, and that's why we recommend Onnit's Total Gut Health for it's comprehensive ingredient list, which contains everything you need for complete immune and digestive health, including their signature DigesTech blend.

4. Emulsified MCT Oil

Coconut oil is all the rage for its wide range of amazing benefits, and we're definitely on the bandwagon. Coconuts contain Medium Chain Triglycerides (MCT) which are healthy fats that support brain function, and give your body clean, sustained fuel.
What we love most about Onnit's Emulsified MCT Oil is that it's sustainably sourced, comes in three delicious flavors (strawberry, vanilla – our fave, and coconut), and easily blends into hot or cold beverages (which has completely changed our coffee game forever!!).

5. Vitamin D3 Spray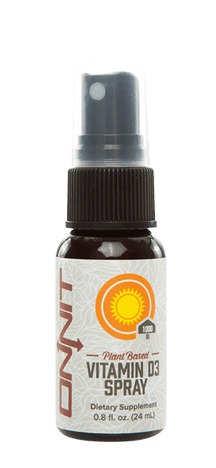 You know how people tell you to get outside in the sun for some Vitamin D? Vitamin D3 is a vitamin that you should make sure you're getting enough of. It supports immunity, heart health, and healthy bones. So this Vitamin D3 Spray from Onnit is literally your sunshine and wellness in a bottle.
This spray is awesome because it's small and so easy to use (just spray it in your mouth) and since it's spray instead of capsule form, it enters your system instantly. Super convenient, plant-based, and 1,000IU per serving makes this spray king.

6. Total Primate Care

This was an exciting discovery. Total Primate Care is the ultimate go-to for your full-body support. Think multi-vitamin on hyperdrive. Onnit makes incredibly high-quality and potent supplements, and you'll find several of them within these packs (individually wrapped: 15 for day, and 15 for night). You'll get brain, mood, and immune system support, plus bone + joint care, and micronutrients.
What we loved most is the individual servings. You can throw each pack in your bag and get everything you need for optimized health, wellbeing and performance without having to think about it, do any research, or make the selections yourself. It doesn't get any more convenient!


Final Verdict: Supplements From Onnit
From their supplements, protein, and personal care products, Onnit offers a full line for your fitness, health, and wellness. We've had the pleasure of reviewing several Onnit products (search "Onnit" from our homepage to see their past features) and respect this brand for their unparalleled quality and the unique, broad range of wellness products they have to offer.
With pro endorsers ranging from famous comedian Joe Rogan, Olympic gold medalist Bode Miller, Allison Holker of Dancing With the Stars, MMA fighters, and NFL and NHL players, it's safe to say Onnit has seriously good supplements for all forms of fitness.
To learn more, you can visit their website here.

This article has been read 653 times. Share it and spread the love!