Become An Opportunist – 7 Ways To Start Right Now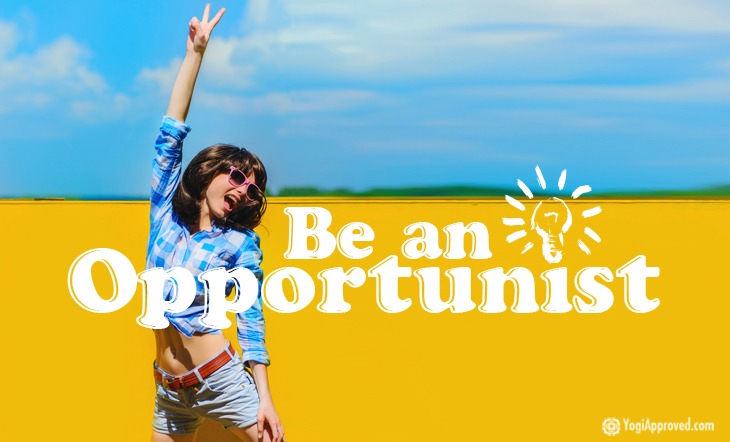 Decisions. Priorities. Goals. What guides us? Our religion, our morals, our knowledge? Or is it something more? Is it our past experiences that holds our hand through the dark? Perhaps it's all the little things that are going unnoticed that are lighting the way. At one point or another, the decision to "do" becomes a blind attempt, a leap of faith and potentially a step outside of the box.
So think about the box you live in, that comfortable area where everything is placed just right.  It's your home, your haven, and God forbid anyone touch it, or look at it wrong. You've got it guarded and you're not about to let it go without a fight.
Now, imagine having the mentality of an opportunist.
Not confined to a box or a space. Constantly letting your creative juices flow to be played out in your everyday. Looking for the little signs, using influences from your day to day to push you where you're meant to be. Never taking yourself or life too seriously. Living without the fear or regret of remorse.
That box doesn't sound so great anymore, huh?
Becoming an opportunist takes practice. Start small. You must start somewhere and at sometime. Today seems as good of day as any. Here are 7 suggestions to get started:
1. Mix up your routine. Order something different at your favorite restaurant or try a different restaurant all together. Take a different way to and from work.
2. Do something spontaneous. Take a trip to a new destination, even if its only a short trip.
3. Say Yes when you would usually say No.
4. Give. Pay it forward. Try buying the person's coffee behind you in the drive thru, take a friend out to dinner, or even give a compliment. Creating and repaying positive energy in your life will open doors and change your perspective more than you could ever imagine.
5. Be the change you want to see. Open your mind and open your heart but take responsibility for what it is you can change.
6. For god's sake, have some fun! When in doubt, always have fun. Humor and positivity are good pay outs and they are highly contagious.
"The world's a playground. You know that when you are a kid, but somewhere along the line everyone forgets it." -Allison (in Yes Man)
7. Say what you feel. The sooner you learn to listen to what it is that beats for every emotion you feel, the sooner you'll be able to express it. Follow your ticker….it knows what it's doing.
I wish for you a life with open air, endless possibilities and the pulsating urge to throw yourself into the unknown. Only to emerge with an overflowing amount of respect and appreciation for yourself. Knowing that even though it was scary and a little terrifying, you still did it!
Now do me a favor. Take that box, flip it upside down, shake it and toss it around a little bit. You'll be glad you did.
This article has been read 7K+ times. Feelin' the love!