Exercise Your No Muscle: How to Set Boundaries and Stand up for Yourself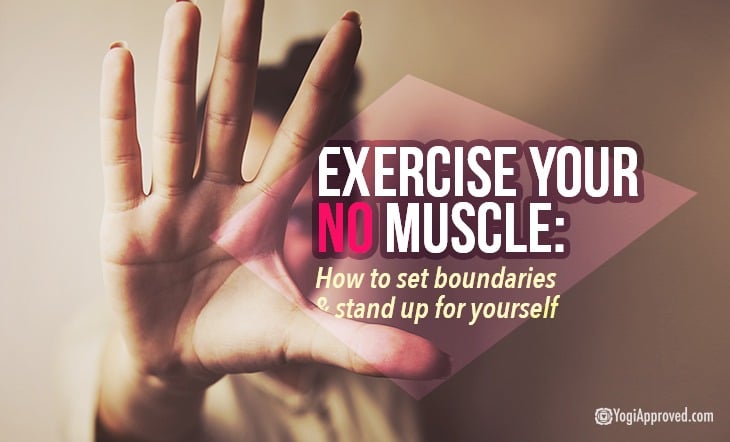 So often we have said yes, when we so desperately wanted to say no. We acquiesce just so we don't hurt someone else's feelings, yet end up hurting ourselves in the process.

When have you agreed to something that you knew in your heart and your gut was all wrong for you? At the time, there probably was a voice – and it may have been small, and very, very quiet – but it was there nonetheless, and it was whispering, "don't" or even more directly, "NO."

Due to society, wanting to be nice, helpful, kind, generous, we hush our voices and move forward with our yes's when we so badly want and need to say no. This can happen in our personal relationships, work relationships and even the relationships that we have with ourselves (maybe here the most).

When have you said yes, when you really wanted to say no, only to find yourself later upset or resentful, because once again you are doing something for someone else and not honoring yourself?

You may put yourself last constantly, always doing things for others, being the 'people pleaser' and ending up displeased. Maybe this is saying yes to an obligation when you really don't have the time or energy, or neglecting self-care because you're "too busy" or "too stressed."

Your highest priority should be learning how to set clear boundaries that will allow you to be healthy and truly live in tune with the way you want your life to unfold.

If you are not sure of your yes, then pause before answering. Ask yourself the question, "Will this decision bring me to my highest self? Will this yes allow me to be true to myself?"

Your highest priority should be learning how to set clear boundaries that will allow you to be healthy and truly live in tune with the way you want your life to unfold.

So – how can you set clear boundaries? How can you exercise your "NO" muscle and stand up for yourself when you need to?

Here are 5 musts in setting clear boundaries, standing up for yourself, and exercising your NO muscle:
1. Make a list of your "perfect world" ideals
Include areas that are important to you, such as home life, relationships, health, finances, spiritual path and work life. You can get as detailed as you would like. Be clear about the things you wish to unfold, both professionally, and personally.

Perhaps you would like a promotion, or a shift of work responsibility. Maybe you have held off on taking a much-needed vacation but find yourself fantasizing about going somewhere that would be peaceful and restorative. It may be a yoga retreat, a beach vacation, or a trip to Paris. Love yourself enough to put money aside and start planning!

Make a list of qualities that are absolute musts in your life, whether that's more "you time," less time spent working, a loving and healthy relationship – include any and every area in your life where you need to take a stand and make a change, and hold yourself accountable.

2. Make a list of non-negotiables
Make a list of boundaries and non-negotiables and compare it to how you are currently living and behaving. This may be the way your partner speaks to you, or the way you always say yes and are left to feel drained and exhausted. It could be the type of relationship you want or the qualities in a partner you will not stand for.

On a personal level, it is my belief that we should not accept relationships if the relationship is not allowing us to have clear boundaries. It is easy to get caught up in something or someone that may be filling a void at the time, but if the relationship is not truly feeding you, then what is it doing? Starving you, I suppose.

Be aware of the relationships or situations in your life that are not uplifting, or allowing you to live up to your full potential. Ask yourself what it is about these relationships that drains you and start setting clear boundaries to prevent this from happening over and over again.

3. Acknowledge your negative patterns and behaviors
If you realize that you allow negative talk from others, practice saying no. For example, when your friends start to gossip, tell them "I do not welcome that kind of talk." As the saying goes, you show people how to treat you. Communicate your needs clearly and with kindness.

Talk openly and unapologetically about your boundaries in your relationships. Notice what you allow into your life and locate the areas that are not serving you – whether that's your romantic involvement, your work dynamic, your negative self-talk or judgmental tendencies . . .

Locate these areas that aren't positive or bring you down, and simply decide to make a change. Make a statement loud and clear to yourself that you are worthy of high standards, clear boundaries, and saying no when it serves you.

4. Choose three boundaries you are willing to set today
Start small and slow. Be as clear as you possibly can. Change is gradual and takes time. Don't be hard on yourself, but also be crystal clear with the boundaries you are setting. Commit to setting these boundaries today, and work on them from this moment forward.

Perhaps you are trying to leave work on time and are always getting looped into staying late. Tell your boss at the start of the day that you will need to leave on time because you have a commitment, and you will – to yourself!

We need to become aware of what healthy and acceptable behaviors look and feel like before we can start practicing them ourselves. (MAKE BOLD QUOTE)

Once we have the clarity of what is healthy to us, then we can begin to model this behavior and in turn begin to ask for that type of treatment from others. We need to start learning how to be emotionally honest with ourselves. We also need to own our feelings, and communicate them in direct and honest ways.

5. Strengthen that NO muscle
You may feel silly, but do it anyway. Stand in front of a mirror and practice saying the word "no." NO, N.O., no no no, no!! You may add other words or phrases, such as "thank you, but no." Or come up with your own ways of being direct while staying kind. Do this until you feel comfortable, and then practice some more!

What we are working toward is healthy relationship dynamics. We want and need people in our lives who are allies.

With alliances, it is necessary to discuss and maintain clear boundaries. We can create these types of relationships with friends, family members, co-workers and romantic partners.

What we are working toward is healthy relationship dynamics. We want and need people in our lives who are allies.

Most of us desire a relationship with a partner who will share our journey with us. In order for that to be possible – in a healthy and mutually empowering way – it is necessary to communicate and understand agreed-upon behavior and clearly share thoughts and feelings.



By setting boundaries, we tell people in our lives who we are and what we need. We take a stand for ourselves and what truly serves our highest good. The added power in living like this is it will inspire others to do the same – a domino effect of clear, healthy boundaries and people taking a stand for what they need.

"Love yourself enough to set boundaries. Your time and energy are precious. You get to choose how you use it. You teach people how to treat you be deciding what you will and won't accept." -Anna Taylor

As with all things that we learn, setting clear boundaries and standing up for yourself takes time and practice to truly master.

"Love yourself enough to set boundaries. Your time and energy are precious. You get to choose how you use it. You teach people how to treat you be deciding what you will and won't accept." -Anna Taylor

Learning how to say no is the beginning of a powerful journey of truly caring for yourself. We all know that when we are cared for, we are able to care so much more for others.

This article has been read 6K+ times. Feelin' the love!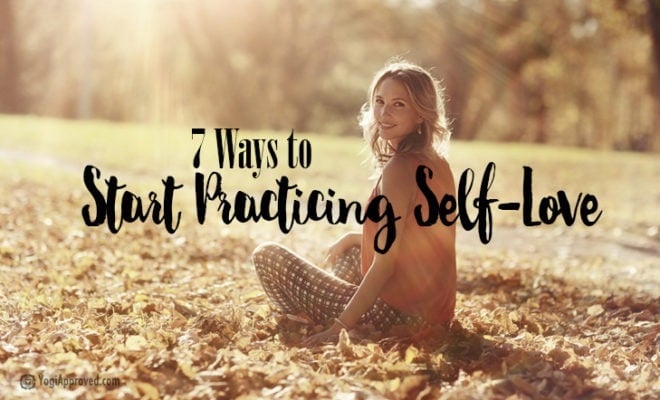 7 Ways You Can Bring More Self-Love Into Your Life for Peace, Contentment and Joy
What is self-love, really? And how can we practice more of it in our daily lives? Here are 7 self-love practices for more compassion & joy.
Read »
Kerry Fantelli is a medical professional and yoga instructor based in Vermont. Recently, Kerry has been reading her writing after her yoga classes and also has shared poems with her patients that she hopes may find solace in her words. She is a healer and loves to write with the theme of helping, easing, and understanding emotions.