How to Create a Personal Manifesto and Accomplish Your Goals
What is a Manifesto?
A manifesto is your credo; it is your personal mission or vision statement. This is your declaration of self: your goals, aspirations, dreams, and visions for your future. In it, you include goals, aspirations, dreams, and visions for your future. A manifesto helps focus your broader goals and attributes into a list. This list serves as a mantra of positive affirmations and helps concentrate your energy on being successful in life, career, love, and anything else.
"A manifesto is your credo; it is your personal mission or vision statement. This is your declaration of self"
Some manifestos are a list of your finest attributes, while others look more like a recipe for your soul to follow.
Many people have used this technique to help create a visual Manifesto. A visual manifesto formats your list into a piece of artwork using color, pictures, and words to be shared in the form of a print, photo, PDF, or used in any social media or website profile. Being creative helps you think outside the box, helps you seize your opportunity to plant your flag and proclaim, "Hello World. I am here!"
How do I find my "Manifesto" voice?
You do not have to be a poet or writer to create a manifesto (but if you're drawing a blank, it's always inspiring to read the works of great artists, poets, and playwrights). Just remember to speak from the heart. Your manifesto can include anything from instructions, bold words, favorite quotes, and popular sayings to inspiring images, magazine clippings, doodles, and pop art.
Why is making a Personal Manifesto important?
Re-connecting with your dreams and sparking your creative process is a journey of self-discovery. It is important to foster a love and awareness of all the things that make you who you are. Achieving your goals is much easier when you have them right in front of you to keep inspiring you every day as you work towards making them a reality.
Once you are done, you can use your Manifesto on a professional website, social media profile, or any  "About Me" section. Whether you keep it to yourself, share it with friends and family, or even use it professionally, it's a great method of demonstrating who you are, and letting your authentic self shine through.


Sounds Great!  What are my first steps?
•    Start by jotting down a laundry list of things you want to do, see, and experience. There are no wrong answers. However grandiose or silly you think it is, just get it out of your head and onto a list.
•    Feel free to include a "bucket list" or wish list.
•    Get Self-ish and connect with yourself and your innermost desires.
•    Keep it positive. Remember, "Thoughts are things."  What we think and say becomes the life we live, so make sure you are thinking and talking in alignment with your goals and desires!
•    Choose a central theme from everything you wrote down. Notice if your goals and dreams center on travel, positive affirmations, fitness, nutrition, or career goals, etc.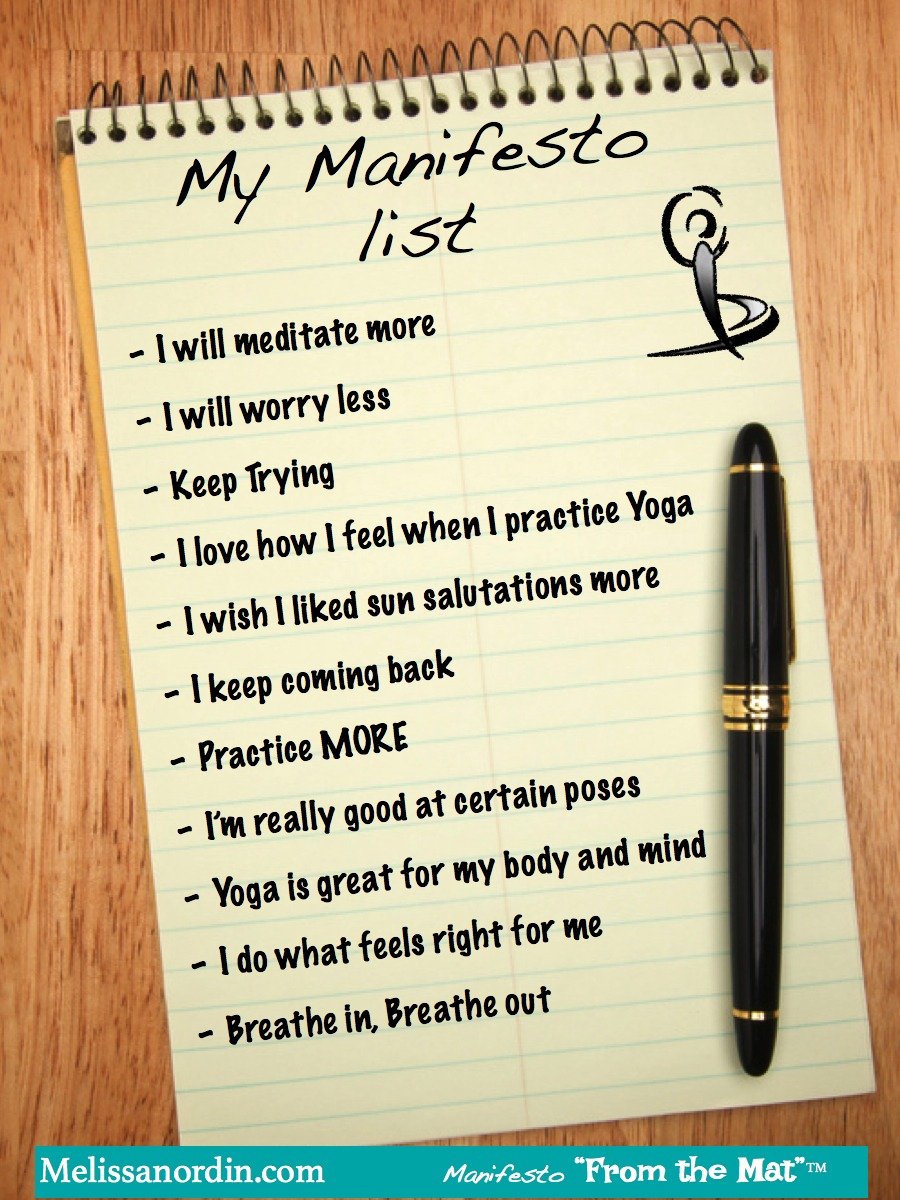 Theme is chosen and list is done. Now what?
Begin to cut away at the sentences and choose abbreviations or short effective statements that best represent what you want to say. For example, you may have started with "I will greet each day with enthusiasm, passion, and fire." You can narrow it down to "Find your daily spark."  By reducing your ideas down to a few key words, your visual Manifesto begins to emerge as an impactful, powerful, and independent statement to the world.
How do I go about creating my Manifesto?
•    Some people like to use computer programs like Word or Publisher to help with formatting, color, font, size, and style. Others like to stick to arts and crafts. This is your project, so choose the medium you will most enjoy using: paper, paints, markers, glitter, collage materials, photos, magazine clippings, or digital items.
•    You want to fill your entire page with phrases and art, so move things around to fit the page. If you are using Word or Publisher, create as many text boxes as possible inside your document and type your phrases in.
•    Use large and small sizes for fonts, and use color or bold to emphasize key words. If you are using a homemade medium, write down your phrases on small pieces of paper so you're able to move them around.
•    Once you have everything in place, pick a few pictures, clipart, or silhouettes to fill in any blank spaces.  Don't forget to include your signature it at the bottom or on the back!
Wow! But how do I compete with what's already out there?
Who said it's a competition? Don't get intimidated; we all have something special to share. This is your chance to create and showcase your unique voice on paper or in a digital format that makes everyone feel warm and fuzzy when they read it.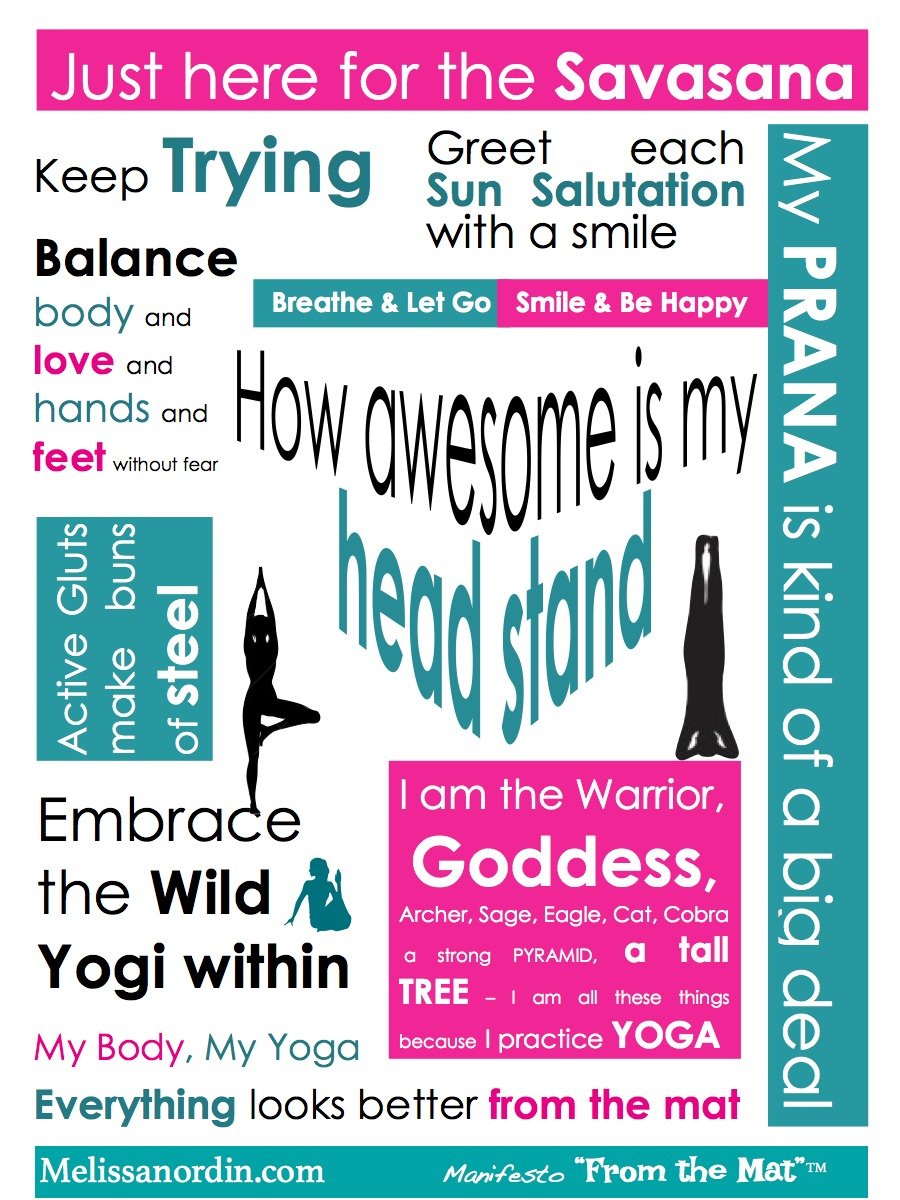 My Manifesto:
I decided to make my manifesto about yoga. I focused on a declaration of my independent Yogi spirit (but your Manifesto can be about anything you desire). This exercise helped me find personal focus on the mat, and make small goals and stick to them. Making a manifesto not only helped me gain clarity in yoga practice; I became inspired in other aspects of my life as well.
However you choose to express yourself, have fun with this, and share your Manifesto and passionate spirit with others. We love hearing from you! Once you've made your own Manifesto, feel free to share your creation with us in the comments below.
This article has been read 3K+ times. Feelin' the love!