Patagonia Just Made Their Beloved Jackets Even More Sustainable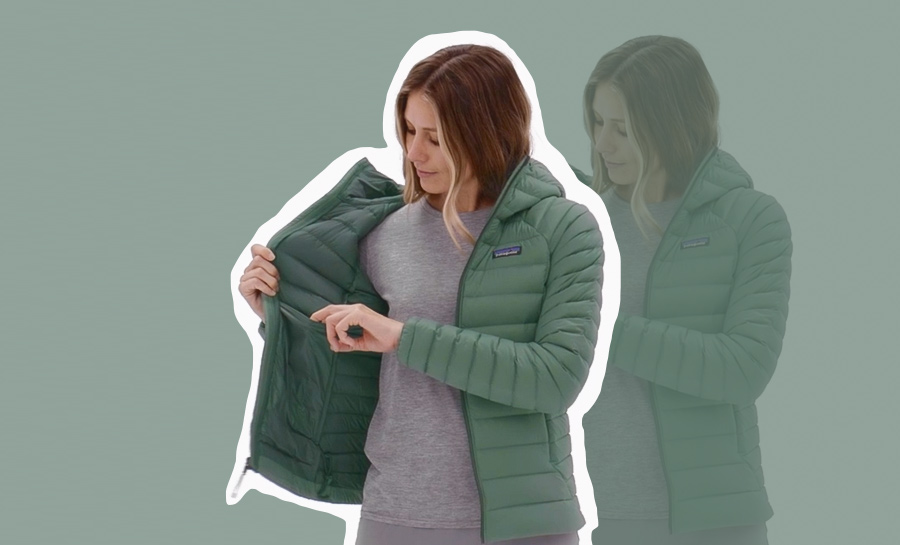 2022 has been a big year for Patagonia and sustainability.
Patagonia founder Yvon Chouinard recently designated the Holdfast Collective, a nonprofit dedicated to fighting the environmental crisis and defending nature as the company's single shareholder. As Chouinard said in his recent letter, "Earth is now our only shareholder."
All of Patagonia's profits will go straight to this non-profit foundation, in alignment with the company's purpose of saving the planet.
As opposed to selling the company or going public, Yvon Chouinard says they are "going purpose." This means that in place of transforming nature's resources into wealth for investors, Patagonia's resources will be used to protect the planet.
This news comes one year before Patagonia's 50th anniversary.
To celebrate this huge milestone, their new award-winning line of down jackets are now more sustainable than ever before, thanks to NetPlus technology.
NetPlus is the material made from discarded fishing nets collected in South American fishing communities. NetPlus is a fully traceable post consumer recycled material, which is a sustainable approach to sourcing material.
Patagonia has historically been a trendsetter in environmental advocacy. This shift is a powerful step towards inspiring the rest of the industry to move away from fast fashion and towards a more sustainable and intentional approach.
Learn How to Repurpose or Upcycle 38 Common Household Items


Meet Patagonia's New and Improved Down Sweater
A fresh spin on an iconic Patagonia classic, the down sweater is one of Patagonia's most popular items. Offered in Men, Women, and Kids sizes, these cozy and quality down jackets come in a variety of color options and styles (hood, collar, vest, etc).
The same details that everyone loves about the down sweater remain, while the new and improved model is now warmer, softer, and more durable due to its shell now being made from 100% recycled fishing nets. The new down sweater fabric is post-consumer recycled ripstop made from NetPlus.
Why Did Patagonia Move to Repurpose Discarded Fishing Nets?
In short, because the world's oceans are not just contaminated with plastics – they are choking on them – as Patagonia words it.
Every year, nearly 9 million tons (keep in mind that 2,000 pounds equals one ton) of plastic gets into the world's oceans.
To give a visual example, you may have heard of the Great Pacific Garbage Patch.
As the name suggests, it is a huge mass of floating garbage and plastics that covers a distance of over 620,000 square miles, or roughly double the size of the state of Texas. The fact that this exists is disturbing enough. But it gets worse. There is more than one of these giant floating garbage patches.

Using fully traceable post consumer recycled material is a sustainable approach to sourcing material.

The garbage patches lead to immense ecological damage and destruction, particularly among marine life. One of the worst pollution offenders is fishing nets. According to scientists, over 650,000 marine animals are killed or badly injured each year from getting tangled in these discarded fishing nets.
These fishing nets are often discarded at the end of their life, which is where a California-based company called Bureo comes in. Bureo created a program to work directly with South American fishing communities to collect discarded fishing nets. Their facility in Chile sorts, cleans, and recycles the nets into their NetPlus post consumer material.
Not only does this initiative help protect our oceans and marine life; it also provides income to these South American fishing communities.


The Importance of Choosing Post-Consumer Recycled Products
Using recycled materials means utilizing and repurposing existing waste as opposed to making more waste. It reduces and helps prevent more plastics from ending up in the oceans, and also dampens the need for virgin plastic production.
So far, Patagonia has prevented nearly 850 metric tons of plastic waste out of the oceans by utilizing discarded fish nets. Primarily, Patagonia is turning the fishing nets into hat brims, jackets and fabric with NetPlus.
Certain aspects of this process and shift towards greater sustainability were not simple!
Patagonia shares how developing the hat brims was relatively straightforward, but the incredible transformation from fishing net plastic to high-quality yarn was much more complicated. Essentially, Patagonia's material developers worked closely with the supply chain partners to formulate how this ocean plastic would be converted into fabric.

"Despite its immensity, the Earth's resources are not infinite, and it's clear we've exceeded its limits." – Yvon Chouinard, Patagonia founder

This year, many of Patagonia's classic pieces have an improved environmental footprint, along with better materials.
According to their website, 344 metric tons of fishing net plastic will be woven into Patagonia fabric for their fall line. They plan to continue incorporating NetPlus materials into more Patagonia classic pieces over the next several years.
If you'd like to learn more about the company's climate goals and commitment, you can do so here. And you can shop their new line of sustainable clothing here.
As Patagonia's founder Yvon Chouinard so poignantly says, "Despite its immensity, the Earth's resources are not infinite, and it's clear we've exceeded its limits. But it's also resilient. We can save our planet if we commit to it."
Did you like this environmental justice story? Would you like to see more articles like these? Have any other brands you love for their commitment to saving the planet? Please share in the comments below – we love hearing from you!
This article has been read 108 times. Share it and spread the love!