What Are the REAL Benefits of a Gluten-Free Diet? Here's Everything You Need to Know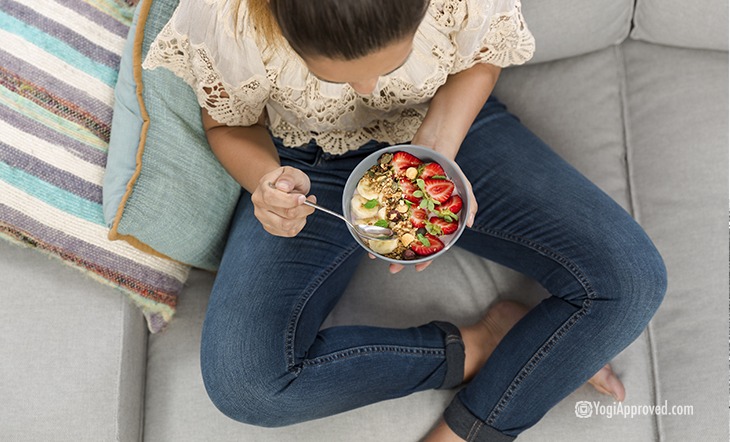 The growing gluten-free trend has received a bad rap, seen as bourgeois . . . not to mention a complete nuisance to pastry chefs worldwide. So, what is gluten anyway? And why are so many people banishing gluten from their diets and beauty cabinets?

What is Gluten?
Gluten is a type of protein that is found in many foods, including wheat, barley, rye, and some oats. Gluten is added to foods to maintain their elasticity during the fermentation phase of food production. Without gluten, foods like bread wouldn't be "chewy" and would have a sticky, crumbly texture instead.

Gluten Allergies: An Overview
According to Livescience, researchers revealed that between 2009-2014, the rate of celiac disease diagnoses remained steady. Yet, researchers noted that the number of Americans without celiac disease who adopted gluten-free diets steadily grew.

Not sure if gluten impacts your health? Gain insight into your health – and your gut – with this Simple, Holistic, and Practical Guide to Healthy Digestion.

Whether gluten intolerance, or distaste for processed food, is responsible for this trend, it is clear that the gluten-free fad is here to stay. Here are the two main types of gluten allergies:

Celiac Disease
Celiac disease is an autoimmune disorder that causes people to not be able to digest gluten normally. If someone with celiac disease eats gluten, it will attach to the small intestine and cause digestive issues, including bloating, weight loss, and diarrhea.

Gluten Intolerant
Some people don't have a full-blown allergy to gluten, but they may be intolerant. Once gluten is removed from their diets – or even their beauty regimes – they see a reduction in inflammation, an increase in energy and vitality, and healthier skin.

3 Health Benefits of a Gluten-Free Lifestyle
Although research on the impacts of gluten is still underway, a gluten-free diet and lifestyle may lead to the following health benefits for some people:

Improved Digestion
If you suffer from digestive issues, you may notice a significant difference in your tummy troubles by eliminating gluten. If you have celiac disease, gluten causes inflammation in the small intestine. If you don't have celiac, but you have gluten intolerance, gluten can cause abdominal cramping, bloating, diarrhea, constipation, and other issues.

Reduced Inflammation
Small proteins called cytokines, released during an inflammation response, can cause inflammation in other body tissues, aside from the digestive system. Some individuals who have gluten intolerance can experience numb legs, muscle cramping, and joint pain by consuming gluten. By following a gluten-free diet, these issues could be reduced.

Continuing to consume gluten may cause chronic inflammation, which may lead to further pain and even cancer. Inflammation can also appear on the skin: following a gluten-free diet can improve skin conditions, including eczema.

Improved Mental Clarity
Have you ever felt brain fog? If you have, you may have been unable to focus, think, or get your thoughts out verbally. Following a gluten-free lifestyle may help you think and focus more easily. The National Foundation for Celiac Awareness states that people who have gluten sensitivity experience depression, brain fog, and headaches – all due to inflammation in the brain.

How to Replace Gluten in Your Diet (and Still Eat Your Favorite Foods)
Whether you are diagnosed with an allergy or just want to give it a try, giving up gluten can seem overwhelming at first. The best thing to do is focus on what you can eat, rather than what you can't eat.

Concerned about how eating gluten free will impact your wallet? Read How to Be Gluten-Free on a Budget.

Gluten-Free Grain Alternatives to Try
Going gluten-free doesn't mean that you don't have options in the kitchen! There are many delicious, healthy grain alternatives. Here are 6 grain alternatives to try:
Amaranth
Buckwheat
Millet
Quinoa
Sorghum
Teff

The grains above are awesome alternatives to gluten-based grains. These ancient grains also pack powerful nutritional punches, including magnesium, protein, zinc, fiber, vitamin E, B vitamins, and more. Check out this helpful chart to learn more!



Keep in mind that just about anything that has gluten can be made gluten free. You don't have to give up your wraps, bread, or even pasta. And yes, you can eat snickerdoodles and brownies! Get creative with the grains above to stay gluten free and eat your favorite food.

This article has been read 946 times. Share it and spread the love!