Sex and Yoga … Ooh La La! Practice These 5 Yoga Poses After Sex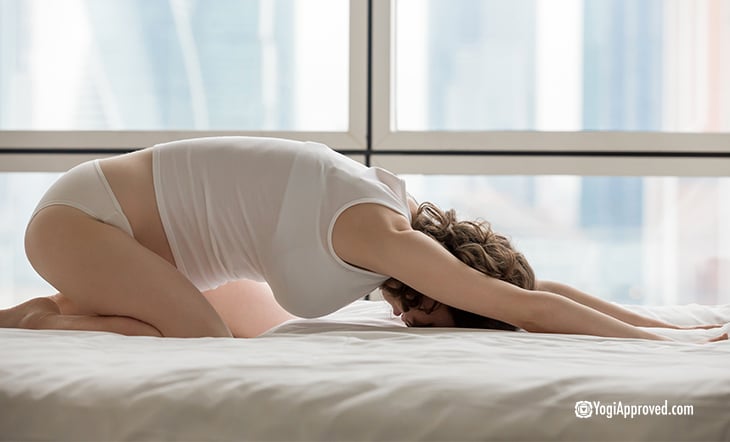 There are many ways yoga can improve your sex life. And for the ladies that are familiar with the physical after-effects of a particularly energetic roll in the hay, we know that yoga can be an extremely useful tool for post-sex recovery as well.

Recommended read: 5 Ways Yoga Makes You Better in Bed

A good romp is quite similar to a good workout: You sweat a lot, you burn the calorie equivalent of a supreme stuffed-crust pizza, and you're left feeling sore sore sore (and ready for more . . . tomorrow). Sex and yoga can compliment each other – after your next romantic encounter, try doing some yoga and notice how you feel after.

Practice These 5 Post-Sex Yoga Poses:
Note: Sorry dudes, this author isn't familiar with the physical tolls that doin' the dirty has on the male anatomy, and thus, cannot accurately suggest yoga poses for your particular needs.

1. Supine Bound Angle:
Lying on your back, bend your knees so they are pointing upwards and the bottoms of your feet are pressed against the floor. Then let your knees fall apart to the side, and connect the bottoms of your feet together. Relax in this position as long as you'd like to, or stay for at least 5 deep breaths.

Supine Bound Angle, or Reclined Butterfly, is a gentle hip opener that helps relieve tension in the hip and pelvic region.
2. Downward Facing Dog Pose:
Start in a table top position and then tuck your toes and send your hips skyward, pressing your chest towards your thighs. Straighten into your legs as much as you'd like (keep a bend in the knees if hamstrings are tight) and send your gaze towards your thighs. Stay here for at least five deep breaths.

Down Dog is a full body stretch. It stretches the chest, back, and legs and as a gentle inversion, helps relax the body and calm the mind.
3. Childs Pose:
From Down Dog, bring your knees to the mat and seat to your heels with your big toes touching and knees spread slightly wider than your hips. Extend your arms long in front of you and relax your forehead towards the mat. Breathe deeply and stay as long as you'd like.

Childs Pose, or Balasana, is a relaxing restorative pose that calms the mind and body. It's also a gentle low back release and creates an overall sense of calm and wellbeing.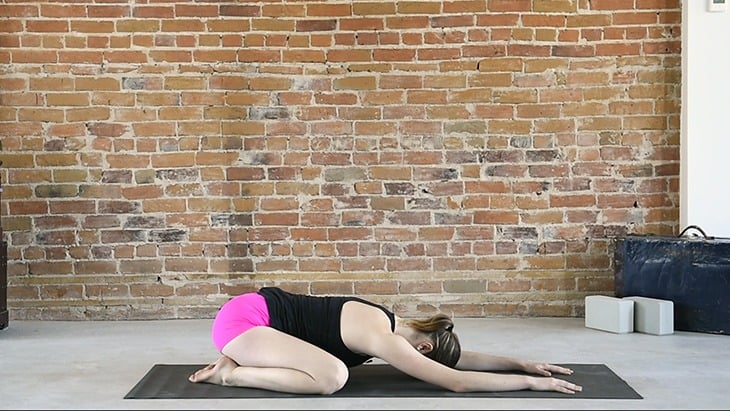 4. Half Pigeon Pose:
Begin in a low lunge with your back knee on the ground. Begin to roll onto the outside edge of your front foot, and allow your front knee to fall open to the side. Continue sliding the side of your front foot on the ground towards your opposite hip, until the side of your calf is resting on floor in a figure four position.

Make sure your front leg is "square" with your hips, and lean forward until you have reached a comfortable space to hold this position. 5 breath minimum, staying as long as it feels good.

Half Pigeon is a deep hip opener that creates space in the hip joint. This will feel amazing post-sex.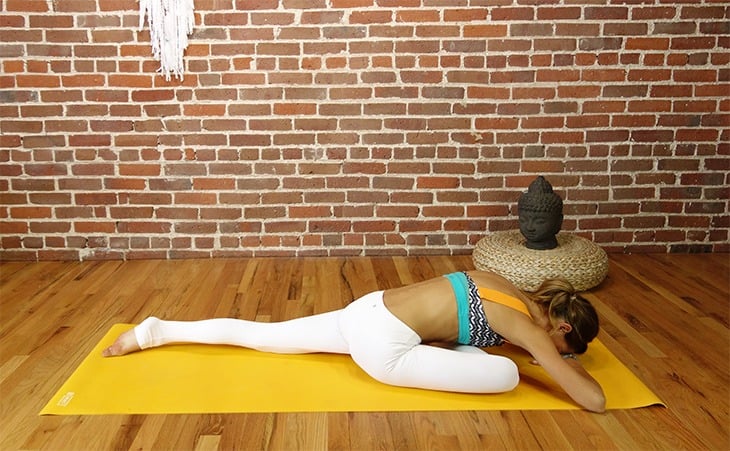 5. Frog Pose:
Begin on your hands & knees in a tabletop pose. Make sure your ankles are lined up with your knees, and your feet are turned outwards. Come down from your hands to your forearms, and let your hips begin to drop so that your knees slide apart even further, and you begin to feel the stretch in your hips.

Tip: Roll your mat up or place pillows under your knees for extra comfort in this position.

Frog Pose is the deepest hip opener on the list. It will really target the hips, hip flexors, and inner groin to relieve tightness and tension and create a deep sense of relaxation.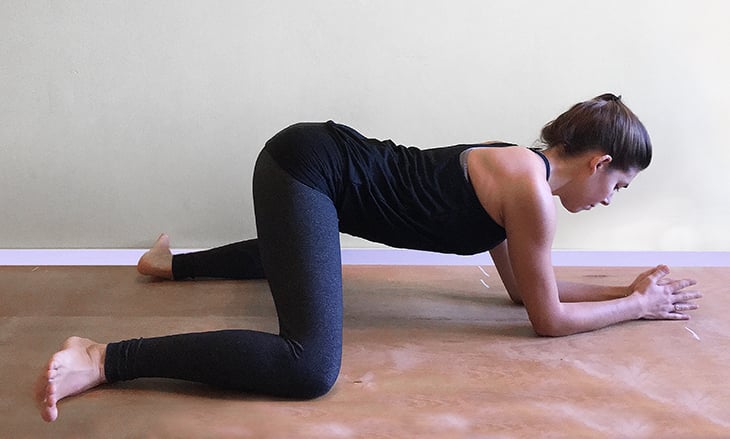 Yoga and Sex Together Create the Perfect Balance
After you've completed your post-coitus poses, take a few deep breaths and appreciate all the good you've just done for your bod. Relax, breathe deeply, and allow yourself to absorb all the blissful, beautiful benefits of sex and yoga.

This article has been read 60K+ times. Hot damn!