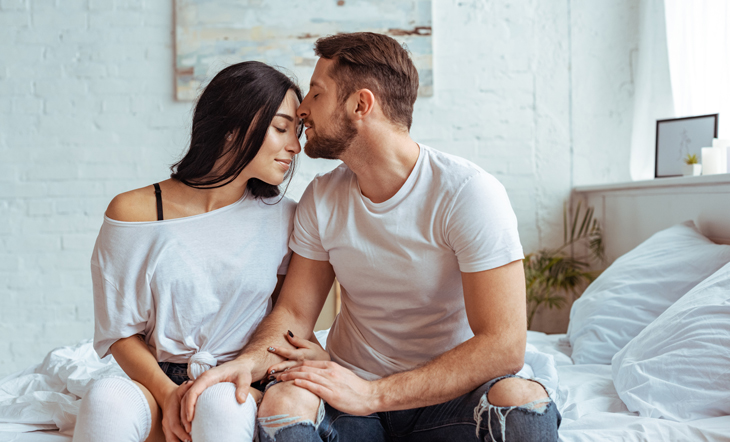 What's Great (And What's Hard) About Each Enneagram Type in Relationships
After someone learns their Enneagram type, the next question they ask is, "Who should I be with?" or, "Which types go well together?" Everyone wants to know how Enneagram relationships mix and match.
These are such common questions, I wrote an entire book on the topic. But I'll save you the 500-page read and lead with the answer:
All Enneagram types can go well together. And all types can struggle too. The success of Enneagram relationships is more dependent on the level of self-awareness of each partner than it is on their specific Enneagram type.
The basic rules for all Enneagram relationships are:
Two highly self-aware people have the best chance of success
Two highly unself-aware people may stay together, but the relationship is likely fraught with fights, misunderstandings, disconnects, and loneliness
If one person is highly self-aware and the other isn't, usually the relationship just stops making sense at some point. There may not be enough of a foundation to continue

Not so well versed in Enneagram types? Here's Your Guide to the 9 Enneagram Types: Which Personality Type Are You?


Enneagram Relationships Based on Enneagram Type – Here's What You Need to Know:
While all combinations of Enneagram types can work in a relationship, there are different strengths and weaknesses to each Enneagram type.
Speaking This 'Language of Love' Is the KEY to a Thriving Relationship (How Fluent Are You?)
Based on over 100 interviews with couples in each type combination, here are some of the best and the worst of each type in relationships.

Enneagram Type 1 (Perfectionist/Reformer)
Expect a conscientious, principled, methodical, problem-solving partner.
Type 1s are hard-working with high standards, strive to do the right thing, act honorably, and have an unwavering inner compass. Type 1s focus on improvement, and while they may be critical of you, they are even more critical of themselves.
What you love:
You will love how sensible, loyal, practical, committed, and decent your Type 1 is. You will appreciate that the house is organized, the bills are paid on time, travel is booked months in advance, and your life runs smoothly with your Type 1 at the helm.
What's hard:
"All work and no play" can be a theme, and your Type 1s may sometimes de-prioritize the emotional world in an attempt to get all the practical details right.
This can be the person who can't talk about your difficult day until the dirty dishes are cleaned and might have workaholic tendencies. They can also be control freaks.
Help your Type 1:
Type 1s grow by leaving things in an imperfect state. The journey is to joyful tranquility. Help your Type 1 be playful, lighten up, and have fun.


Enneagram Type 2 (Helper/Giver/Lover)
In Enneagram relationships, expect Type 2 to be an emotionally intelligent, kind, empathetic partner who is concerned about others. Type 2s focus on the needs of other people and can be warm, nurturing, sensitive partners.
What you love:
You will love how your Type 2 creates a safe, affirming, nurturing space where your thoughts and feelings can be shared intimately.
You can bring your problems from work, your issues with your family, or old wounds from your past to your Type 2 who will hold the space for you to process your experience.
What's hard:
Type 2s have a hard time with self-care and creating healthy personal boundaries. As their partner, you may become almost an "extension" of your Type 2, and your relationship may get less care than other priorities.
Help them Create a Realistic Self-Care Routine With These 17 Simple Practices
Help your Type 2:
Type 2s grow when they move from caring for everyone else to practicing self-care. The journey is to self-love. Remind your Type 2 to take care of themself.
These 3 Signs Prove You're Having a Self-Love Evolution

Enneagram Type 3 (Achiever/Motivator)
Expect a hard-working, energetic, fast-paced, responsible, action-oriented partner. Type 3s focus on achievement and can be very successful in attaining their goals.
What you love:
You will love how goal-oriented, focused, hard-working, adaptable, driven, and accomplished your partner is. Your Type 3 focuses on success with a commitment to excellence that may bring an almost magical quality to your relationship.
What's hard:
The excess focus on image and "what other people are thinking" can be draining and create conflicts. Type 3s have an extreme sensitivity to appearance and about failure in the eyes of others. You may become drained by your Type 3's focus on appearances.
Want to Stop Caring What People Think About You? Focus on These 8 Things Instead
Help your Type 3:
Type 3s grow when they relax the drive to achieve, stop being overly concerned about their image, become still, and speak from the heart. The journey is to authenticity. Help your Type 3 slow down, be still, and feel.

Enneagram Type 4 (Individualist/Romantic)
Expect a partner with high emotional fluency who is sensitive, insightful, original, and authentic. Type 4s attention goes to what is missing, and they can be capable of extreme emotional insight and deep creativity.
What you love:
You will love that you feel accepted, nurtured, and safe as your Type 4 offers a protected space to share your thoughts, feelings, and vulnerabilities. Your Type 4 may help you "feel" more and can be a helpful guide into the complex world of emotion.
What's hard:
Type 4s over identify with their flaws and deficiencies and can get trapped in negative emotions. Their negative self-talk might become draining for you.
Help your Type 4:
Type 4s grow when they learn to stay balanced despite their intense and ever-changing emotions. The journey is to compassionate neutrality. Help your Type 4 stay neutral in the face of intense emotions.


Enneagram Type 5 (Investigator/Observer)
In Enneagram relationships, expect Type 5 to be an independent, reserved, undemanding, low drama, supportive, stable, open-minded partner.
Type 5s focus on the expectations and demands of the outside world with an eye toward maintaining personal independence.
What you love:
You will love that your Type 5 is logical, grounded, rational, and a great problem solver. You will also appreciate how inquisitive and interested your Type 5 is, especially when this focus is directed toward you.
What's hard:
Type 5s can be so closed and reserved, you might sometimes feel disconnected, lonely, or even neglected. Type 5 can be secretive, and there may be moments when you feel shut out.
Help your Type 5:
Type 5s grow when they share more of themselves. The journey is to non-attachment and generous engagement. Help your Type 5 engage more with you and the outside world.
How to Find Inner Peace With Aparigraha (Non-Attachment), the Fifth Yama

Enneagram Type 6 (Loyalist/Skeptic)
Expect a loyal, vigilant, hard-working, devoted, security-oriented partner. Type 6 attention goes to what could go wrong or be a threat to their security.
What you love:
You will love that your Type 6 is steadfastly loyal, diligent, committed, responsible, and often humorous and playful. You will also appreciate that they help keep you out of danger.
What's hard:
Type 6's attention goes to potential negative outcomes, and this can feel like excessive negativity and pessimism in your Enneagram relationship. You might get tired of sensing their anxiety about what could go wrong.
Help your Type 6:
Type 6s grow when they connect with and trust their inner guidance. The journey is to inner courage. Help your Type 6 dissolve their anxiety by encouraging them to get in touch with their own wisdom.

Enneagram Type 7 (Enthusiast/Adventurer)
Expect a positive, curious, high-energy, lively, adventure-seeking partner. In Enneagram relationships, Type 7s are on-the-go, looking for fun and resilience in the face of life's setbacks.
What you love:
You'll love that your Type 7 is upbeat, exciting, cheerful, open-minded, adventurous, and enthusiastic. If you are feeling down, your Type 7 will lift your mood. You'll also appreciate all the new experiences your Type 7 brings to your Enneagram relationship.
What's hard:
Negative emotions feel very threatening to Type 7s who often fill their schedule with more activities as a subconscious avoidance technique.
This subconscious avoidance technique might be challenging for you. You might also get tired of your Type 7s almost pathological positivity.
Help your Type 7:
Type 7s grow when they stay with negative emotions, process them completely, and avoid unnecessary distractions. The journey is to wise discernment.
Help create a safe space for your Type 7 to explore their darker feelings and to focus on what is really good for them.

Enneagram Type 8 (Leader/Challenger)
Expect a direct, decisive, protective, resourceful, determined, strong-willed partner who may work hard to provide for the family, defend loved ones, and pave the way for a brighter future for those they are closest to.
What you love:
You will love that your Type 8 is clear, direct, independent, principled, and tough. You will know where you stand, and you will appreciate your partner has a strong internal code of right and wrong.
What's hard:
Type 8s often have a confrontation communication style and don't understand the impact their aggressive speech has on others. This may be hard on you and other people in their life. They can also have difficulty sharing their vulnerable emotions with you.
Help your Type 8:
Type 8s grow when they control their anger response and share their vulnerability. The journey is to innocence. Help your Type 8 get in touch with their softer emotions.

Enneagram Type 9 (Peacemaker/Mediator)
Expect a good-natured, supportive, soothing, receptive partner who is a good listener and who appreciates harmony. Type 9s are often the ones who find common ground in disagreements and broker peace and reconciliation.
What you love:
You will love that your Type 9 is accepting, soothing, welcoming, generous, patient, loving, non-judgemental, and easy-going. You will also appreciate that your Type 9 gets along with almost everyone.
What's hard:
Sloth, inertia, and procrastination can be challenges for Type 9s and their conflict-avoidant indirect, passive-aggressive communication style may be challenging for you. You might also suffer when they stonewall you.
Stuck in a Relationship Rut? It's Time to Find a Deeper Level of Intimacy – Here's How
Help your Type 9:
Type 9s grow when they wake up to their own priorities and engage in healthy conflict to express themselves. The journey is to "right" action. Help your Type 9 resist an over-attachment to harmony and the status quo.


The Takeaway on Enneagram Relationships Based on Enneagram Type
This article outlines just some of the strengths and weaknesses of each Enneagram type in Enneagram relationships.
To read more about each type and each type combination in relationship, you can browse my full 500-page book The Nine Keys: A Guide Book Using Kundalini Yoga and the Enneagram to Unlock Your Relationships.
Leave any questions or comments below! We'd love to hear from you.
This article has been read 1K+ times. Feelin' the love!