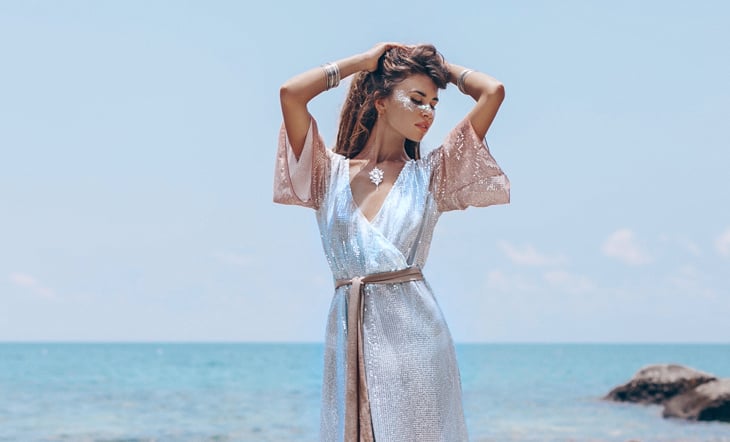 40 Goddess Mantras to Celebrate Your Divine Feminine Energy
What does the word "goddess" mean to you? Take a moment, close your eyes, and focus purely on the word "goddess." How does it make you feel? What does it look like?
The word "goddess" can be defined as "a woman greatly adored and admired," "a female deity," and "a woman with exquisite beauty."
Let's break these down together:
Adore: to regard with the utmost esteem, love, and respect
Admire: to regard with wonder, pleasure, or approval
Deity: of divine nature
Beauty: the present qualities in someone that brings pleasure to the senses
Every human is created with both divine masculine and divine feminine energies. If you combine all the definitions listed above, it explains your divine feminine energy.
10 Ways to Tap Into Your Divine Feminine and Your True Goddess Self
This is why I call the divine feminine energy "The Goddess." We all have feminine energy – we are all goddesses.


Goddess Mantras Can Help You Connect to Your Inner Divinity
Mantras are a beautiful way to express yourself and receive divine confirmation.
Man means "mind" and tra means "to transcend." So mantras are tools to help you focus and rise above restrictions – to go beyond the material world and into the divine.
What Are Mantras and Why Do We Use Them In Yoga?
Some mantras – goddess mantras, in particular – can activate your intuitive properties and bring your inner goddess out to play.


Tap Into Your Divinity With These 40 Goddess Mantras:
I honor the Goddess within me
I honor my Divine Feminine being
I am a work of art
I am the endless flow of the Ocean
I am the grounding nature of Earth
I am the burning alchemy of Fire
I am the forces of the Wind
I am the mystery of the Ether
I am a reflection of the Sun
I am mirrored by the Moon
I am tranquil, yet untamed
I am serene, yet intense
I am fluid, yet controlled
I am wild, natural, and free
I honor the cycles that surround me
I honor the cycles inside of me
I love unconditionally
I am confident, capable, and courageous
I honor the practice of giving and receiving
The more I give, the more I receive
I allow myself to be delicate and rest when the time is right
I caress the sensual parts of me
As I awaken my intuitive nature, my frequency shifts
I align my vibration with like-minded humans
I say no to things not in alignment with my path
I create healthy boundaries and respect myself in doing so
My journey is unlike any others
I am unique and special
I love myself completely as I am
I speak my truth which inspires others to do the same
My voice has power and my words are potent
I see the beauty in my surroundings
I see the beauty in myself
I am the Warrior and the Goddess and I live in my version of perfect harmony
I recognize synchronicities and magical moments in everyday life
I am the Yin and the Yang
I am aware of awareness
I am love, purely love
I am light, purely light
I AM A GODDESS

These 5 Practices Will Unleash Your Inner Shakti and Help You Celebrate Your Divine Feminine Energy


Empower Your Inner Goddess With Goddess Mantras
"Who is She? She is your power, your Feminine source. Big Mama. The Goddess. The Great Mystery. The web-weaver. The life force. The first time, the twentieth time you may not recognize her. Or pretend not to hear. As she fills your body with ripples of terror and delight.
But when she calls you will know you've been called. Then it is up to you to decide if you will answer." – Lucy H. Pearce, Burning Woman
It is your birthright to learn about and express your sacred sense of self, your inner goddess – and most importantly – you deserve it!
Feel free to keep some of these goddess mantras that sparked a light in your heart in your back pocket and use them in meditation, in your yoga practice, and even in your daily routines.
I promise, your mood and energy are guaranteed to glow when you wake up and look at your beautiful face in the mirror and say, "I am a Goddess!" Because, yes, love . . . yes, you are!
GLOW, BABY, GLOW!
This article has been read 10K+ times. Bada bing!