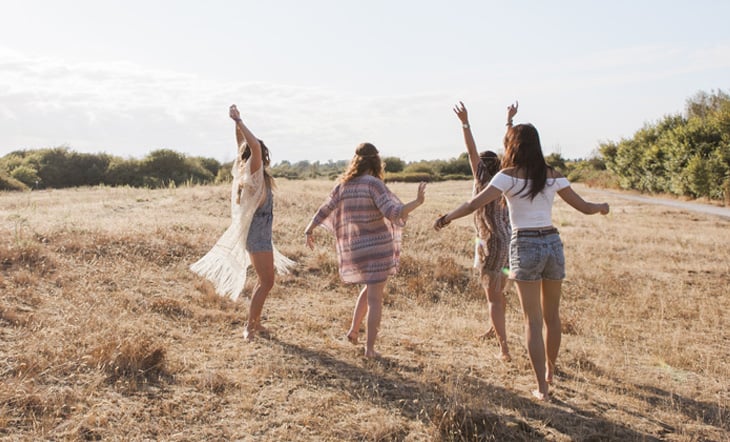 Follow These 7 Steps to Create and Host Your Own Women's Circle
Women's circles are essentially a gathering of women, for women.
They're often practiced within a circular setting, using a decorative altar or mandala as the focal point in the middle. These circles feel inclusive and mimic the cycles of nature and the comfort of the womb space.
While women's gatherings have been around for thousands of years, they have gained popularity recently – especially in the yoga and wellness community.


What Are Women's Circles?
Women's circles allow for sharing, support, and feelings of safety within a non-judgemental environment.
It can be very healing to experience validation and to feel honored by other women, especially in a world where women are often taught to compete with each other, compare bodies and status, be jealous, gossip, judge, etc.

A women's circle creates a sacred bond between all the women participating.

Typically, women's circles have a theme, but the themes are not set in stone. Like water, the idea is to go with the flow as each woman's story is heard and honored.
Guided meditations, yoga, and oracle cards can also be included in the ceremony. Sometimes guest teachers also give talks on menstruation, pregnancy, breastfeeding, menopause, and more.
How to Honor the Phases of Your Monthly Menstrual Cycle With Ease and Grace (A Week-By-Week Guide)
A women's circle creates a sacred bond between all the women participating and a time to cultivate reverence for oneself, the values of being a woman, and the divinity of Mother Earth.
How to Stop Condemning + Start Celebrating All Things FEMALE
Many women can lose themselves in routine and multi-tasking, supporting their partner or children, caring for their homes, juggling a career, paying the bills, etc.
Women's circles allow a woman to rest in a space that encourages her to explore her inner world, which can be greatly healing for mental and physical well-being. To feel held in a gentle, non-judgemental way can be deeply nourishing.


Here Are 7 Different Types of Women's Circles That You Can Create:
There are many different types of women's circles as circle formats vary widely in content and structure. The most common starts with coming into a seated position in a circle, with eyes and hearts focused on a centerpiece. Some other ideas include:

1. Open Sharing
Open sharing has no particular theme, but goes with the flow. It's an invitation to share without an agenda at the beginning of the circle.

2. Themed Sharing
Themed sharing is common. This can begin with reciting a poem, or be as simple as discussing what feelings arise from hearing words like "hope," "time," "worthy," or "freedom."

3. Moon Rituals
Moon rituals, specifically new moon intentions and full moon release are excellent themes if you want to center your circle around menstruation or have a natural vibe based on the lunar calendar or moon goddess. These women's circles are usually practiced in red tents.
How to Harness the Moon's Energy with Moon Rituals

4. Yoga Circles
These types of women's circles practice yoga in a circular shape with a closing sharing to end the session. It might be nice to tailor the yoga class to a theme, such as womb yoga.

5. Belly Dance/Dance Movement
Find folklore music chanting about wild women and simply dance. Allow the dancing to purge any stuck emotions in the body and end with a sharing circle to discuss themes on the body, body shaming, the chakras, how the dancing made them feel, etc.

6. Journaling or Art Therapy
Begin with an invitation and/or theme and allow for creative freedom. End with sharing, encouraging women to showcase what they've created, like a poem, thoughts, or a collage.

7. Yoga Nidra/Meditation/Cacao Ceremony
This is a very gentle style of women's circles that allows the women to connect as one in a meditative state, perhaps using singing bowls and candle light too. You could practice Yoga Nidra or any style of meditation that you like.
End with a sharing and cacao ceremony (which includes drinking cacao – a mixture of cacao beans and water).
What Is Yoga Nidra? Here's What You Need to Know About Yogic Sleep


Consider These 4 Questions Before Hosting a Women's Circle:
1. Where and When Will You Hold It?
Before you get started, consider where and when your women's circle will be held. Will it be weekly or monthly? In a yoga studio or your living room? On Zoom?

2. How Long Will It Be?
Also think about the length of time per circle? If it's a simple sharing circle, perhaps an hour will suffice and anything involving more activities like yoga or sound healing with sharing may need more time.

3. How Many Participants Will You Have?
How many women would you like to attend? Perhaps you are just starting out or don't have the room so you'd prefer a small group.

4. How Will You Sit?
Lastly, contemplate how women will sit. Will it be on meditation cushions or on a yoga mat with bolsters and blankets? Make sure you have other options available for women who are unable to sit on the floor for physical health reasons.


Follow These 7 Steps to Lead Your Own Women's Circle In Person:
If you have a small quarantine group already in place, or if you're able to host a safe social distancing women's circle, then read on! If you would instead like to host an online women's circle, skip to the next main section.

1. Decorate Your Space
As you set up the space, consider decorating the centerpiece with flowers, offerings, statues, crystals, deities, stones, and candles.
When facilitating, you can include certain types of music or sound healing and aromatherapy too. Ask women to bring photos and meaningful objects to add to the centerpiece. This encourages a feeling of involvement in the creative process.

2. Set the Tone
The leader sets an intention and encourages the women to leave behind society – to shift in consciousness into "Circle Space."
You can do this with a prayer or encouraging everyone to "om" together. Then allow everyone to introduce themselves. Perhaps ask them to say their name and list three things about themselves.

3. Create Guidelines
Have guidelines that keep the flow of the circle and encourage respect. Have a talking stick, statue, or crystal.
Only the person holding the object may share and everyone else must listen. So that everyone gets a turn, limit each person to a time frame (such as three minutes per person) so that everyone gets an equal opportunity to share.

4. Meditate
Open with a meditation so everyone can drop into that mindstate and bond emotionally. You can keep the meditation simple or design one based on the theme of the circle.

5. Share
Open sharing is the main part of the circle when each woman gets a turn to speak. Sharing can go around in the circle or you can encourage something more spontaneous, giving women the freedom to speak when they feel called to.


6. Honor Devi
Devi is Sanskrit for "she who shines." You can honor this divine feminine nature in your women's circles in a number of different ways:
Make juices and enjoy raw chocolate
Practice goddess meditations and chant mantras
Practice yoga and dance to your favorite music
Read, paint, sing, dance, be creative
Adorn yourself with anything that makes you feel beautiful
Replenish your energy by holding your women's circle in nature
7. Ceremoniously Close
Facilitators may choose to close the circle with reflections, a quick prayer, song, or mantra. Oracle cards may be used at this point too. Women can join hands or come to stand to do a big group hug.
Here's Everything You Need to Know About Tarot Cards


Follow These 6 Steps to Create Your Own Women's Circle Online:
An online women's circle is ideal for hosting women's circles with women from all over the world, and also an ideal option for hosting during quarantine.

1. Turn On Your Video
Video is much more intimate than audio only. Although bear in mind that some people might not be able to do video because perhaps their phone or laptop won't allow it.
However, video encourages more bonding and helps you to know when someone has finished speaking since you can observe general body language so it's good to turn yours on and encourage others to do the same.

2. Encourage Participants to Set the Mood
Try to create a similar environment to an in-person women's circle. Ask participants to sit in a space that makes them feel good. Encourage them to light candles or incense, create a small personal altar, or have tea at hand.
This helps make the environment feel connected but also creates a mood that helps everyone drop into the world of healing circles rather than the world we typically live in.

3. Utilize the Mute Button
Verbal cues are important. With Zoom chats everyone can end up talking at once or talking over each other.
As the leader, you should mute everyone at the start and potentially invite people to unmute themselves when they are called to speak and then to mute themselves again once they're finished.
This allows for group listening when someone is opening up. One verbal cue you cam encourage people to say when they have finished is "Namaste" – this tells everyone the circle is open for the next person who wishes to share.

4. Manage Time
As the leader, you need to keep tabs on timing. How long is the session? Divide that by how many participants to get how long each person has to talk when it's their turn.
Keep time of each individual sharing with a timer. When the bell goes off, they know to wrap up so that everyone has a fair chance to speak if they wish.

5. Make the Ending More Informal
Wrap up the whole circle by unmuting everyone at the end for a general chit-chat, giggle, and goodbyes.

6. Stay in Touch
Keep a private Facebook or WhatsApp group for participants to check in for the next online circle but also continue to be there for each other if individuals need extra love and support on a topic they shared in the circle.


The Takeaway on Women's Circles
Sharing circles allow women to reconnect with themselves and each other. We are reminded that we are whole and complete as we are.
In a world where women are bombarded with negativity about simply being a woman, women's circles remind us that we are "Devi" – she who shines.
Looking for more female empowerment? Here are 10 Must-Read Empowering Books for Every Woman
This article has been read 20K+ times. Bada bing!