I am a Fearless Dreamer: Affirmations to Live By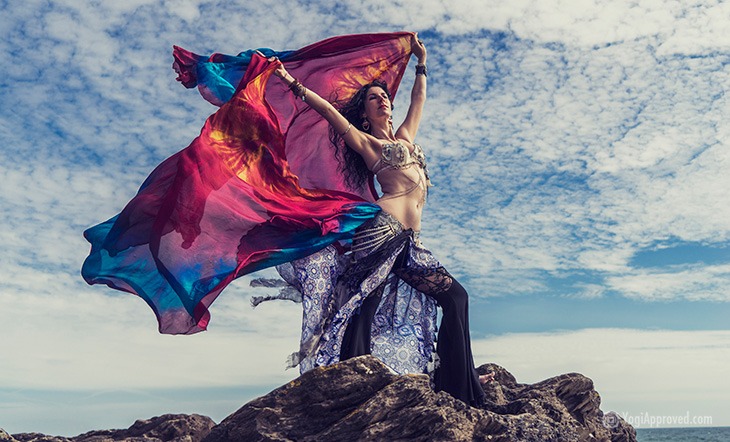 I dream and create a life the majority find difficult to fathom. I care not for superficial reality and greed. In fact, I reject all supposed societal conventions—who made up this hogwash anyway?
My life and thoughts are submerged in hope, laughter and the constant flow of magic in the mundane.

Beware the Woman who delights in all things wild, magical and sensual, for she will never be contained. –Katie Ness

I wish often, I dream daily, and love expansively. I cry silent tears when I see others unable to love limitlessly.

I have no time for realism or pessimism; pessimistic individuals waste too much energy on the negative, forgetting our precious lives are so short.

For I am too busy making flower garlands, reading my tarot under a friendly tree, practicing Yoga in my lingerie and loving others from afar.

I wear odd socks because no one can see your feet anyway and I shamelessly boogie to music whilst buying groceries at my local kiosk.

I enjoy being naked in the comfort of my own home because my body is an exquisite contraption and so is yours. I urge you to celebrate your body; it does so much for you.

I don't take life too seriously. I believe in a life with heartfelt purpose, meaning, and absolute untamed joy.

And so, I don't wish to debate about the designer sofa you bought today, how many hours you worked last week, or that our government is screwing us over. Friends! Let's begin to see beyond our boxed existence.

I am a woman whose moral color is a kind of pepper and salt mixture and I believe we are all inherently good, that future generations will save the planet, and that animal cruelty will cease to exist one day.

I believe falling in love and falling asleep to dream are two mysterious gifts of life's wonderment.

I cherish idle sunny days spent lying in a meadow of daisies under a vast ocean of sky, gazing up at gigantic clouds swimming by like white whales in Lapis hues.

And I know we all have the capacity to create unimaginable beauty within our hearts and minds if only we just surrender. Daydreams are displays of the heart's genius; the heart weaves the path to fulfill that which we are here to do.

I will spend hours reading, writing, creating, dancing & practicing yoga because this is how I commune with "God." I do not need a "proper job" because This. Is. My. Job. This is my life's purpose.

I highly recommend smearing paint or mud all over yourself and then rolling around on giant strips of paper. Making art with your entire body is great medicine.

Walking barefoot is the best way to know the earth. There is magic in the trees and mystery in the smell of the earth after the rain and I try to experience this magic as often as I can. It's good for the soul.

I talk to my houseplants, dance in the rain & say "Hello Moon" when she is full.

I believe everyone is connected and I have met soul mates by rivers, in deserts, at art galleries and even at my local corner shop on a Tuesday morning whilst buying milk. Each one of them has given me new knowledge about the meaning of life.

I am at my most powerful when I delight in the sensuality and untamed connections to the rhythms of life. I howl at the moon with unlimited fervor and dance to the heart-like pulsations of a drum by a roaring fire framed by a frenzy of stars.

I love to love and I love life in all its twists and turns.

And so my advice to you is this:
Explore the wilderness in your heart.

Love vastly.

Daydream constantly.

Make love genuinely.

Dance regularly.

Breathe deeply.

Be nonsensical.

Unravel your shining soul.

And enjoy every moment.


This article has been read 1K+ times. Feelin' the love!