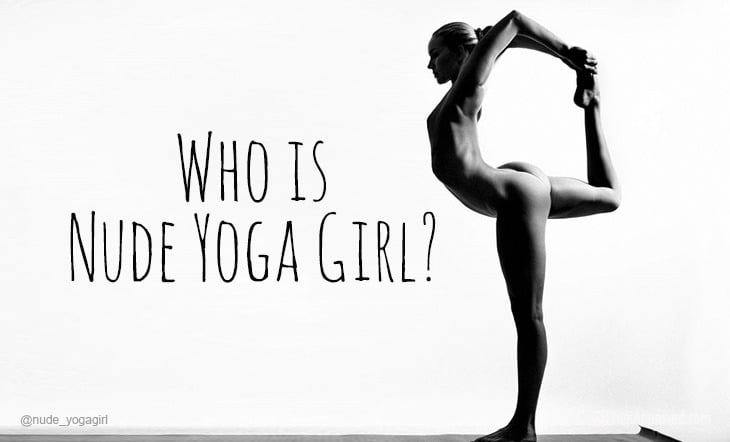 6 Things We Know About Nude Yoga Girl
Nude Yoga Girl is becoming quite the internet sensation. You may have seen her powerful, beautiful and evocative images floating around online over the last few weeks. This anonymous yogi takes images of herself doing yoga in the buff and posts them to her Instagram channel @nude_yogagirl.

In just 15 weeks this anonymous yogi's Instagram channel has acquired more than 280,000 followers. It seems Nude Yoga Girl is blowing up the internet, and for good reason.

Here are 6 things we know about @nude_yogagirl:

1. She's Classy
Despite being fully nude, the images are classy and tasteful. Her beautiful, artistic images are all carefully planned and tastefully done in an artistically interesting black and white aesthetic. Lady bits and anything sexually explicit is edited out, leaving you with striking images that honor the powerful female yogi form.

2. Her Images Are Absolute Works of Art
We know one thing forsure about Nude Yoga Girl – she is a photographer. This girl is an artist! One look at her Instagram account and you'll recognize that she has a serious talent. If you're going to do something you might as well do it right. You go girl!



2. She's Anonymous
In a time when there is another internet sensation looking to strike it rich every day, Nude Yoga Girl is anonymous. She sets up camera angles to hide her face and other identifiable features so she can remain anonymous. What we do know about her is she is a 25 year-old photographer, model, yogi and artist, and she has a boyfriend who assists her with her images. Sorry guys. This yogi is taken and I'm willing to bet her boyfriend is not the jealous type.

3. She's Open
Despite being anonymous, Nude Yoga Girl is open with her followers on her website and Instagram. She writes about her personal journey, her battle with self-acceptance, materialism and other topics that are important to her. Even if we don't know who she is, we know her and like her.



4. She's Good at Yoga
Despite the risque and provocative images, Nude Yoga Girl is also very gifted at yoga. Her form in advanced yoga poses is spot-on, and her athleticism is inspiring.

5. She's Inspirational
While images of a sexy woman will always generate an online following, Nude Yoga Girl imparts a powerful message. On her website (which launched in early January) she posts her thoughts and feelings about life, beauty, yoga and art. Through her art, she promotes a powerful message: "You are beautiful exactly the way you are."
"You are beautiful exactly the way you are."
6. She's Unmaterialistic
No beautiful outdoor scenes or brand features for this girl! The Nude Yogi is all about the beauty and power of the asanas. Her images are minimalistic and taken with simple backgrounds.



Check out Nude Yoga Girl on her website or Instagram channel. Share your thoughts in the comments below.

This article has been read 40K+ times. Bada bing!