Lunch Inspo! Make This Delicious Sesame Asian Rice Ball Salad With Miso Tahini Dressing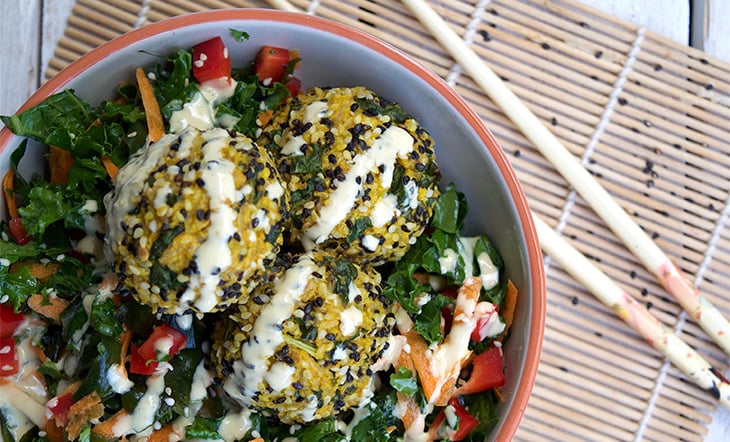 These gluten-free, vegan Asian rice balls are the perfect recipe to make when you have cooked brown rice left over! The ginger really gives these rice balls their delicious flavor, and the tahini helps to hold everything together.
Also, the addition of the shiitake mushrooms and wakame seaweed bring plenty of authentic flavor to these yummy bite-sized orbs.
They are great served as a snack on their own or with a big fresh green salad as a meal.


Sesame Asian Rice Balls Recipe
Makes 8 to 10 rice balls

Ingredients:
For the Rice Balls:
1 cup mashed pumpkin
2 cups cooked brown rice
1 heaping tablespoon grated ginger
1 ½ teaspoons coconut (or rice) vinegar
2 tablespoons tamari
¼ cup tahini
1 teaspoon coconut nectar
1 teaspoon dulse
⅓ cup chopped shiitake mushrooms
1 teaspoon sesame oil
1 teaspoon nutritional yeast
2 tablespoons chopped kale
1 tablespoon brown rice flour
1 tablespoon black and 1 tablespoon white sesame seeds to roll

For the Miso Tahini Dressing:
Preparation
Preheat your oven to 180 degrees.
Then, steam your pumpkin and mash roughly.
Cook your brown rice and, when cooled slightly, place it in a large bowl with the mashed pumpkin.
Next, add all ingredients and mix well with your hands until very well combined. The mixture should hold together.
Roll into balls around the size of your palm and gently roll in the sesame seeds.
Place on a lightly oiled sheet of baking paper on a baking tray. Bake in the oven for 25 to 30 minutes – until they are a little golden and crunchy.
While baking, whisk all ingredients for your miso tahini dressing in a small bowl until smooth, adding just enough water to reach your desired consistency.
When the rice balls are finished baking, serve them over your favorite leafy greens with diced peppers and shaved carrots. Top with the miso tahini dressing and enjoy!


Dig Into Your Delicious Sesame Asian Rice Balls!
And there you have it! You just made a seriously flavorful and nourishing dish that's quick and easy.
So, savor these simple but oh-so-good Asian rice balls.
Have another recipe for Asian rice balls that you love? Share it in the comments below – we love hearing from you!
Looking for another delicious Asian meal idea? Try This Gut Healthy Kimchi Veggie Bowl With Hemp Ranch Dressing
This article has been read 413 times. Share it and spread the love!